By Jim Haughey, Director of Economics | September 28, 2010
Public construction spending has been stalled at a $248 billion annual pace for the four months ending in September. A 9-percent rise by the end of 2006 is expected. Key drivers of this improvement will be federal transportation funding, rise in spending to build public buildings, drawing on improved budget balances, and capacity expansion of private infrastructure in the fourth year of economic expansion. Construction activity will grow most for water, sewer, power and transportation facilities.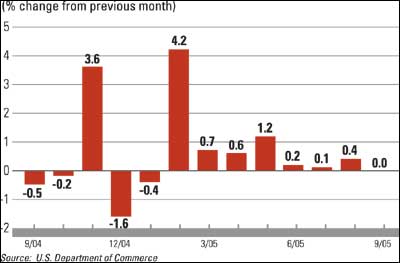 Contractors have added to their crews for 20 consecutive months, a total of 471,000 employees. Nonetheless, the unemployment rate for construction workers is still 5.5%, too high to cause serious labor shortages. Hurricane clean-up work probably accounts for 15,000 to 20,000 of the 45,000 jobs added in September and October. This demand for labor will be ebbing quickly, but it will be offset by a rise in rebuilding hiring. Some 175,000 more constructions jobs are expected in '06.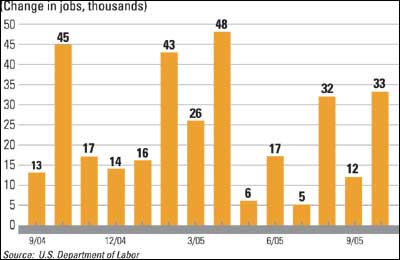 Equipment shipments rose to nearly $3 billion in September, manufacturers' order backlog remained at 11 weeks, and manufacturers' inventory/sales ratio declined to a record lean 1.38. Monthly shipments are expected to stay near the current level through 2007. Equipment prices have been nearly steady for several months. Ahead, expect stable steel prices and strained manufacturing capacity to drive equipment prices up about 3 percent in 2006.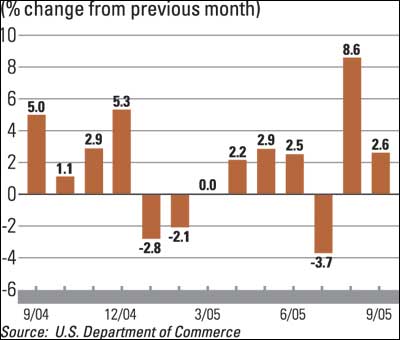 Starts averaged 20.06 million for the six months through September, down only 7 percent from the January/February peak of 2.21 million. A further decline to 1.84 million is expected over the next 18 months. Signs of a weakening market are now pervasive. There have been significant declines in permits, model-home traffic, and home-price appreciation as well as increases in mortgage rates and the inventory of unsold new and existing homes. Mortgage lending standards are also tightening.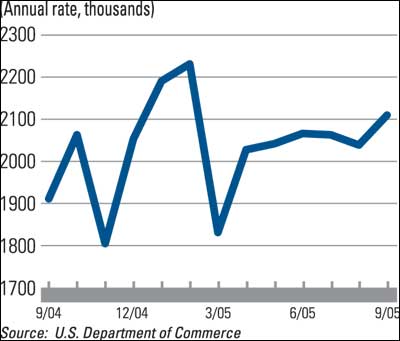 Commercial construction spending (retail, warehouse and parking) has been steady for six months. The only significant gain has been for smaller shopping centers built to serve new residential neighborhoods. This relatively steady market weakened little in the last recession and then recovered quickly early in the business expansion. No catching up is needed. Market growth through 2007 will be only 3 percent to 4 percent.