By Jim Haughey, Director of Economics | September 28, 2010
Spending increased 6.2 percent in the year ending in August with the expansion pace picking up in the most recent Census Bureau estimates. Residential is slowing; nonresidential has begun to expand. Yet the 4-percent gain in construction employment estimated by the Bureau of Labor Statistics over the same period suggests stronger growth in construction activity. We expect market growth as measured by the Census Bureau to rise to a 7-percent annual rate through the end of '06.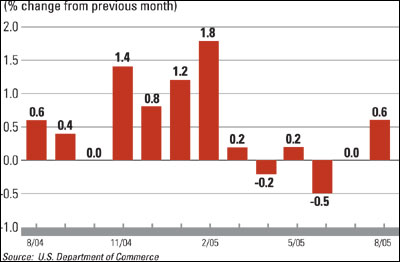 Spending, after inflation, is steady at a modestly high level in the second half of 2005. But it is set to expand at about a 5-percent inflation-adjusted rate next year. This turnabout will be driven by the increased flow of federal money from the new highway bill, emergency repair work in the Gulf region, and much higher state and local government budget balances after several years of soaring tax collections as the economic expansion matured.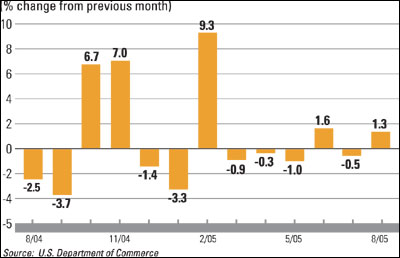 Factory production schedules have recovered to a 4-percent-plus annual growth pace with businesses now building inventory again. Production gains are expected to briefly surge to a 6-percent pace around year-end from the combined impact of restocking and materials ordered for post-hurricane rebuilding. Then production gains will ebb to a 3.5-percent annual pace late next year as higher credit costs slows overall economic growth.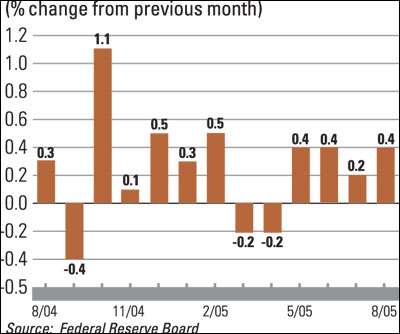 Equipment price increases have slowed in the last few months, but this is likely a brief pause. Steel prices have begun rising again and equipment manufacturers' order backlog stretched to 11 weeks late in the summer with a new surge in orders that raises manufacturers' pricing power. An order volume that presses available capacity will be maintained by the expected pickup in heavy and nonresidential construction spending and hurricane clean up and rebuilding needs.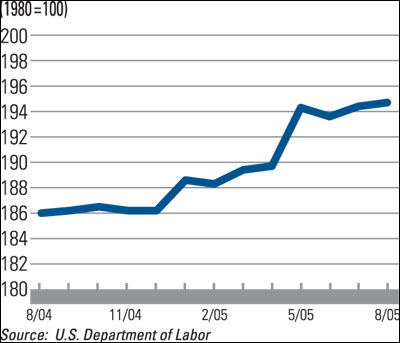 Economic growth is slowing from 4 percent-plus to near 3 percent over the next 18 months. This is the underlying trend that results from the slowing of productivity growth as the economic expansion matures. However, inventory trimming dropped growth to 3.3 percent in the spring, and inventory investment raised growth to an estimated 3.7 percent in the summer. The hurricanes will cut growth to 3 percent in the fall and then boost it to over 4 percent early next year.