By Jim Haughey, Director of Economics | September 28, 2010
Public construction spending increased 6 percent in the first half of the year, and then dropped 1 percent in July. The growth trend through next year was expected to be about 7 percent, but after Hurricane Katrina, it will be measurably higher. Congress has already authorized $60 billion for disaster relief including infrastructure repair and replacement. Caution: Much of the cleanup work will be counted as construction spending but will require few materials.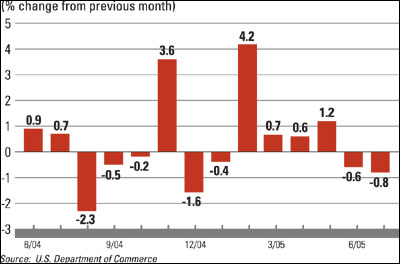 Contractor hiring picked up in August with 25,000 (seasonally adjusted) workers hired, up from a 10,000-per-month average in the previous three months. August hiring was weaker than early in 2005 because new residential general contractors hired only 2,400 people. Nonresidential building subcontractors hired 16,100 people. The Katrina cleanup and rebuilding will boost the 15,000 new jobs a month previously expected in the next few months.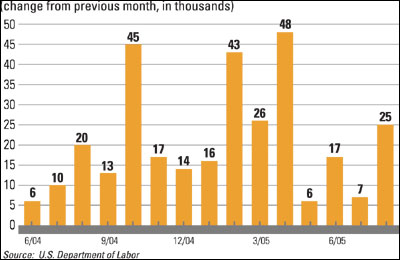 Pre-Katrina data suggest that equipment shipments may have peaked, but post-hurricane demand will push sales higher for several more months. Shipments fell 4 percent in July to slightly above the average for the past year. Equipment orders fell 23 percent in July to the current level of shipments. Manufacturers' order backlogs slipped but are still at an unusually high 10 weeks. Equipment prices rose at a 9-percent annual pace over the last three months.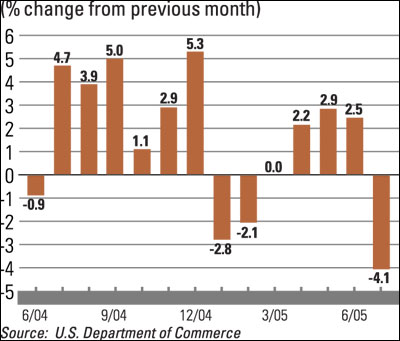 Spending was steady in July but is likely to edge higher in the next few months because of the backlog of orders and the post-Katrina spike in building materials costs. Spending growth has slowed from a 20-percent-plus annual pace in 2003 through summer 2004 to 10 percent over the last year. It is expected to slow to 0.0 percent through the end of next year. This assumes the replacement of about 25 percent of the homes destroyed by Katrina.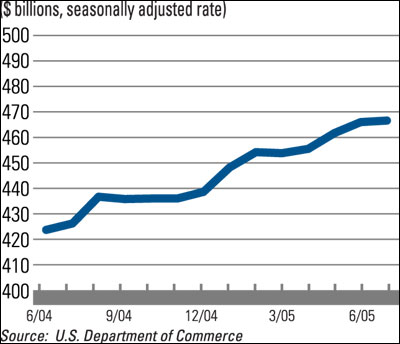 Private construction spending has increased only 3.5 percent so far this year after a 13-percent jump last year. This slowdown results both from the peaking of new home construction and the slow restart of expansion in nonresidential construction. Ahead, the recent increase in the starts of nonresidential buildings will boost private construction spending growth to about a 7-percent pace through next year.