By Jim Haughey, Director of Economics | September 28, 2010
The Census Bureau reports total construction spending, after inflation, off about 3 percent in the four months ending in June. A huge drop in residential remodeling more than accounts for the decline, but it is likely a measurement error. Later revisions will probably restate total spending as steady during the spring. Sluggish growth is expected for a few more months before rising nonresidential, residential remodeling, and heavy project spending offset slumping new home construction activity.
The renewal of the six-year federal highway funding plan will provide a boost to highway-construction spending. Planning and bidding time delays will prevent any noticeable pickup until next year. The $286.4 billion plan is a 30-percent increase from the expired program, but inflation has eroded it back to the Bush administration's $256 billion proposal during the long delay. The highway industry had hoped to get more than $350 billion.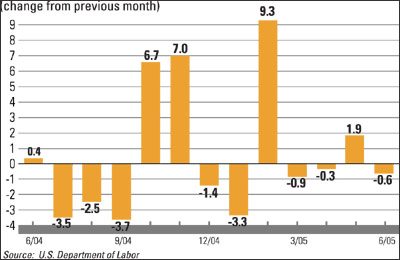 Equipment prices are 5.7 percent higher than a year ago with further, but smaller, price gains expected over the next year. Higher steel prices and manufacturers' dwindling reserve capacity account for most of the price increase. Steel prices are below the early 2005 peak level and are likely to be steady or only slightly higher for the rest of the year. But the strain on manufacturing capacity is increasing. Equipment orders are up 30 percent year to date compared to 2004.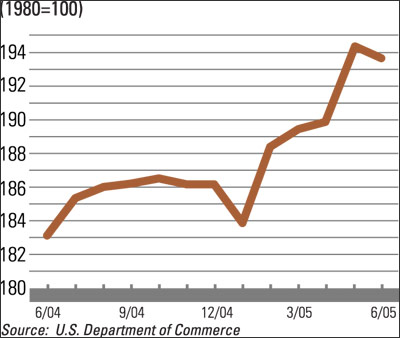 Spending on manufacturing projects fell 5 percent during the spring quarter, reversing most of the large jump in March. Yet, the trend through next year is still strongly up. Spending on manufacturing projects is expected to increase more than 20 percent by the end of 2006. Factory production is rising again, and exports are rising at a double-digit pace. Industrial capacity utilization has just hit 80 percent, the usual threshold for a spurt of capacity additions.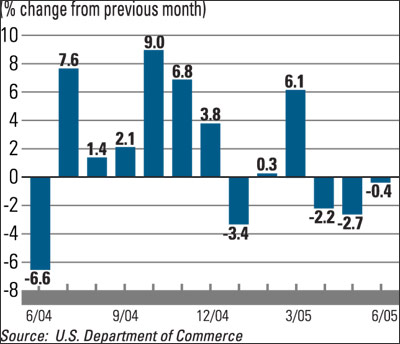 The Consumer Confidence Index remains slightly over 100 and is trending upward. This value is low for the current 3.5–4.0 percent pace of economic growth. The index topped 125 for 43 consecutive months during 1997–2000. Nonetheless, the low reading for consumer confidence is not a significant negative factor because high-income households have near normal confidence while the confidence of low-income households without home equity/stock market gains remains depressed.