By Jim Haughey, Director of Economics | September 28, 2010
Public construction spending has increased steadily from January to May, but the 7-percent gain from last May is all inflation. Costs are up 8 percent for heavy projects and 6 percent for buildings in the last year. But the after-inflation volume of public construction activity has increased slightly early in 2005, offsetting a decline later last year. Volume gains will progressively increase into 2007 as materials inflation slows and gross spending improves in the new fiscal year.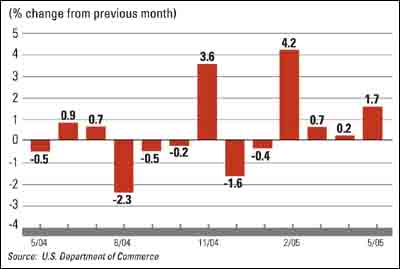 Contractors cut hiring in half to 15,000 in May and June from the first four months of the year. Residential contractors and subcontractors hired at a slower pace. Nonresidential building contractors laid off 5,000, and nonresidential subcontractors cut 19,000 jobs. These trends will extend into the fall, keeping net hiring near 10,000 a month. Then, hiring will slow in the residential market but pick up elsewhere. Labor supply is adequate for another year.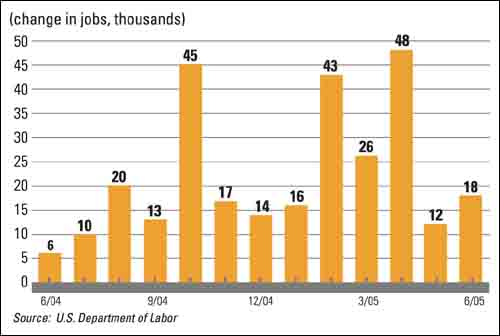 The construction-equipment market is tightening again. May shipments increased 2.9 percent. This was a 2.6-percent price increase and a 0.6-percent volume gain. Equipment orders increased 7 percent with the order backlog now stretched out to two months. The consumption of new equipment is up 15 percent from a year ago after accounting for the impact of both trade and inflation. Shipments will continue at the current level or slightly higher for another year.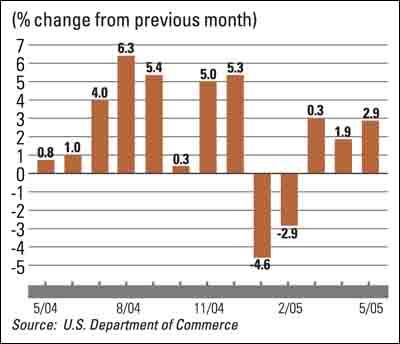 Housing starts settled to 2.0 million in the last two months but may pop briefly higher in June, July or in both months. This is in response to permits averaging 2.1 million in April and May and fixed mortgage rates ebbing 25 basis points to 5.5 percent. Low long-term credit costs result from unusual and temporary international economic conditions. Starts will at best average 2.0 million into the fall and then slip under 1.9 million by late 2006.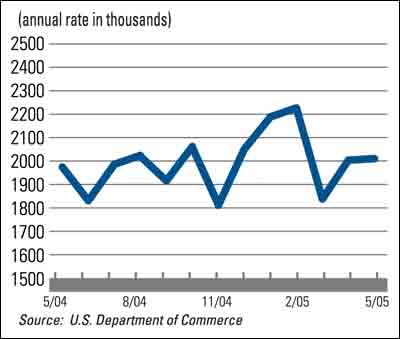 Spending picked up 2 percent in spring after several quarters of declining volume after adjusting for inflation. The forecast is for spending to grow only enough to cover inflation through the end of 2006. Spending for warehouses/auto service facilities increased in the last few months while spending declined for restaurants and grocery stores. Rents, vacancy rates, building asset values, and commercial investor returns are all consistent with steady construction activity.