By Jim Haughey, Director of Economics | September 28, 2010
Spending increased 1 percent in the past two months and should maintain that growth pace through this year and then grow slightly faster next year. This rebound from last years' 3.2-percent increase will be driven by both the need for facilities to service newly built residential areas and by the rapid improvement in tax receipts and public budget balances.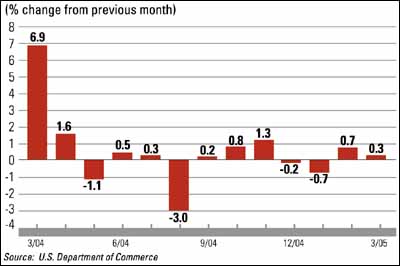 Contractors boosted hiring by 47,000 in April. Residential contractors laid off 1,900 people, the first job cuts in nearly two and half years and confirming the anticipated slowdown in this market. Nonresidential builders added 1,000 workers, which suggests that significant market recovery has not yet occurred. Heavy contractors hired 8,300 people, which indicates a spring pickup in heavy project work. The balance of the workers were hired by specialty contractors.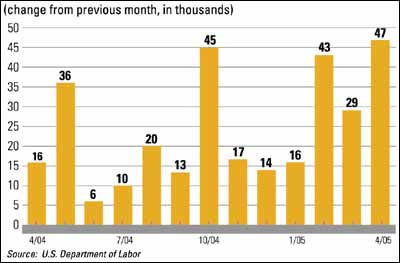 Shipments declined for the third month since the December expiration of bonus tax depreciation, but they remain nearly 70 percent higher than during the bottom of the last recession. Although new orders slipped 20 percent in the past two months, unfilled orders appear sufficient to keep production and sales steady in the next few months. Most of the expected fleet addition orders from heavy and nonresidential building contractors are still ahead.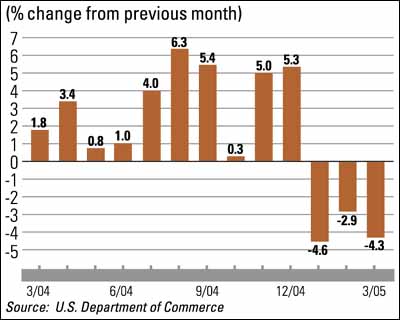 Spending probably peaked for this building cycle in the first quarter, but it is expected to drop only 5 percent by the end of 2006 as higher mortgage rates disqualify marginal households. Multifamily construction and vacation homes will hold up better than single-family. Activity in housing-short cities in California, Florida and the Northeast will experience lesser decline with some continuing to expand. Residential remodeling will keep growing strongly.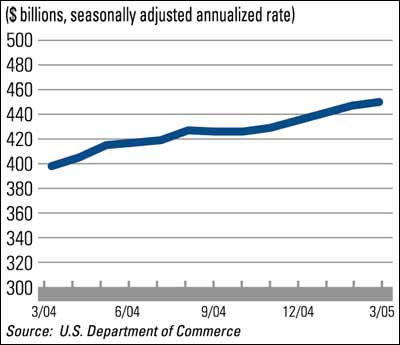 Spending increased 1 percent in the past two months and should grow slightly slower through the end of 2006. Recent growth is a slowdown from a quicker housing-boosted growth pace last year. Slower residential construction spending growth masks a substantial pickup in spending growth in the smaller nonresidential building market. Led by hotels and manufacturing, nonresidential building activity has begun to expand slowly.