By Jim Haughey, Director of Economics | September 28, 2010
Total construction spending has risen for 14 consecutive months, a cumulative gain of more than 10 percent. The growth pace will be halved this year because the homebuilding market has peaked and materials inflation is slowing. Expect a 6- to 7-percent annual growth rate late 2006 when both the nonresidential-building and heavy-project markets will be expanding at their peak rate in this cycle. Further above-average expansion is expected for most of 2007.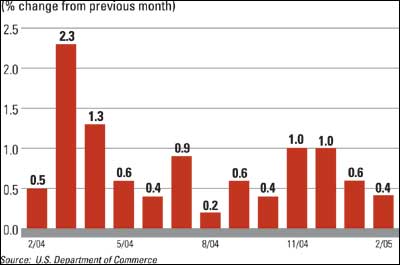 Spending has jumped 16 percent in the past five months, but much of that was due to materials inflation, unseasonable weather, and a burst of delayed contracts released at the end of 2004. The spending surge is unsustainable. Highway construction spending is expected to average at or below the February level for the rest of the year before a sustainable market recovery next year.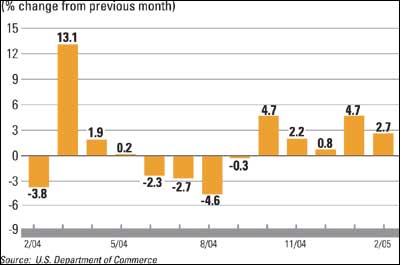 Prices were unchanged in February, but more increases are ahead. Compared to 2004, prices were up 3.9 percent with more pressure expected from recent steel and plastic prices increases, higher imported equipment prices, and higher manufacturer margins in an unusually strong market. Prices keep rising into the summer before equipment inflation subsides to about 2.5 percent, just slightly higher than overall inflation in the economy.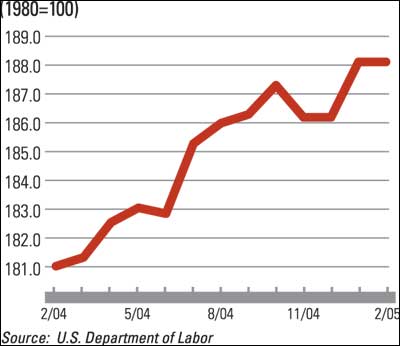 Spending fell slightly in the past two months but is still 35 percent higher than eight months earlier when this market finally hit the bottom of the last building cycle. The strong rebound is driven by rising factory production (6 percent annual pace) and by shrinking surplus capacity; manufacturing capacity utilization will rise to 80 percent by this summer. This is the usual threshold for a boom in factory construction that persists for several years.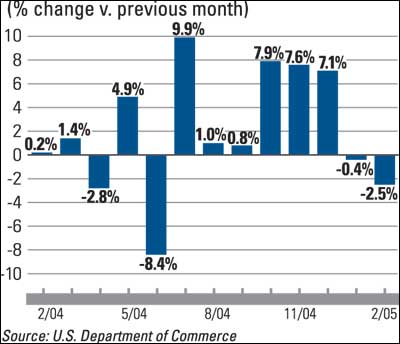 The Index has averaged 100 for the past nine months, in spite of several brief declines and rebounds. This suggests that the spending ability and intentions of consumers will yield about average economic growth (3 to 3.5 percent) for the balance of 2005. The GDP growth outlook is slightly better at 3.5 to 4 percent because the foreign contribution to GDP, through exports, is now unusually strong in response to a weak dollar.