By Jim Haughey, Director of Economics | September 28, 2010
Construction growth slowed to less than overall economic growth at the end of 2003 after rising at a strong annual pace during the rapid expansion of housing starts. Construction spending is expected to grow even more sluggishly through the summer before returning to 8-percent growth in 2005 and possibly more in 2006 when activity should pick up rapidly in the nonresidential and heavy markets.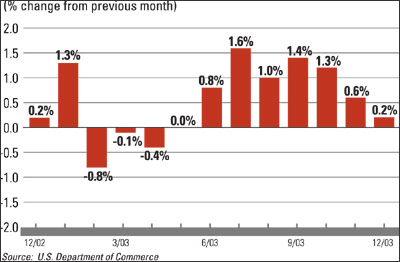 Spending rose 14 percent in the second half of 2003 but is now on hold until the federal transportation funding bill is approved and state DOT funding comes in the next fiscal year. Then sustained increases in spending should resume beginning at a 5-percent annual pace at the end of 2004 and rising to near 10 percent early in 2006. Forecast is based on the Bush administration funding total.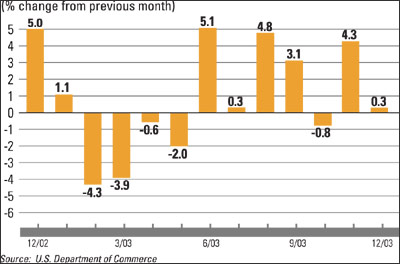 Economic growth was halved to 4 percent in the 4Q 2003. The slower growth was largely due to less stimulus from tax cuts and cheap credit. Now both are back. Taxpayers will receive the second installment of the 2003 tax cut in their annual tax refund. Declining inflation has pushed mortgage rates back below 6 percent and boosted mortgage refinancing. Growth will average more than 4 percent in 2004–05 with a potential to top 5 percent if the worldwide economic recovery is sustained.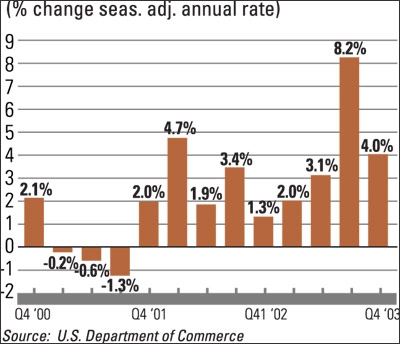 The index has declined slightly in the past few months, but the trend will remain under 1 percent inflation for most of the year. Then a stronger equipment market—both in the United States and elsewhere—and a stronger dollar that stops the decline of import prices will take hold. Expect equipment price increases to rise progressively, reaching a 2-percent annual pace late in 2005 and probably a little higher beyond. This parallels expected inflation trends throughout the economy.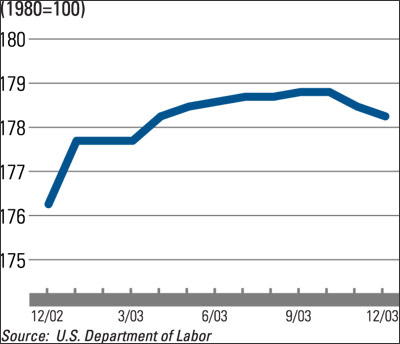 Factory production has been rising for nearly a year, but it had only spread beyond semiconductors and computers at the end of 2003. Output is expected to expand 5 percent this year and 6 percent in 2005 after falling 4 percent in the previous three years. Readily available surplus manufacturing capacity will be quickly absorbed; spending for new and restarted capacity will be growing quickly by yearend.