By Jim Haughey, Director of Economics | September 28, 2010
Public construction spending, mostly for highways, improved late in 2004 to bring the full-year gain to 3.4 percent. Easing federal funding delays and improving state budget balances will permit public construction spending to expand more quickly this year and again in 2006. Real spending for highways and public buildings are both expanding, but work on other projects will continue to decline for several more months.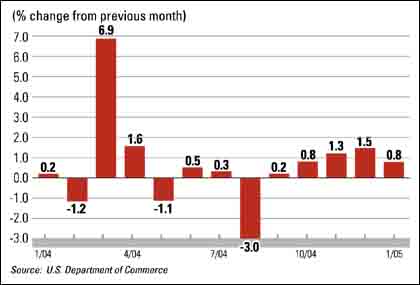 Construction employment rose 30,000 in February; the 12-month gain was 275,000. Homebuilders and their subcontractors hired 20,000, and nonresidential builders' subcontractors hired 10,000. Most of the hiring was likely in the southwest and the southeast. The construction labor market is tightening, but not enough to cause widespread wage or availability problems until late next year. The tight labor market will appear first in south Florida and southern California.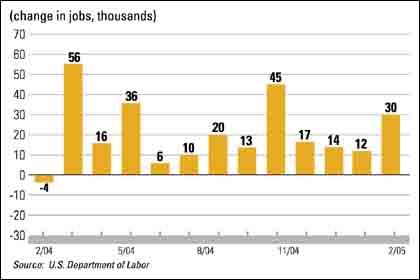 Equipment shipments increased 38 percent in 2004, and heavy construction spending is about unchanged over the same period. The surge in shipments will peak this year when the current large-orders backlog subsides. The recent strong market growth is consistent with sales trends in other capital equipment markets; it is more related to the equipment replacement cycle than to increased demand for equipment hours.

Housing Starts
Housing starts surged to 2.16 million in January, the highest in two decades and probably the peak for this building cycle. The flurry of starts was due to steady mortgage rates at a level homebuyers consider "a once-in-a-lifetime opportunity" and more substantial speculative buying than had previously been thought. These stimuli will ease slowly, so there is a substantial upside risk to the housing starts forecast of a decline to 1.8 million starts by late next year.

Commercial Construction Spending
Commercial construction spending fell slightly late in 2004 after increasing at a better than 20-percent pace earlier in the year. This market has already peaked as real estate investors have turned their attention to hotels and offices. Warehouses, restaurants and upscale retail will be the fastest-growing sectors in 2005–06. Food and drug stores and big box discounters will be the slowest expanding sectors.