By Jim Haughey, Director of Economics | September 28, 2010
Spending increased 1.1 percent in December But the expected growth trend through summer is still about 0.3 percent monthly, a net of small declines in the residential market and near double-digit annual growth in both nonresidential buildings and heavy projects. Total construction spending is forecast to rise 5.1 percent this year, 6.1 percent in 2006, and continue into 2007.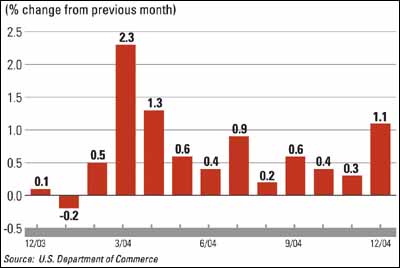 Spending on highway projects increased strongly last fall but only recovered to the spring 2004 level. State and municipal funding has strengthened, but federal funding increases are still stalled in Congress. The forecast expects the President to compromise and accept a small boost in federal funds later this year that will be enough to raise 2005 highway construction spending 3.9 percent with an 8.1-percent gain in 2006.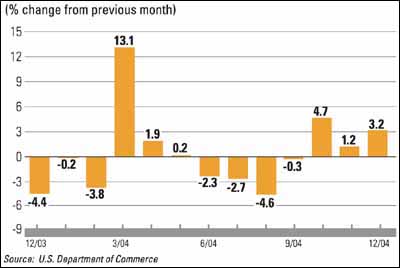 Factory production continues to expand at a 0.5-percent monthly pace that has now boosted factory capacity utilization to about 77 percent and spurred a 21-percent surge in construction spending from September to December. Although this may not be fully sustained early in 2005, the 5.5 percent annual growth expected for production will push capacity utilization to near 80 percent by year-end and generate demand for additional factory space at least through 2006.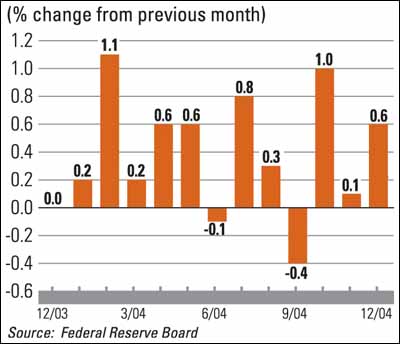 Equipment prices fell slightly at the end of 2004 as steel prices retreated from the peak and the order backlog at equipment suppliers began to stabilize. Yet, steel price increases and strained capacity at equipment suppliers will boost prices 3 percent higher over the next year, slightly more than the overall inflation rate. The cheaper dollar is also contributing to price rises for imported equipment. Prices rose 4.2 percent during 2004.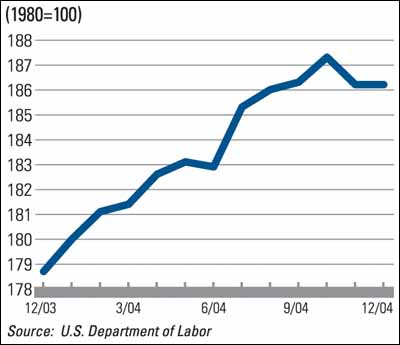 U.S. economic growth slipped to 3.1 percent in the final quarter of 2004. Large gains in consumer spending and business investment were offset by a huge increase in the trade deficit that cut GDP growth by 1.7 percentage points. Exports declined in response to a mid-2004 period of weak growth in both Europe and Asia, and U.S. imports soared to fill stores for a strong Christmas retail season. Ahead, GDP will grow at about 4 percent into 2006.