By Jim Haughey, Director of Economics | September 28, 2010
Public construction spending picked up strongly in the Fall, but it gained only 3.4 percent in 2004 compared to 2003. Materials price inflation accounts for all of this slim gain. Sharply improved state and local government budget reserves will produce a real, after inflation, rise in public construction spending at least through 2006 even with the minimum rise in federal highway funding expected.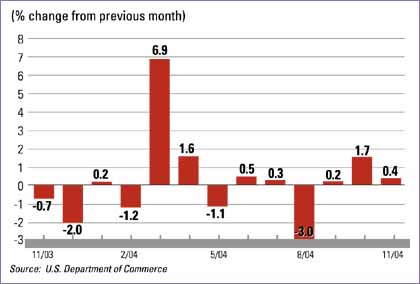 Hiring has stalled following the peak of the housing cycle and the funding delays for transportation contracts. Heavy contractors hired 3,000 employees in November and December; building contractors added 8,000; and all subcontractors together added 3,000. Hours worked in construction increased 1 percent from October, and inflation-adjusted construction spending has declined; either spending has been underestimated or modest job cuts are likely this winter.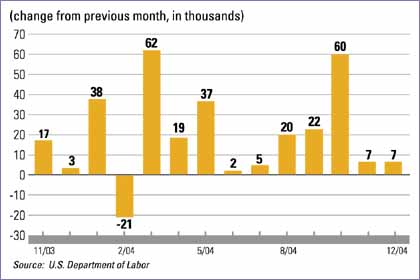 Backlogged orders at U.S. equipment manufacturing plants are 85 percent higher than a year ago even with shipments up 42 percent over the last year and imported equipment up 47 percent year-to-date from the same period last year. Further shipments increases are expected this winter since orders were nearly 8 percent above shipments in the three months ending in November. The buying surge boosted equipment prices 4.3 percent during 2004.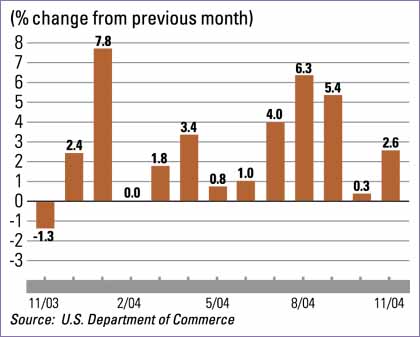 Construction spending for new homes has been declining slowly since August. Residential activity is expected to decline another 3 percent over the next five quarters. The slowdown will be only for entry-level homes where the forecasted small rise in mortgage rates will be enough for lenders to reject mortgage applications from marginal first-time homebuyers. Expansion will continue in supply-restrained markets in the Northeast, California and Florida.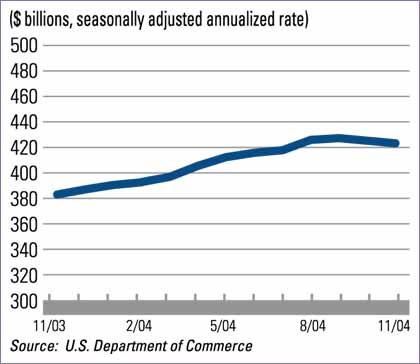 Private construction spending growth stalled last Fall after the peak of the housing cycle and the mid-year slowing of economic growth that postponed some private projects intended for lease. This followed a nearly three-year rise. Only a 3-percent annual growth rate is expected through the summer; nonresidential, residential remodeling and public works project work expands enough to slightly more than offset weakening new home construction.