By Daryl Delano, Director of Economics | September 28, 2010
Spending rose 0.2% in October, the second straight month of increase. Private nonresidential construction spending increased 1.1%, but remained much weaker than a year ago. After an extended period of growth, publicly funded construction activity eased 0.4% in October. Through October, the total value of construction put in place was running 0.2% ahead of 2001. New residential construction was worth 5.5% more through October 2002 in 2001. Nonbuilding was up 1.2%. But the value of nonresidential construction was 7.8% less through October 2002 than in 2001.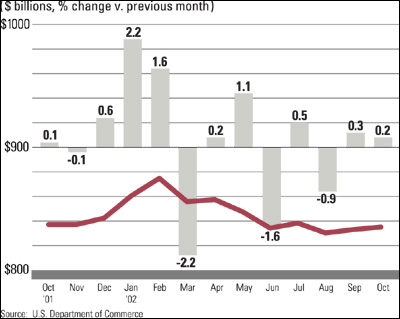 Spending for highways/bridge/tunnel work was off 3.7% in October, was still 2.0% higher than during October of 2001. Through October, an estimated $46.4 billion worth of work was completed in highways, bridges and tunnels, up 0.7% over 2001. Between 2000 and 2001, spending grew 9.7%.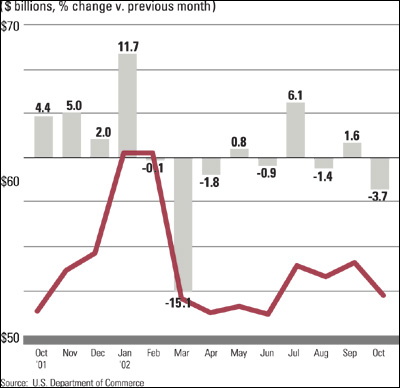 The industrial sector still gives no sign that a rebound in construction activity is imminent. Total spending during October was down 0.9% from September, and the total value of manufacturing/warehouse construction work completed through October was worth 45.3% less than during 2001. With U.S. industrial production continuing to languish, spending for the construction of new or retrofit of existing industrial space isn't likely to show much recovery until the second half of 2002.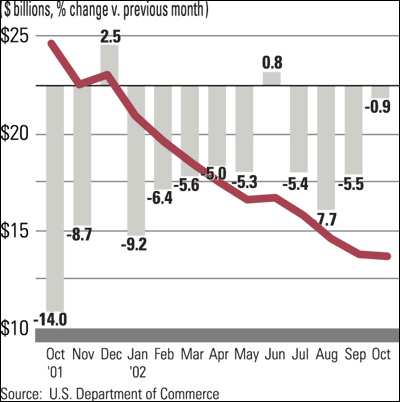 After increasing at a fairly swift rate during the first half of 2002, inflation in construction machinery and equipment markets stabilized during the third quarter of last year. Average prices were essentially unchanged between the second and the third quarters of 2002. By October, the price index for construction machinery and equipment was running 1.3% above the October 2001 level, following annual gains of 1.1% in 2000 and a 0.5% during 2001.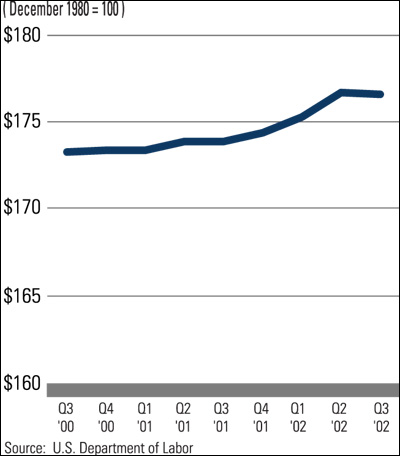 Consumer Confidence Index rebounded modestly during November following five consecutive months of decline. The cumulative loss between May and October was almost 31 points, but the composite rose 4.5 points during November to reclaim a small part of the ground lost during the summer and early fall. During November, 27.5% of households planned to buy at least one type of major appliance at some time during the upcoming six months compared to 31.3% in August. Similarly, home-buying plans dropped from 4.5% to 2.9% between August and November.