By Daryl Delano, Director of Economics | September 28, 2010
After retreating a bit during October, publicly funded activity came back strong during November, rising 1.5%. Total public work was growing at a 6.2% annualized rate through November. Spending on buildings increased 10.4%; nonbuilding grew 2.0%. Year-to-date spending for industrial work was 23.5% greater than it had been through November 2001. New housing and residential redevelopment work rose at a 14.7% annualized rate through November of last year.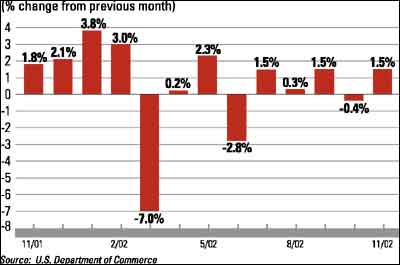 Overall employment was estimated at 6.648 million workers during December, a decline of 1.3% from 2001. Over the same period, total U.S. employment declined 0.2%. Between September and December, the total number of jobs with nonbuilding/heavy contractors fell 2.1%, while employment with general building contractor firms rose 0.5%.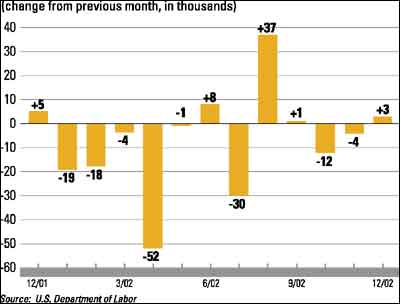 The dollar value of shipments from the construction machinery and equipment industry fell 2.4% between October and November. The value of new orders placed with U.S. construction-equipment manufacturers plunged 7.3% during November, after soaring 14.6% between September and October. Through November, the value of new orders to U.S. construction machinery/equipment manufacturers was running within 1.0% of the total in 2001. The outlook is improving.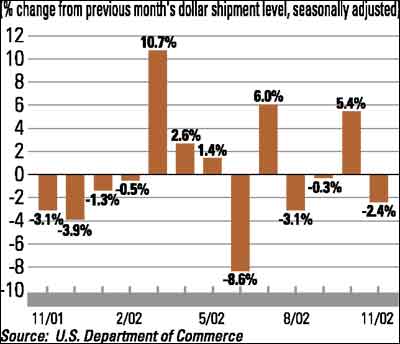 Over-the-month growth in new residential construction spending during November 2002 was at its healthiest rate since February of last year. Through November, spending was running 5.7% ahead of 2001. Growth in single-family home construction was on a 5.2% annualized pace; spending for new multifamily was up 9.6%. Dollars spent on single-family home construction increased by 1.6% between October and November, and spending on multifamily rose 0.5%.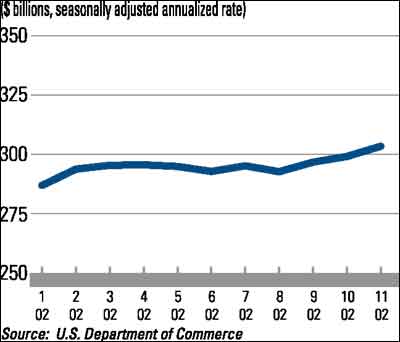 Overall privately funded construction work was worth 0.1% less in November than October. Residential construction activity continued to expand, but nonresidential spending declined once again. Total privately funded activity was running 1.5% below the year-earlier pace through November. Spending on private nonresidential buildings was almost 17% lower through November than in 2001. Privately funded nonbuilding work was worth 1.4% less through November than in 2001.