By Jim Haughey, Director of Economics | September 28, 2010
After starting the year with a 1.6% increase, publicly funded activity fell 2.9% in February. This is a 5.2% decline from a year ago and 2.3% lower compared to the first two months of 2002. Spending on buildings decreased 3.8%; nonbuilding fell 1.9%. Year-to-date spending for industrial work was 7.6% greater than it had been through February 2002.

Employment in the construction industry was estimated at 6.543 million workers during March, a 0.8% decline from 2002. Over the same period, overall employment declined 0.2%. Despite the yearly decline, employment in March was up 0.3% from February.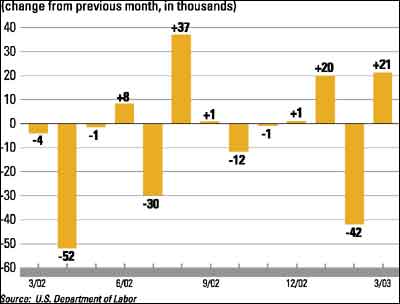 The dollar value of shipments of construction machinery and equipment fell 5.2% during February, following a decline of 6.6% in January. Year-to-date shipments are up 4.4% compared to the first two months of 2002. The value of orders placed with U.S. construction-equipment manufacturers declined 2.1% during February, after a decline of 0.4% in January. Through February, the annualized value of new orders to U.S. construction machinery/equipment manufacturers was up 2.1% from 2002.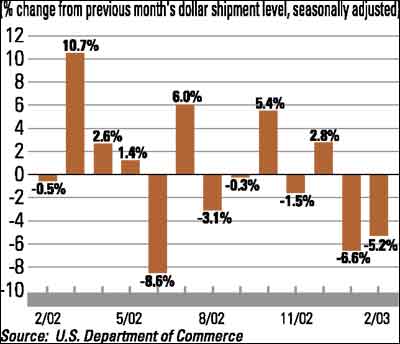 Residential construction spending grew in February for the sixth consecutive month. With a gain of 0.2% in February, and a sizable increase of 3.2% in January, 2003 is starting off strong. Growth in single-family home construction was on a 14% annualized pace, while spending for multifamily buildings was 4.5% greater than the first two months of 2002. Dollars spent on single-family home construction decreased 0.1% between January and February, and spending on multifamily rose 3.4%.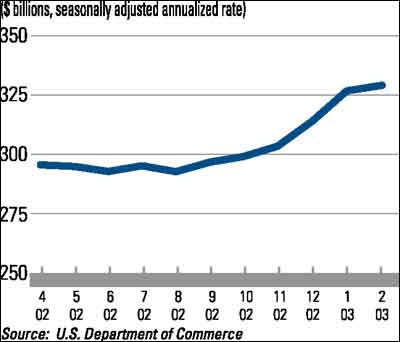 Overall privately funded construction work was worth 0.7% more in February than January. This is the fifth consecutive month of gains in the privately funded construction market. Both residential and nonresidential spending increased during the month. Total privately funded activity was running 1.6% ahead the year earlier pace through February. Spending on private nonresidential buildings was running 14% below the pace for the first two months of 2002.