By Jim Haughey, Director of Economics | September 28, 2010
The sharp drop in additional spending for public facilities this year reflects the delayed impact of the 2001 recession on tax receipts and public budgets. Most of this happened in the September–March period with emergency cuts to balance FY03 budgets. FY04 begins July 1 for most governments. Expect initial catch-up spending. FY05 budgets will be higher because they'll be based on improved tax receipts in 2003.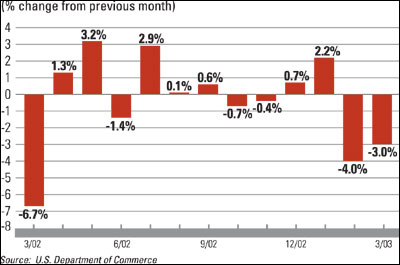 Construction employment has been steady at 6.650 million workers for the past year except for two one-month weather related dips. Employment is forecast to increase at a 1.0% annual pace through next winter and then 2.5% for the rest of next year. This is relatively sluggish job growth compared to the nearly 50% rise recorded from 1992 to 2000. So the buyers' market for construction labor will continue.
Shipments from U.S. factories tumbled 10%, seasonally adjusted, in the sour prewar investment environment during the winter. Worldwide sales dipped only marginally. Shipments had risen nearly 20% from the business cycle low point in January 2002 to yearend. A strong rising trend is now expected for several years. But it is beginning slowly this spring, so total shipments for 2003 will be basically unchanged from last year. Then sales should jump 10.9% next year.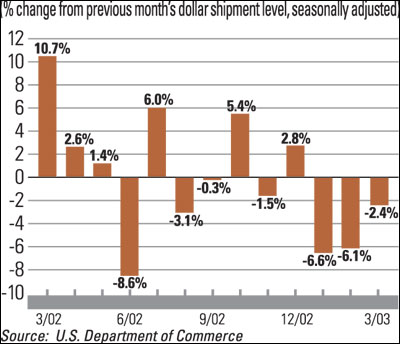 Spending for new residential construction will remain at the recent high level, but there are no further gains expected until late next year. Activity will surge and ebb with short-term movements in mortgage rates, but starts will be trending slightly down. The end of a long boom always produces an overstock problem. That will be within a few months and will take several months to absorb.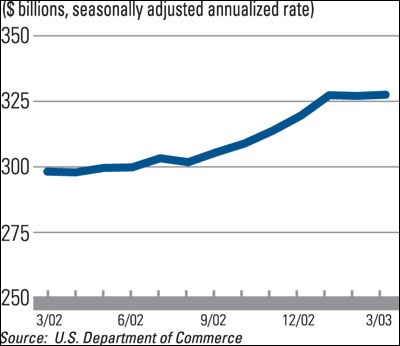 Private construction spending, largely residential and commercial, reacts very quickly to economic changes. Spending growth has been negligible since early 2001 when the recession began and will not resume until next winter when economic recovery has accumulated enough to create sustained increases in space demand. During the 10-quarter period of almost no overall growth, residential was initially growing while commercial was declining. Now the roles are switching.