By Jim Haughey, Director of Economics | September 28, 2010
Construction spending rose 4.7 percent in February through April. The $44 billion-dollar gain was concentrated in single-family, highway, office, lodging, education and health care. Single-family and highway have little prospect of significant further gains during the summer, but the pickup in nonresidential project spending could be the beginning of a long period of renewed growth at a quickening pace.

Factory output has been rising at a 6-percent annual pace since it turned up last June. Recent manufacturing orders and hiring plans suggest that growth will quicken this summer and average closer to 7 percent through next year. Manufacturing capacity utilization is likely about 77 percent currently, quickly approaching the 80-percent threshold when facility construction spending typically begins to expand. Industrial facility spending has been flat to slightly down for 18 months.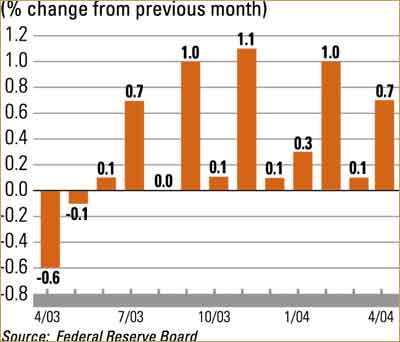 Spending soared 16 percent in March and April, the two highest monthly spending totals ever. Bridge work rose 10 percent and pavement work 22 percent. Both gains were boosted only about 3 percent by higher costs, so there was a substantial volume increase. Part of this was favorable weather and part was catch up after contract awards lagged earlier because of the impasse on the highway-funding plan.

Construction Equipment Price Index
Equipment prices have jumped 2.6 percent in the four months through April after rising only 1.1 percent over the previous two years. Prices should rise approximately 2.0 percent by early summer before the adjustment in steel and other commodity prices is fully passed through by manufacturers. Then equipment inflation will ebb to about 2.5 percent per year, keeping pace with higher levels of overall inflation expected during the mature stage of the economic expansion.
Gross Domestic Product
U.S. economic growth will slow to a 4-percent-plus pace through the end of next year after averaging 5 percent over the past five quarters, including a 5-percent growth rate expected to be announced this month for the second quarter. Growth is slowing in the consumer sector as fiscal and monetary stimulus is reduced quickly and oil price rises absorb $70 billion of spending power. Investment spending will grow rapidly—first in machinery but reaching facilities this fall.