By Jim Haughey, Director of Economics | September 28, 2010
Activity has been stuck for three months at $214 billion, exactly the 2003 average. The early 2004 spending outlook is for steady or even slightly lower activity. Contractors are waiting for the new federal highway funding legislation, for states' new fiscal years in July with some programs restored, and for steel price and availability to return toward normal. Then modest growth begins late in 2004 and accelerates in 2005.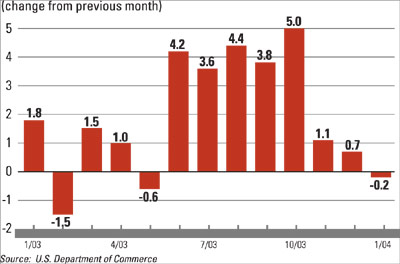 January equipment shipments from U.S. factories were at a 5-year high of $2.06 billion. Imports increased similarly. Fleet managers are replacing and adding equipment in anticipation of new projects funded by an expanded federal highway program and less constrained 2004–05 FY state budgets. January shipments were 18% higher than the average month in 2003, so shipments are likely to average lower until federal funding, state budget, and steel price and availability concerns are settled.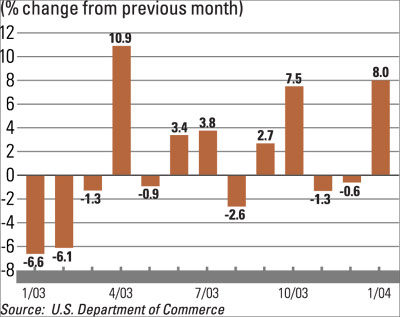 Contractors laid off 24,000 people in February after 10 monthly gains totaling 147,000. Nearly 100,000 additional jobs are still expected over the course of 2004, mostly for nonresidential building and heavy project work. A larger share of contractors is planning to hire in the April–June quarter than at any time in the past 26 years, according to the quarterly Manpower hiring survey.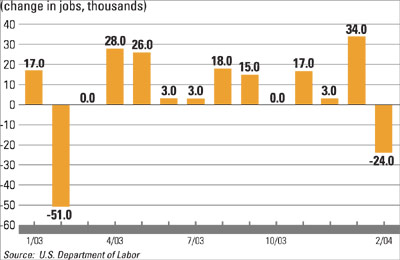 New residential starts fell to a 1.908 million annual rate in January following four boom months that averaged 2.007 million. Starts will gradually slide to less than 1.8 million by the end of the year. Still, the 2004 starts total will match last year. An early spring pickup in starts is possible following the early March drop in 30-year mortgage rates to 5.2%, nearly matching the lowest rates in summer 2003. This would be temporary. The trend is clearly down for two years.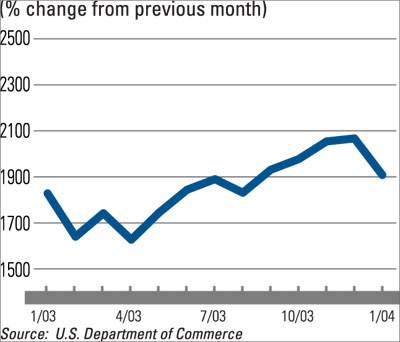 Spending on commercial buildings remains steady. January activity was unchanged both from December and the previous January. But renewed expansion is expected before summer as retailers react to the 8% rise in retail sales over the past year. Total spending in 2004 will be up 7% from last year due to a mini consumer spending spree this spring when taxpayers get 20% higher refund checks and also more consistent job growth that quickly boosts confidence in continued retail growth.