March 28, 2018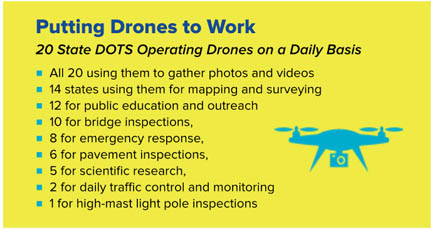 The American Association of State Highway and Transportation Officials (AASHTO) says 80 percent of respondents to a recent survey are using drone in their department's operations and almost half are using unmanned aircraft systems (UAS) daily.
The results were published in its March survey of state DOT's use of drones.
North Carolina was an early adopter of drone technology, says AASHTO. In 2013 the state legislature designated NCDOT's Division of Aviation to be the statewide authority for drone operations. Its UAS program aims to make drone technology available to DOT employees across the state.
"What we're focusing on this spring is trying to get drones into the hands of employees in all 14 division offices in our state," said Basil Yap, manager of NCDOT's UAS Program. "We're training our personnel and providing them with drones to meet their specific needs. By encouraging innovation from the ground up our employees will help NCDOT discover new applications for drone technology."
Yap says the potential time and cost savings are significant. A joint NCDOT/North Carolina Highway Patrol study in 2017, simulated a head-on crash in a controlled environment. The highway patrol Collision Reconstruction Unit took nearly two hours to collect its data. Pilots using three drones took just 25 minutes to complete the mission. NCDOT says had the simulated crash occurred on I-95 it would have cost an estimated $8,600 in lost productivity for every hour one lane of the interstate was closed. The tally for the traditional investigation $12,900 in lost productivity or just $3,600 using drones-for a $9,300 savings.
"We were blown away by the cost savings that we noticed from this particular research project," said Yap. "By using drones this way motorists, state DOT crews and emergency responders benefit because we're getting them out of harm's way faster by clearing crash scenes quicker."
Of the 35 states deploying drones, 23 have established comprehensive drone policies that cover the acquisition, operation, airspace restrictions and the training and permitting of drones and drone pilots. 27 of the state DOTs reporting said they were adding full-time staff to operate and maintain their drone fleets.
Some experts predict that as more public and private organizations begin to deploy drones the demand for drone pilots and other related expertise will grow-making it more difficult for state DOTS to attract qualified personnel.
"We already have local government agencies coming to us and asking for training and so we've partnered with our community college system to come up with a curriculum to train drone pilots," said Yap. "We're talking about making an economic development decision here--because commercial drone package delivery is coming and State DOT's across the country need to play a role in developing the highways of the sky-- especially in urban areas."
Below is AASHTO's Special Report Video:Building Highways in the Sky: State DOTs Leading the Evolution of Drones