Staff | September 28, 2010
A 60-ton Link-Belt crane, trailered by Keen Transport, lead a procession of a dozen idle pieces of construction equipment in and around the National Mall and Capitol Hill in Washington, D.C., on Oct. 28, 2009. The convoy was to draw attention to Start Us Up USA!, the last of three rallies across America calling Congress to reauthorize critical transportation spending. Co-sponsors of the rally, the Association of Equipment Manufacturers and the Associated Equipment Distributors, communicated the impact on the construction industry of the recession and expiration of the last federal transportation act.
With the Capitol and idle equipment as a backdrop over a field of 5,500 orange utility-locating flags (each representing 100 unemployed construction workers), House Transportation & Infrastructure Committee Chairman James Oberstar (D-MN) was keynote speaker.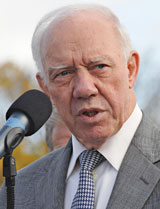 Oberstar
"Surveying of states shows that 15 have cut back on spending, and another 19 states will cut back on their 80\20 program next year. That means whatever gains we made in the stimulus side will be offset by losses on the regular program side," Oberstar said. "Those unsettling numbers are real. So let's act now!
"Then we can get things going," Oberstar exhorted Congress. "With your help, with your strong support, as you have been consistently supporting our six-year investment bill, we will put America to work. We can create six million new jobs!"
In addition to participating in the rally, Link-Belt Crane urged its employees, customers, and distributors to sign the Start Us Up USA! petition, contact their representatives in Congress, or write letters to the editors of their local newspapers.
Do that here: www.StartUsUpUSA.com/takeaction.cfm.
Chuck Martz, Link-Belt CEO, added that "this funding is critical long-term, not just to our industry, but to our country. It directly affects our international competitiveness. Similarly, delaying this funding not only affects the industry, but also the overall employment rate and our prospects for economic recovery."