September 28, 2010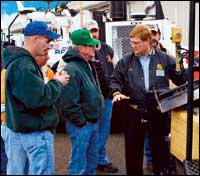 Roadtec has announced a series of workshops designed to increase the skill levels of employees of asphalt-paving companies — the very people responsible for the quality and smoothness of the country's pavements.
Both classroom and hands-on instruction will be offered by professionals from leading companies in the road-construction industry, including Roadtec, Astec, Topcon, Laser Systems and Carlson Paving Products. Among topics up for discussion are reviewing the function and control of the paver and screed, preventing mix segregation, achieving proper mat density with rollers, applying tack coats and mat testing.
Workshops are scheduled for Jan. 18–19 and Feb. 22–23, 2006, at the Roadtec/Astec training center in Chattanooga, Tenn. For information contact Carmen Mercer at Roadtec, 800-272-7100.