By Mike Anderson, Senior Editor | September 28, 2010
---
Items:
Kubota
Wacker Neuson
New Holland Construction
Yanmar
Takeuchi
Terex
John Deere
Case
Caterpillar
Volvo
Kawasaki
Komatsu
Doosan Infracore
JCB
Gehl
Mustang
Compact Power
AGCO Willmar
---
In this story:
---
Tables:
Cost of Ownership
Compact-Wheel-Loader Specifications
In the past year, list prices for new compact wheel loaders and average costs to put those machines to work have slipped . . . with one exception. According to EquipmentWatch.com, list prices for the largest compact wheel loaders, those in the 80- to 99-horsepower and 100- to 109-horsepower ranges, have increased by 8.2 and 8.6 percent respectively, although hourly rates to work those machines have, as with all compact wheel loaders, actually gone down. Model upgrades could explain part of the bucking of the economic-spiral trend, but there may just be more at play here with the largest of the compact wheeled loaders. Actually, it may be just that – the size of these particular pieces of construction equipment – that is weighing heavily on the equation.
The WA150-6, rolled out in March, is Komatsu America's first Dash-6 wheel loader sitting under the industry-recognized 109-horsepower threshold for full-sized wheel loaders, competing against such formidable models as the Volvo L45F and John Deere 344J in the 1.7- to 2.2-cubic-yard market. But the 98-horsepower WA150-6 is a compact in industry classification only, says Mike Gidaspow, Komatsu America product manager.
"The way that we categorize our wheel loaders, the 150 is actually the smallest of our construction-type loaders. It gives you all the bigger-loader features in a little bit smaller package," says Gidaspow. "The 150-6 received a lot of the features that the 200-6, 250-6 and 320-6 had received when they came out, and have currently. The biggest improvement is refinement with the hydrostatic transmission." Engine power is transmitted hydraulically to a transfer case, then mechanically to the differentials and four driving wheels. By adjusting automatically to tractive efforts demands, Komatsu's hydrostatic transmission provides aggressive drive into the pile, as well as fast travel response. The Dash-5 predecessor had "an on-off traction control system," but users wanted more variability within the system to better fit jobsite conditions, says Gidaspow.
A Komtrax fleet monitoring system was available on earlier-generation WA150 wheel loaders, but an updated version is standard on the Dash-6 units. "Our other construction wheel loaders will start receiving the upgrade," he says, "but the 150 is our first to have it from the start. All 150s will have the upgraded Komtrax, where you can see fuel consumption per day. We're finding more and more customers are finding value to Komtrax, and it's our challenge to make it more valuable for those customers, giving them more tools that they can put to use. We're adding features to Komtrax that will help our customers make their businesses more efficient."
Similarly, the 98-horsepower L45 is the first machine in Volvo's extensive compact wheel loader range to be upgraded to the F-Series designation, joining the 115-horsepower L50F in matching the styling of the 10 larger Volvo loaders, topped off by the 532-horsepower L350F. "The hallmarks for the F-Series are the Volvo Care cab and the instrumentation being on the right pillar, the comfortable climate control inside, improved serviceability across the board, and the good ol' faithful coupler up front," says Joel Powell, Volvo Construction Equipment North America's product specialist group manager, compact equipment. "There are some definite characteristics that the family shares. You'd be able to look at the L45, and it just goes up from there. There's no distinction between the big ones and the small ones; they all look, feel and smell the same."
The Volvo L45F compact wheel loader is particularly suited to government agencies including municipalities, as well as material-handling companies in the ornamental landscaping sector, says Powell. "It's a good middle-of-the-road loader," he says. "It's kind of the best of both worlds – it can fit in some tight areas, but has some large-loader characteristics as far as productivity is concerned. It's also very popular in some aggregate and quarry situations in order to get around conveyor belts where you couldn't get a larger machine. It's not large productivity as far as the actual amount of material you're going to be moving, but the utility and versatility is what makes it productive and popular."
While not the highest specified on the market according to figures from Spec-Check, the new Komatsu WA150's breakout force remains at above 16,000 pounds, "and that is one of the things that we really focus on with all of our wheel loaders," says Gidaspow. "Up and down the line, you'll see that we're the leader or pretty close to the leader in breakout force. We focus on breakout force, tipping load, and try to make sure our machines have good tractive effort, because those are the real good parameters of how well a wheel loader can dig.
"The older idea of thinking of a machine as far as horsepower and weight gives you an idea of how big it is or how it's going to perform," he says, "but the heavier the machine is, the more fuel it's going to burn. If you can make a machine lighter, but have weight in the right places and have hydraulic power for breakout force, you can have a machine that's just as productive and burns less fuel because it's more efficient."
Below the WA150-6, Komatsu America currently offers the 37-horsepower WA50-3, the 60-horsepower WA80-5, and the 82-horsepower WA100M-5 models. Volvo has the L20B, the L25B, the L30B Pro, the L35B Pro and the L40B compacted wheeled loaders.
When it comes to sizing, the matching of a compact wheel loader to a customer's needs is naturally a more intricate equation, says Case Construction Equipment's Jim Hughes. There are no full-yard or even half-yard round-offs, unlike in the full-sized loader market. As part of its E Series 3, Case offers the 21E, 121E, 221E and 321E, ranging from 50 to 77 horsepower.
"You look at the 21 with its 50 horsepower and it's got a pretty small footprint," says Hughes, "and then you go up to the 121, 221 and 321, and they all grow in size just a little bit. If a guy has got a particular need from a size or a horsepower perspective, or a bucket-capacity perspective, he wants to be able to make sure he has that machine that will work exactly for him, as opposed to making something that may not be perfect for him have to work for him."
The Case compact wheel loader has a standard-flow hydraulic quick coupler system compatible with skid-steer attachments such as forks, augers and tree spades, "but it gives you a little bit bigger footprint than a skid steer, so it has a little bit more stability; it's got a higher travel speed, especially with the two-speed option on it; and it's got more reach for landscape operations, stacking and even truck loading," says Hughes. "You're certainly seeing more contractors realizing the versatility of these machines as they become more popular in North America."
Skid-steer attachments add to versatility of compact wheel loaders, but especially when leveraging the breakout force and stockpiling ability of a wheel loader, concurs New Holland Construction's Mike Murphy. "The new mono-boom linkage allows the best of both worlds," says Murphy, global product marketing manager - wheel loaders. "You can get quite a range of attachments, you can get nearly parallel lift, but you can also get the breakout force. We know that the skid steer loader is a Swiss Army Knife, and the compact wheel loader can be a Swiss Army Knife with some advantages over the skid steer. The benefit of the compact wheel loader is lifting capacity for one thing, and the reach and the ability to stockpile, which a skid steer loader can't do."
Murphy points out the reduced danger in waste-handling operations with a carrier that has increased spacing from the operator to the load. The availability of enclosed, pressurized cabs further suits compact wheel loaders to working in more extreme conditions.
Products of the same parent company, New Holland's compact wheel loader offering has half the number of models as Case's. New Holland's W50B TC and W80B TC, incorporating a Tool Carrier designation emphasizing attachment friendliness, are 50 and 77 horsepower, respectively.
"The model offering is based on what the market demands," says Murphy. "It looks like there is a gap in there, but our experience has been that there really isn't. We respond to what the market is specifically asking us for."
With 20-plus brands of wheel loaders serving the 25- to 109-horsepower market, there would appear to be, as Hughes suggests, a fit for every need.
Cost of Ownership

Size Class

List Price

*Hourly Rate

* Hourly rate is the monthly ownership costs dived by 176, plus operating costs. Unit prices used in this calculation are diesel fuel at $2.25 per gallon, mechanic's wage at $45.39 per hour, and money costs at 5.625 percent.

Source: EquipmentWatch.com, phone 800/669-3282

Up to 39 hp

$43,248

$17.24

40 – 59 hp

$62,787

$22.68

60 – 69 hp

$63,730

$23.78

70 – 79 hp

$77,069

$27.45

80 – 99 hp

$103,651

$33.29

100 – 109 hp

$105,816

$35.60
Compact-Wheel-Loader Specifications

Model

Net Engine Output (hp)

Operating Weight (lb.)

Bucket Capacity (cu. yd.)

Breakout Force (lbf)

Full Turn Tip Load (lb.)

Dump Clearance

Bucket Linkage

Wacker Neuson WL 18

25

4,057

0.26

2,792

1,640

6'9"

Parallel

Boxer 726DT

26

1,874

0.481

2,513

2,248

n/a

n/a

TCM E804-2

29

6,380

0.52 – 0.65

6,170

3,660

7'0.8"

Z-bar

Power Trac PT-1430

30

2,560

0.30 – 0.67

n/a

2,400

n/a

Inverted Z-bar

Power Trac PT-2430

30

3,350

0.30 – 0.67

n/a

2,400

n/a

Inverted Z-bar

Yanmar V3-6

30

6,801

0.52

5,400

3,924

7'0"

Z-bar

Boxer 732DT

32

2,271

0.1481

3,197

2,976

n/a

n/a

Wacker Neuson WL 25

33

5,556

0.45

4,471

2,952

6'8"

Parallel

Swinger 1200

36

4,780

0.33 – 0.85

2,765

2,400

6'6.2"

Parallel

Komatsu WA50-3

37

8,200

0.75

6,720

5,073

7'0"

Z-bar

Gehl 280

39

7,055

0.85 – 1.44

6,137

5,181

7'7"

Parallel w/bellcrank

Mustang ML28

39

7,055

0.85 – 1.44

6,137

5,181

7'7"

Parallel w/bellcrank

Yanmar V4-6

40

8,058

0.65

6,085

5,158

7'11"

Z-bar

TCM E806-2

41

8,260

0.78 – 0.92

7,500

5,030

8'2.4"

Z-bar

Coyote C5C

42

6,834

0.94

6,614

5,512

7'2.6"

Z-bar

Kubota R420S

43

7,450

0.50

6,550

3,850

7'4.4"

Z-bar

Power Trac PT-1445

45

3,920

0.44 – 0.89

n/a

3,600

n/a

Inverted Z-bar

Power Trac PT-2445

45

4,260

0.44 – 0.89

3,500

3,600

n/a

Inverted Z-bar

Wacker Neuson WL 30

48

6,857

0.60

9,089

3,648

7'11"

Z-bar

Boxer 749DT

49

3,440

0.1481

5,512

4,520

n/a

n/a

Wacker Neuson 280

49

7,055

0.85 – 1.4

6,137

4,409

7'7"

Inverted Z-bar

Kubota R520S

49

8,980

0.75

7,425

4,410

8'9.2"

Z-bar

Terex TL60

50

8,595

0.45 – 1.53

8,325

5,456

8'3"

Parallel

Terex TL65

50

9,040

0.45 – 1.53

8,325

5,788

8'3"

Parallel

Coyote C8

50

9,149

0.9

8,818

5,577

8'4"

Parallel

New Holland W50BTC

50

10,173

0.92 – 1.0

8,386

6,489

8'3"

Inverted Parallel

Case 21E Series 3

50

10,207

0.92 – 1.05

7,801

6,457

8'2.2"

Inverted Z-bar

Takeuchi TW50

51

8,708

1.05 – 1.11

8,992

5,975

8'4.4"

Parallel

Coyote C6

52

8,377

0.75

7,100

4,520

7'4"

Parallel

Caterpillar 904H

52

9,900

0.8 – 1.3

8,003

5,511

7'10"

Z-bar

Volvo L20B

54

9,945

0.85 – 1.25

6,970

6,175

8'3"

Parallel

Waldon 5100

57

7,100

0.41 – 1.0

5,000

3,500

8'3.7"

Z-bar

Volvo L25B

57

10,650

1.0 – 1.6

8,320

7,495

8'2"

Parallel

JCB 406 Tier III

58

10,870

1.0 – 1.8

9,420

7,275

8'2"

Parallel

Gehl 480

59

9,921

1.11 – 1.83

7,868

7,496

8'2"

Parallel

Mustang ML48

59

9,921

1.11 – 1.83

7,868

7,496

8'2"

Parallel

Takeuchi TW65

59

10,362

1.05 – 1.11

11,600

7,143

8'2.4"

Z-bar

John Deere 244J

59

11,552

1.0 – 1.4

10,792

7,718

8'4.4"

Z-bar

TCM E820-2

59

11,600

1.18 – 1.3

10,470

7,980

8'2.4"

Z-bar

Gehl 480T

59

11,684

1.11 – 1.83

11,016

6,746

13'1"

Telescopic, Extended

Mustang ML48T

59

11,684

1.11 – 1.83

11,016

6,746

13'1"

Telescopic, Extended

Power Trac PT-1460

60

5,620

0.56 – 1.11

n/a

4,800

n/a

Inverted Z-bar

Power Trac PT-2460

60

5,980

0.56 – 1.11

4,000

4,800

n/a

Inverted Z-bar

Gehl AWS36

60

9,921

1.11 – 1.83

7,868

7,054

8'2"

Parallel

Mustang ML360

60

9,921

1.11 – 1.83

7,868

7,054

8'2"

Parallel

Wacker Neuson 850

60

9,921

1.11 – 1.83

7,868

7,055

8'2"

Parallel

Case 121E Series 3

60

10,893

1.05 – 1.18

9,337

6,795

8'4.3"

Inverted Z-bar

Terex TL80

60

11,240

0.90 – 1.60

10,128

7,563

8'4"

Parallel

Komatsu WA80-5

60

12,434

1.04 – 1.63

10,164

8,135

7'11"

Z-bar

Waldon 4500B

61

6,920

0.43 – 0.78

5,950

2,800

7'8"

Z-bar

Takeuchi TW60

61

10,251

1.05 – 1.11

11,600

7,055

8'1.4"

Z-bar

Swinger 2K

65

8,000

n/a

4,752

5,000

8'0.4"

Parallel

Volvo L30B PRO

68

12,040

1.2 – 2.1

13,710

8,490

8'4"

Z-bar

Case 221E Series 3

69

11,976

1.18 – 1.31

9,723

8,002

8'6.3"

Inverted Z-bar

Caterpillar 906H

70

12,412

0.98 – 1.6

9,442

6,962

7'10"

Parallel Z-bar

JCB 409 Tier III

72

12,830

1.2 – 2.03

12,095

8,628

8'7"

Parallel

Loaders Boast Traction, Versatility
A load-sensing transmission automatically adjusts the speed and torque of Kubota R-Series compact wheel loaders in response to load conditions. An electric shuttle shift lever allows on-the-go directional change of the 43- and 49-horsepower R420S and R520S models without clutching or braking. Standard four-wheel drive, limited slip differential, and rear-frame oscillation contribute to machine traction and stability, says Kubota.

Choice Extends to Model Styles
Bringing to North America models established in Europe, Wacker Neuson actually markets two styles of compact wheel loaders here. In addition to the WL 18, 25, 30 and 50 articulated loaders, the company offers the 280 and 850 rigid-frame all-wheel-steer models suited for stable work on steep grades. The rigid frame means the operating capacities do not change when the machine turns. Most articulated models are equipped with an on-demand differential lock for traction.

Universal Link Design Up Front
Upgraded with Tier-3 New Holland engines from Fiat Powertrain Technologies, the W50B TC and W80B TC compact wheel loaders are rated at 50 and 77 net horsepower, respectively. A new boom design featuring one lift cylinder and one bucket cylinder enhances both visibility and breakout force, says New Holland Construction. The standard hydraulic quick coupler is compatible with all skid-steer attachments. The W80B TC has a high-speed option.

V-Series Models Do More with Less
At 30 and 40 horsepower, respectively, the Yanmar V3-6 and V4-6 compact wheel loaders are designed with a lower profile, which not only improves center of gravity for stability, but suits enclosed-carrier loading. Lifting capacity, with single-lever bucket operation, is 5,760 and 7,451 pounds, respectively. Driving force is transmitted evenly to the ground courtesy of rear-axle oscillation. An optional mechanical quick coupler fits most skid-steer attachments.

Center-Pivot Articulation Cuts Required Space
The first line of compact wheel loaders offered by Takeuchi, the four-model TW family features center-pivot articulation, allowing the rear tires to follow the path of the front for greater confined-area control. Standard-equipped with hydraulic quick-attach, Takeuchi loaders articulate 40 degrees left and right and oscillate 10 degrees in the front and rear. Momentary push-button control of 100-percent front and rear differential lock provides additional traction in harsh terrain.

High-Flow Option for Larger Units
A high-flow auxiliary hydraulics option has been added to the largest two of four Terex compact wheel loaders. This extends, with the use of continuous-flow attachments, the work application options for the 60-horsepower TL80 and 73.5-horsepower TL100 models. A four-wheel-drive, limited-slip differential hydrostatic drive system on each Terex model provides a 90-percent availability of maximum torque at start-up; and rapid starting, stopping and reversing.

Tight-Turning Trio Forms Family
With three models in its "Compact 4WD Loader" line, defined as up to 2 cubic yards in bucket capacity, John Deere leverages stereo steering for a tighter turning radius. Simultaneous rear-wheel steering reduces the amount of required loader articulation, keeping the center of gravity and ballast in line for better full-turn tipping load capacity. Two-travel-speed transmission and return-to-dig are standard for the Tier-3 304J and 344J models and the interim-Tier-4 244J.

Versa-Boom Allows Fork-Tip Visibility
Having repowered and reintroduced its four E Series compact wheel loaders with a 3.2-liter, Tier-3-certified, Case-branded engine in early 2008, Case Construction Equipment continues to offer the Versa-Boom design for operator visibility to the skid-steer-compatible quick coupler and attachments throughout the lift cycle. The parallel lift has a variance of less than 1 degree throughout the cycle. A high-speed option and return-to-dig feature boost machine productivity.

H-Series Models Hit Market
With the 914G/IT14G model established, Caterpillar introduced H-Series versions of the smaller 904, 906 and 908 compact wheel loaders. The completely redesigned 906H and 908H feature a standard skid-steer-style coupler, differential lock and Z-bar linkage. The 904H, compared to its predecessor, has a new engine, operator's station, axles and styling. H-Series compact loaders offer such options as ride control, high-flow hydraulics, and a high-speed configuration.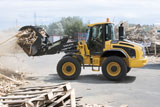 Family's Big Brother Moves Up
The largest Volvo wheel loader in the compact jurisdiction, the 98-horsepower L45 has been introduced recently as an F-Series model, incorporating characteristics of Volvo's larger loaders. The L45F has a Volvo Care cab, Volvo D5D engine, hydrostatic drive, enhanced exterior styling, and a hydraulic reversible fan option. On the five B-Series models ranging from the L20 to the L40, an oscillating front axle provides comfort, load retention and stability over rough terrain.

Model Adopts Larger-Machine Options
KCMA Corp., which brings Kawasaki loaders to market in North America, offers one model within the industry-established compact range. The updated 96-horsepower 50ZV has options found on larger models that will match demands for this particular machine size in waste and recycling, extreme applications and agriculture, including high-lift arms and anti-corrosive features. An automatic power-shift transmission has three forward and three reverse speeds.

Dash-6 Upgrade for Large Model
The newest Komatsu wheel loader, the Dash-6 version of the 98-horsepower WA150 falls under the industry-established compact limit, but has many of the changes recently made to the larger WA200, WA250 and WA320 models. The WA150-6 has variable traction control with S-mode to reduce wheel spin, as well as the Komtrax fleet monitoring system as standard. For more compact needs, Komatsu currently offers the WA50-3, WA80-5 and WA100M-5.

Cab Offers Big-Machine Comfort
As part of the full DL Series of wheel loaders, Doosan Infracore offers one model under 109 horsepower. The DL 160 has been updated with a cab design accommodating operators of all sizes, thanks to a tilting and telescopic steering column, fully automatic climate controls, an adjustable armrest for the joystick, and an adjustable, lumbar-supported, air-suspension seat that is 15-percent larger than the predecessor Mega Series loader's is.

Upgrades for Each Machine
Each of the three compact wheel loaders in the JCB product family has undergone significant changes. The 406 and 409 transitioned from Perkins to Deutz engines, and from Z-bar to parallel-lift geometry, gaining increased visibility along the way. The 411HT model, in addition to transitioning from a Perkins to JCB engine, has an upgraded cab. JCB loaders have, as options, both a skid-steer adaptor plate and quick-hitch.

All-Wheel-Steer Models Have Intelligent Drive System
Introduced by Gehl in 2008, the 60- and 75-horsepower AWS36 and AWS46 all-wheel-steer loaders feature an intelligent drive system, which automatically adjusts speed and pushing power based on the resistance applied to the work tool. The hydrostatic pump is directly coupled to the Deutz Tier-3 engine, providing oil flow to high-torque, radial-piston, hydraulic motors. A continuously variable, hydrostatic, axial-piston gearbox is coupled to the front and rear axles.

Hydrostatic System Drives Loaders
The Gehl-owned Mustang brand offers two new all-wheel-steer loader models, the ML360 and ML460, featuring a combination of steerable axles with a rigid frame to create a fixed center of gravity that maintains rated operating loads throughout turns. Without the need to change gears, the Mustang all-wheel-steer loaders use hydrostatic drive to automatically adjust speed and pushing power while lifting and loading.

Three Models Make Up New Line
A new product line for Compact Power's Boxer Equipment brand, the DT Series of articulating compact wheel loaders has three models ranging 2,248 to 4,520 pounds in tip capacity. The telescoping boom extends from nearly 9 feet on the 26-horsepower 726DT to 12 feet on the 49-horsepower 749DT. Ground speed for the top-of-line 749DT reaches 13.7 miles per hour. Boxer loaders have steering wheels for drive and joystick controls for boom and bucket use.

Oscillation Keeps Wheels On the Ground
An AGCO product, the Willmar Wrangler 4550 articulating loader leverages an 83-horsepower Deutz engine with single-speed, hydrostatic, four-wheel drive. Electronic shuttle-shift and foot-pedal speed control enhance smooth operation, and a 16-degree frame oscillation keeps all wheels on the ground in rough terrain. The universal tool carrier accommodates most skid-steer attachments, with joystick control providing easy lift and tilt.