September 28, 2010
From the northeast lot where tower cranes marked the outskirts of the outdoor exhibit space, to the far corners of the cavernous South Hall, Conexpo-Con/Agg 2005 provided the venue for the world's construction equipment suppliers to display their wares last month in Las Vegas.
The Show covered nearly 2 million square feet of exhibit space, allowing ample room for suppliers to display an array of product. During the course of those five days in March, several new machines were introduced to the market while dozens of others were unveiled with major upgrades and line improvements.
Construction Equipment editors visited the booths, talked with manufacturers, and walked around machines. We've gathered a substantial, though by no means exhaustive, collection of the products creating the buzz during Conexpo-Con/Agg 2005. Many of these will be covered in-depth in upcoming months, so keep an eye on our Equipment Reports.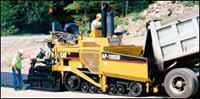 Caterpillar's AP-1055D asphalt paver combines many new features with the features of the AP-1055B and AP-1050B. Effective with this release, the AP-1050 sales model will be discontinued as a separate offering. The AP-1055D will consolidate the Mobil-trac and steel-track sales models into one. The new unit has a Cat C7 engine with ACERT technology, dual operator stations, Mobil-trac or steel track undercarriage, high-capacity cooling package, and Cat's material-handling system. The 10-foot paver is capable of paving widths up to 26 feet.

Launch of the PR 734 and the PR 724 dozers introduces the fourth generation of Liebherr's Litronic control system. Its memory of operating data can be read on the multifunction display. The Litronic system is now capable of matching steering response to travel speed, which should improve the hydrostatic tractor's efficiency when working a curved path.
The new Smart-Station surveying system from Leica integrates TPS and GPS capabilities into one compact instrument, with one storage media, one display and one battery. Position coordinates can be determined at the touch of a key, without need for control points, traverses or resections. TPS and GPS can also be used as stand-alone systems. The Smart-Antenna can be used as a real-time kinematic on a pole and the total station can be used alone with full functionality. All Leica TPS1200 instruments can be upgraded to SmartStation.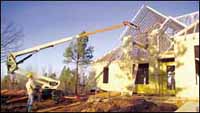 JLG's Tow-Pro trailer-mounted boom lifts are said to have larger working envelopes and faster towing speeds (up to 65 mph) than similar products on the market. They feature self-leveling hydraulic outriggers and a removable platform control box with one-handed proportional controls. Model T350 has a 35-foot platform height with 20 feet of horizontal reach; Model T500J has a 50-foot platform height that includes a 3 foot-6 inch jib boom with 130-degree vertical motion and has 31 feet of horizontal reach.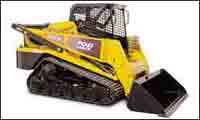 ASV's Posi-Track RCV vertical lift machine offers 86 horsepower, high-flow hydraulics, hydraulic quick-attach and selectable self-leveling. The machine runs on a suspended rubber track undercarriage, which uses multiple contact points to distribute tractor weight evenly. Torsion axle suspension of the undercarriage helps maximize contact with the ground, increasing load retention. Tracks are directly driven by single-speed drive motors with travel speeds up to 6 mph. The hydraulic system provides up to 38 gpm to the standard high-flow auxiliary circuit on demand or 20 gpm to the low-flow circuit.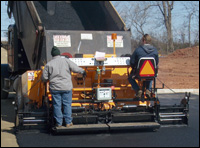 LeeBoy has equipped its Legend Screed System with electric heat, and offers the electrically heated version as an option on its commercial-class asphalt pavers. The screed continues to provide all the features as the conventional Legend System, and is available in an 8- to 15-foot-width version for the 8500 and 8515 paver models, and in an 8- to 15.5-foot version for the 8816. Using an on-board electric generator for its heat source, the screed is said to eliminate fuel, flames and fumes and provide more consistent heat and reduced maintenance costs.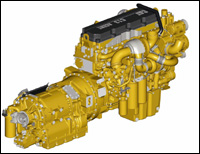 Building on its expertise in off-road equipment, Caterpillar has developed a new line of fully automatic, planetary-type transmissions for vocational applications. These new on-highway transmissions are based on the design of existing transmissions in the company's off-highway haulers, with the basic difference being a lightweight housing for the on-highway versions. The six-speed version of the new automatics, the CX31, will accommodate Cat C11, C13 and C15 engines, and the super-heavy-duty CX35 will match with higher-horsepower C15 engines.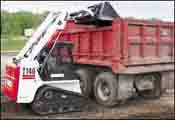 Bobcat's compact track loader line has expanded with the T140 entry-level machine, a small-frame unit offering advantages such as low ground pressure and high traction in soft ground conditions. The radius lift path loader is 56 inches wide and 124 inches long with bucket, and has a 1,400-pound rated operating capacity. Lug track distributes the weight to 5.0-psi ground pressure, minimizing damage to landscapes and other surfaces. A rubber-track undercarriage improves traction and flotation.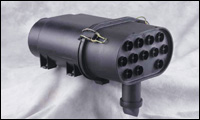 Donaldson has introduced a two-stage air cleaner, which utilizes the company's PowerCore filtration technology, to its aftermarket product line. According to Donaldson, the new two-stage PowerCore standard-line air cleaners feature a more compact design and higher filtration efficiency than conventional filtration products. Designed for a wide range of vehicles and engine sizes, the PowerCore filter, says the company, has twice the amount of filter media, compared to conventional pleated-media filters.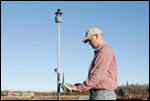 Trimble's new Site Positioning System includes a new total station, two new Global Positioning System (GPS) receivers and "construction-centric" software for heavy and highway construction applications. The system offers the option of selecting total-station or GPS technology for positioning and measuring on the jobsite, and it is engineered to perform day-to-day jobsite tasks, such as on-site surface modeling, volume computations, rapid site measurement from vehicles, real-time stakeout with cut and fill checks anywhere on the jobsite and the ability to validate, check and distribute data to on-site machines.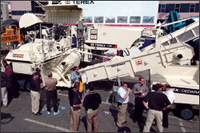 The 50,800-pound Terex/Cedarapids CR662RM RoadMix material transfer vehicle (MTV) meets all state requirements for continuous, non-contact Interstate paving. Rubber tracks spread the vehicle load over a broad surface, reducing ground pressure so RoadMix can work on base and top courses. Terex says the CR662RM, with augers in the receiving hopper, is the first and only MTV to reblend 100 percent of the asphalt. Terex estimates that it will require four to six hours of work to detach the rear conveyor and replace it with any Terex/Cedarapids screed, allowing the CR662RM to be used as a paver.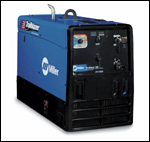 New Trailblazer 302 CC/CV AC/DC and Trailblazer 275 DC CC/CV engine-driven welding generators from Miller Electric now feature four preset DIG settings — Adaptive Hot Start, Lift-Arc/Scratch Start TIG with Auto-Stop and enhanced MIG/FCAW arc starts. Fully enclosed case and XENOY "protective armor" on the front panel improve the Trailblazer series' durability and reduce noise. Trailblazer's three-phase generator is isolated from a second 10,000-watt generator. It delivers 10,000 watts of useable peak power for a minimum of 30 seconds for big generator loads. The Trailblazer 302 provides 30- to 300-amp DC output and 35 to 225 amps AC output, while the Trailblazer 275 DC offers 30 to 275 amps DC output
Carelift's new ZB32032 telehandler, with a 32,000-pound capacity and 32 feet of lift height, is the highest-capacity telehandler available today. Features include a Cummins QSB 5.9 173-hp engine, Dana T32,000 powershift transmission, AxelTech axles, three steering modes, and frame leveling.
Tier II certified LS185.B and LS190.B skid-steers from New Holland feature a new, simplified power-train design and are rated at 2,500 pounds and 2,800 pounds operating capacity, respectively. At 78 gross horsepower, the LS185.B is new to the line. The LS190.B, which replaces the LS190, is the company's largest skid-steer model, rated at 81 gross horsepower. The SuperBoom feature means that the higher the load is lifted on these models, the farther forward the load can be placed. 
Volvo's 70-ton excavator came to the show floor straight out of development. The EC700B is 30 percent bigger than its next largest excavator sibling, the EC450B. The EC700B will be available in two configurations: one with a standard boom and arm and the other a mass-excavation boom and arm. A Tier 3 Volvo engine using the new Advanced Combustion Technology (V-ACT) system powers the machine.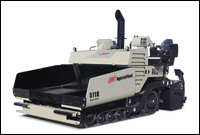 In the material-handling system of Ingersoll Rand's new series of highway-class pavers — the 38,000-pound 5110 on rubber tracks, wheel-mounted 5160 and 5170 at 35,000 pounds — the conveyor drives are independent of the auger drives. Each conveyor and auger measures material flow with a sonic sensor and automatically adjusts asphalt flow for precise delivery. Basic screed width on the three pavers is 8 feet, with a maximum paving width of 28 feet. A 30 kW generator powers electric screed heat. A Cummins diesel rated at 185 horsepower at 1,800 rpm drives through a hydrostatic transmission. The 5170 is available with two-wheel or four-wheel assist. In 2006, the 5110 is expected to replace I-R's PF-4410. The 5160 and 5170 will replace the PF-2181. 
Link-Belt's 218 HYLAB HSL is a 110-ton lattice boom crawler crane that can move in most states without removing the crawlers. As the first crane design from the new Hitachi-Sumitomo-Link-Belt alliance, totally new features of the 218 HSL include its rated capacity limiter, winch package with wet brake design, seven-piece counterweight design with removal system, a Mitsubishi 6D24-TLAZL diesel engine rated at 266 hp, and third and fourth drum options. Lift capacity has increased, and overall assembly and disassembly are faster using Link-Belt's patented Quick Draw system.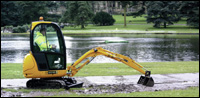 JCB has launched a completely new range of 1.5-metric-ton mini-excavators — models 8014, 8016 and 8018. The new machines feature a new upper-structure design, new cab, new hydraulics and controls, plus 1.1-liter engines that are Tier-II compliant. The new excavators, says JCB, are designed to meet the varying needs of customers in the 1.5-ton sector. The 8014, for instance, has a fixed undercarriage and is aimed at the rigors of the rental market. The 8016 features a longer fixed undercarriage, a 19-horsepower engine and optional two-speed drive motors. The 8018 adds an extendible undercarriage, larger hydraulic cylinders and more hydraulic flow to boost digging forces and speed.

Topcon now offers a powerful "indicate" control system for hydraulic excavators. The new 3Dxi system, says Topcon, enables significant increases in excavation productivity with the same 3D GPS+ system already available for dozers, graders and scrapers. The system features Topcon's popular 3D display/control box and rugged MC-A1 antenna — the same components found in Topcon's fully automated systems. The 3DMC software displays real time movement of the bucket, stick, boom and entire machine. Pan, profile, and section views can be selected singly or in combination to suit individual preferences. 
Vermeer's Series II version of the D24×40 Navigator delivers 4,000 ft.-lb. of torque with a Tier II John Deere 125-hp engine. With 24,000 pounds of pullback/thrust, the HDD has a rack-and-pinion drive system with a four-year/4,000-hour warranty. A newly designed operator's station features two joysticks, with integrated function controls. 
Engineered for mobility on and off paved surfaces as well as on rails, Gradall's Model XL3300 Track Star hydraulic excavator allows quick switching of attachments such as mowers, buckets, grapples, and 4-foot telescoping boom extension. Tilting 220 degrees and rotating in either direction, the boom maneuvers under bridges, trees and signage as well as in tunnels. Diversified rail gear system provides rail mobility. Once the machine is positioned over tracks, individual hydraulic cylinders independently lower rail gears into position for secure footing. Off the track, the excavator uses four-wheel drive.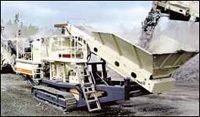 Metso Minerals built the track-mounted Lokotrack LT200HP around the well-known Nordberg HP200 cone crusher. There are more than 620 Nordberg HP200 crushers in operation all over the world. With its 8¼-inch feed opening, the HP200 can process up to 275 tons per hour of what Metso describes as a highly cubical end product. A 425-hp Caterpillar C-12 diesel with hydraulic drive provides variable crusher speed. Using the standard IC600 control system, the operator can optimize crusher speed for specific liners and feed stock.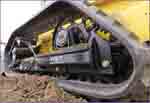 Loegering's Versatile Track System (VTS) rubber track undercarriage can be quickly bolted directly to the hubs of many skid-steer loaders, enabling contractors to decide between tires or tracks within an hour of operating a machine. With 18-inch-wide tracks, VTS enhances drive torque, traction and stability while reducing ground pressure to less than 5 psi for work on unstable ground conditions. It fits wheelbases from 42.5 inches to 51.5 inches and is adjustable to allow use on different machines.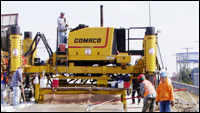 GOMACO's new V2 is a dual mold system that is hydraulically adjustable for paving at different widths. The configuration of the front and rear molds dictates the minimum and maximum paving widths and the amount of total width variation. It has separate mold control for the left and right side, and the molds have dual power transition adjusters (PTAs) for crown height adjustments. It's also available with a curb profile on one or both sides for municipal paving. V2 was developed to adapt to almost any paver operating in the field today. 
Atlas Copco's new CC 3300 hydraulic-jaw attachment, with an operating pressure of 5,100 psi, is designed for use with carriers in the 30- to 50-metric-ton range. The CC 3300 is available with both universal and steel-cutting jaws. The universal jaws open to 40 inches and deliver 441 tons of cutting force; the steel-cutting jaws have an opening of 17 inches and provide the same 441 tons of force. The CC 3300 also uses a separate hydraulic cylinder for each of its moving jaws — a feature, says Atlas Copco, that ensures consistently high breaking forces.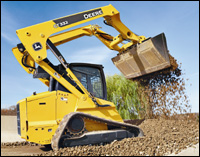 John Deere's two new compact track loaders, the CT 322 and CT 332, are rated at 62 and 76 net horsepower, and have operating weights of 8,305 and 10,825 pounds, respectively. These vertical-lift machines have steel-reinforced rubber tracks, a two-speed hydrostatic transmission, hydraulic coupler, high-flow hydraulics (producing 58 and 61.5 hydraulic horsepower, respectively) and standard air conditioning. Each track assembly's large front idler and front track roller are designed to move in tandem — a feature, says Deere, that smoothes the ride.
The 6600 Wood Hog fills the 81,000-pound spot in Morbark's horizontal-grinder line with a 66- by 50-inch infeed opening and hammermill that measures 42 by 67 inches. Engine choices range from 760 to 1,000 horsepower. The Iqan Feed System automatically adjusts feed rates, pressures, and feed wheel positions to optimize production and engine efficiency. A sliding fifth-wheel pin and movable third axle enhance portability. 
The new Ditch Witch SK350 mini skid-steer loader squeezes in between the company's larger SK500 and the smaller SK300. Powered by a 20-hp Kohler engine, the SK350 has an auxiliary hydraulic system that delivers a 12-gpm flow and enables the machine to handle 70-plus attachments. A 7.5-gallon fuel tank ensures that the SK350 will run for five hours or more between pit stops. 
Lincoln Electric replaced its Commander 300 with the Vantage 300 in a lighter, smaller, stainless-covered package that puts stick, downhill pipe, TIG and wire welding capabilities in the back of a pickup truck. Vantage 300 delivers 300 amps, 32 volts, of DC welding output and 100 percent duty cycle, 12,500 watts of 3-phase and 11,500 watts of 1-phase AC generator power. At high welding output, the generator still offers 3,500 watts of auxiliary power at 250 amps. The 22-hp Kubota diesel should run inherently smoother than three-cylinder engine-driven competitors.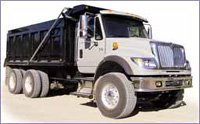 International's 7700 severe-service truck offers features that target bridge formula mixer, super dump and block hauler applications. Two models feature a front-bumper-to-axle setting of 29.1 inches and a frame system that optimizes payload weights. Standard engine is a 305-hp Cummins ISM with an 1,150-pound-foot torque rating. Chrome grille resists road debris, cracking and breaking. Made of a sheet-molded compound, the multi-piece hood and headlight assembly simplifies repairs. The Diamond Logic diagnostic system electronically checks the status of the truck.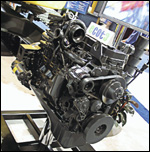 Komatsu's strategy to meet EPA's 2006 deadline for Tier 3 diesel exhaust emissions promises to improve fuel efficiency up to 15 percent. A patent-pending combustion chamber design is the foundation, and it alone is expected to bring Komatsu's small diesels into compliance. Mid-sized engines, in addition, will need cooled exhaust gas recirculation (EGR), coupled with an electronically-controlled common-rail fuel system and a redesigned turbocharger without variable geometry. Air-to-air charge-air cooling and a common electronic management system round out Komatsu's full line of Tier 3 engines.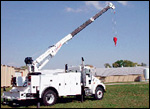 Billed as having many "industry-first" features, Stellar's 14528 telescopic crane offers 28 feet of full hydraulic reach from the centerline of the crane. It also has a 70,000-ft.-lb. capacity, with a maximum double part line lifting capacity of 14,000 pounds. The unit also comes standard with a fully proportional, multi-functional radio remote control. Stellar says the crane has the fastest winch line speed in the industry at 60 feet per minute.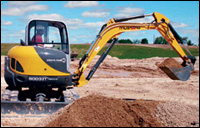 Mustang has introduced four compact excavator models: 7503ZT is new to the line and 5003ZT, 6003, and 8003 replace previous models. The 5003ZT and 7503ZT have a zero-tail-swing design, while the 6003 and 8003 have a short-tail design. A large cab offers independently adjustable seat and control units. Side-mounted engine compartment has a built-in barrier that limits engine noise and vibration in the cab. The one-piece steel boom system features pivot points with replaceable bushings. The tilting cab and under-hood arrangement facilitate access to the rotary transmission, battery and most hydraulics.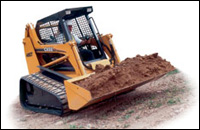 The first line of compact track loaders combines the new Case 400 Series skid-steer loaders with the technology used to build undercarriages for Case crawler dozers and excavators. The company says the rigid undercarriage minimizes maintenance costs, and track components are protected by a large spring mounted to the front idler. There are two models: The 445CT at 74 net horsepower has a lift capacity of 3,500 pounds with power reach vertical lift. The 450CT, at 82 net horsepower, has a lift capacity of 3,857 pounds with power cycle radial arm configuration for production digging and faster cycle times. 
Bomag says the BW100AD-4 tandem, ride-on, vibratory roller offers large-roller performance and productivity in a compact frame. It has an operating weight of 5,291 pounds and 39.4-inch-wide drums. Producing up to 8,550 pounds of centrifugal force per drum, the machine offers a performance increase of 15-percent compared with the model it replaces. The new unit has a high working frequency (4,200 vibrations per minute) that allows maximum working speeds of 4 mph while maintaining 10 impacts per foot.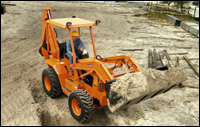 New from Allmand is the TLB-6235 compact tractor/backhoe-loader, a 35-hp machine that features a full-time, mechanical, four-wheel-drive system powered via a hydrostatic transmission. The hydrostatic transmission uses an axial-piston motor that is servo-controlled, providing a positive neutral and infinite control of machine speed. The new 5,700-pound tractor, with a liquid-cooled Isuzu diesel engine, features Allmand's ESL (Extended Service Life) design, which incorporates oversized pins, composite bearings and urethane-lip seals in all working joints. The TLB-6235 has 3,400 pounds of bucket- breakout force, and its backhoe has a maximum digging depth of 9 feet 10 inches.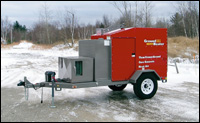 The new E2200 Ground Heater incorporates a more powerful hydronic heater, more pumps and more hose than its predecessor model, the E1700. According to the manufacturer, the new model, with a 252,000-Btu/hour heating unit, has the capacity to thaw up to 3,300 square feet of frozen ground at a rate of 12 inches (depth) per day. When used for concrete-pour preparation, the new unit can heat up to 4,400 square feet of ground, indoors or out, to prevent frost penetration and to ensure proper curing.

The new HP (High Performance) Series breakers from Indeco feature the Indeco's "intelligent" variable-speed-and-power system that is designed to automatically sense the hardness of the material being broken, then to adjust the impact per blow for maximum effectiveness. The 19 new HP Series models have operating weights ranging from 230 to 17,200 pounds, and energy-class ratings from 200 to 16,000. All new models incorporate a slimmer profile, says Indeco, which facilitates maneuvering in restricted spaces and enhances the machine operator's visibility to the work area.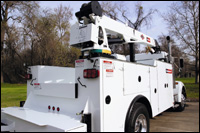 Iowa Mold Tooling (IMT) has enhanced the design of its Dominator II service-vehicle/crane body, which is aimed at handling cranes with capacities up to 60,000 foot-pounds. A patent-pending, inverted-A-frame sub-structure incorporates an integral crane box, front outrigger receptacles and rear outrigger housing. Compartment doors now feature formed rain eves, hemmed edges and new latches. The new workbench/bumper is larger, has an overhang for clamping and incorporates standard hitches. The planetary winch, now boom-mounted, eliminates the possibility of two-blocking when stowing the crane.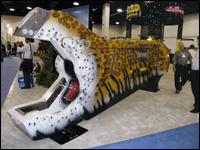 Stanley LaBounty has announced the new MSD Saber Series Shears, which includes the 1500, 1500R, 7500 and 7500R ("R" designates rotator). The photo reflects a special paint job presented at Conexpo-Con/Agg. The MSD 1500 mounts to a 15-metric-ton-class machine and the 1500R mounts to an 18-metric-ton machine. Weighing 25,400 pounds, the 7500 requires a base machine of 61 metric tons; the 7500R weighs 29,500 pounds and mounts to a 72-metric-ton base unit. Stanley says the new Series is the most technologically advanced, easy to maintain shears it has ever produced.