Staff | September 28, 2010
With all of the weight that's in the base of telescopic- and articulating-boom aerial-work platforms, the only safe point to secure them is at the tie-down lugs.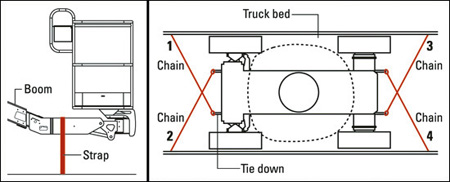 Make sure the boom's turntable is locked before transporting (and don't forget to take the locking pin out before putting the machine back into operation).
If the slope of the transport's ramp or bed is steeper than the machine's slope rating, winch the unit on and off the truck bed.
Only winch or tow a boom by hooking to the tie-down lugs.
Use a minimum of four chains of ample load capacity on the tie-down lugs.
Secure the platform. Make sure it is in the stowed position and run a nylon strap over the platform mount. Don't pull down with excessive down force.
Read a discussion of equipment tie-down procedures at HeavyEquipmentForums.com