Larry Stewart | September 28, 2010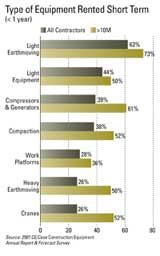 Every year about 65 percent of contractors responding to CE's Annual Report & Forecast survey say they have used short-term rentals, but 82 percent of firms with fleet replacement values of $10 million and more say they rent short term.
The disparity in rental usage between different fleet sizes continues when asked about the change in rental hours purchased. For all contractors, the number consistently hovers around 25 percent (it was actually 24 percent in 2006), but 31 percent of firms with $10 million and larger fleets increased rental hours used.