Mike Anderson | September 28, 2010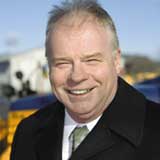 Joseph Darling
As pleased as Joseph Darling is by the New York State Department of Transportation's use of natural gas fuel today, he knows there's so much more that can be done.
Darling, the department's director of fleet administration and support, would like nothing more than to take the benefits firmly established in the department's light-duty fleet and fully extend them to the extensive heavy-duty truck and construction fleets.
The problem for him is a state-wide legislative moratorium placed on liquefied natural gas (LNG) following a fatal 1976 industrial accident on Staten Island. The accident, the result of a welding mishap unrelated to LNG itself, just happened to take place in an LNG facility, he said.
"We have been working for the past five or six years to get new legislation on the books that would allow us to introduce LNG storage facilities for fueling across the state, but every time we get close, something happens," said Darling. "Right now, the thing that's rearing its ugly head is the Broadwater Project in Long Island Sound."
Under the proposed Broadwater Project, LNG would be shipped in from the Middle East and stored in an offshore terminal. Environmental and security issues are being raised, and Darling himself shares those concerns, which he also deems unnecessary.
"There would be enough LNG from methane if we developed our own distribution system for it."
Frustratingly for Darling, other than the common material being LNG, the Long Island Sound proposal has nothing to do with his plan to build on-land storage facilities throughout the state.
"But we are still moving forward. We are hopeful that the LNG legislation could be approved in the new legislature (which took effect Jan. 1 under new Gov. Eliot Spitzer)," he said.
"Hopefully, we can show the wisdom to the new administration to continue support for this and move forward and get past the hurdles we've had, because this really is important from a cost standpoint."