September 28, 2010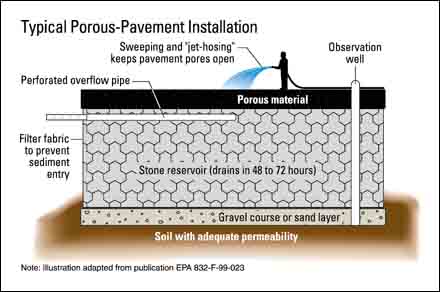 "Porous pavement" is a special kind of paving material that allows rain and melting snow to pass through and into a stone reservoir, which then permits the water to slowly filter back into the earth. The purpose of porous pavement is, of course, to reduce runoff from certain paved surfaces.
Porous pavement can be either asphalt- or cement-based, and typically is formulated with open-graded coarse aggregate. The material usually is placed over a highly permeable layer of open-graded gravel and crushed stone, which serves as a temporary storage reservoir for runoff. Perforated pipes sometimes are installed near the top of the reservoir to discharge excess storm water if the reservoir is full.
Porous pavement may be used, say its proponents, as a substitute for conventional material on parking areas, light-traffic roadways and shoulders of airport taxiways and runways, assuming that grades, soils, drainage and groundwater conditions are suitable.
Although porous pavement has some drawbacks—including limited strength, clogging (from poor maintenance) and slight risk of groundwater contamination, the technique is showing promise in dealing with runoff in problem areas.