September 28, 2010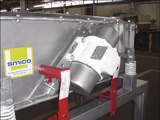 Custom dimensions in a SMICO MVC 495F vibrating screen allowed General Materials to replace a plant's screen, wash and rinse operations with little alteration to an existing plant.
Easy in-line replacement for a worn-out vibrating screens is usually not an option. While the basic operation concept is the same, motor mounts are going to be different, the footprint will be different, and usually the size — height, width and length — will be different.
To maintain 650,000 tons of annual sand and gravel production in one of General Materials' three Oklahoma City plants, the company wanted to replace the vibrating screener they used to classify and clean gravel with minimal alteration to the production line. The screen they bought came from SMICO — a company that stresses meeting the customer's needs which includes, when required, customized design.
"We've got four decks on it, so we're able to process the gravel, wash it and rinse it in a pretty small area," says Mark Finch, operations manager. "It worked out pretty handy for that, and the manufacturer was able to tailor the new screener to the same footprint as we had on our old one."
The 50-year-old manufacturer addresses quality questions on custom screen manufacture by directing U.S. manufacture with four quality-control checks: at engineering, design, following production, and a test run before shipping.
"Really this one seems like it's doing a better job cleaning," Finch says. "I think we've got some of the cleanest rock that we've ever had."