By Rod Sutton, Editor in Chief | September 28, 2010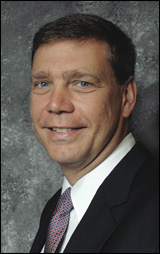 "We anticipate automatic transmission volumes to continue to increase," Christman says. "As drivers change demographics, it really does make a nice package that's easy to use, particularly in a vocational environment."
Over-the-road truck manufacturers have had to deal with substantial changes with the new engine technologies rolled out for this month's EPA emissions deadline. It's been well-documented that these engines required considerable thought on the part of truck builders as they integrated them, and their related componentry, into the trucks themselves.
Late last year, we sat down with International Truck & Engine's Phil Christman, recently appointed vice president and general manager for the company's Severe Service Vehicle Center, to talk about what truck buyers can expect from the 2007 engines and, more importantly, what they might expect over the next few months and even into 2010.
Christman brings an engineer's perspective to his post at International. He started his career at International in 1986, doing product development work. He then spent three years in a manufacturing facility, followed up with several years in special-equipment engineering working closely with International's customers as VP Product Creation.
Construction Equipment: How has International addressed the engineering design issues made necessary by the latest engines and aftertreatment devices?
Christman: The impact has been in two areas. The first is additional heat rejection. We've increased fan sizes and increased radiator package sizes.
On the 7000, we redesigned the front end with a new hood. We have so many customers that need extended, full-length frame rails that we decided not to cut them. So we had to make our package bigger, on top of the frame rails.
The second part is the bigger, heavier aftertreatment packages. We had to make sure our trucks were engineered for the robustness of the applications served. If you think about the vocational segments we're in, they tend to move these packages around, so there are a lot of different packages in a lot of different places. Our task was to make sure we could meet all the applications of the people who buy our products in a way that they can still mount their bodies.
CE: What has been the customer response to the hood design?
PC: It has been very positive. It's an impressive front end, but when you measure it from eye standpoint to the ground, you losealmost no forward visibility. The design ismore aggressive than the past, so I think it gives the illusion that it's probably bigger than it really is.
CE: Any changes in your manufacturing processes?
PC: A fair amount. We needed bigger, heavier racks, hoists, lifts. There is wiring now on the aftertreatment devices, so you have to protect them when the connections are made. It's much more critical now that the connections between the exhaust manifold and aftertreatment device are leak-free.
CE: What steps are you taking to ease the maintenance/serviceability issues for truck users?
PC: When we started off on this whole process of particulate filters and aftertreatments, there was probably a lot of fear of the unknown. The reality is, with all the electronic capabilities out there, as well as our electronic capabilities with our multiplex system, our ability to diagnose all this is excellent.
The aftertreatment systems have become much more robust. We set high targets, and we've reached those targets and even exceeded them. The amount of time between cleanout, and for the most part the amount of time between regenerations, is pretty high. Our goal is to make that invisible.
CE: How have you tried to ease customer concern on this issue?
PC: We were proactive. Over a year ago we organized a tour across the country with our technical experts, inviting our dealers and customers to dinners and meetings. We would talk about what's coming at them: This is what it is, this is what it isn't. Anything we could do to help them understand what we were doing, how we were doing it, and that we understood what we were doing. This tour helped alleviated a lot of fears.
CE: We're starting to see layoffs among truck builders. Any effect on your manufacturing plans?
PC: Across almost all of our plants, we will be taking the line rates down. Our forecast demand is less than [2006]. For Class 8, we see [2007] as a good year, but not the year that 2006 was.
CE: We've heard declines of 30 to 40 percent.
PC: We're forecasting a similar number. For vocational markets, it's a bit uncertain where that's going to level out. There is some thought that the significant year for the vocational market this year was driven some by pre-buy, but a lot by a really strong industry. There is some thought that the demand for the vocational Class 8 market was driven by just good economics. We're going to get an opportunity in the first part of [2007] to determine if that's true or not.
CE: How much was pre-buying?
PC: Our estimate, particularly on the vocational side, was that it wasn't as bad as in 2004. I think people are much more comfortable with the technology and what's going on with the industry. By the second half of [2007], we're expecting the market to be back to normal.
CE: What does the Allison agreement making them International's sole supplier of fully automatic transmissions mean for truck buyers?
PC: Allison clearly has a huge portion of the marketplace. They have a proven product. Our customers like it. We anticipate automatic transmission volumes to continue to increase. As drivers change demographics, it really does make a nice package that's easy to use, particularly in a vocational environment.
In some cases, the benefits surround specialized offerings. [It allows for] more integrated matching between engines and transmissions for International trucks.
CE: What is on the horizon as far as price increases?
PC: We're in that range between $5,000–$10,000. Obviously, that was a big driver to some of the pre-buys. It's not an economicadvantage for any manufacturer; we're all required to meet the same emissions re- quirements.
I think the biggest risk to pricing is commodity pricing. Certainly, the pressures we've seen over the past few years — steel, copper, aluminum — have impacted the trucking industry in a big way. The particulate filters we're putting on these vehicles [contain] some very expensive material. The commodity pricing of those materials will determine where the pricing is of the aftertreatment systems.
CE: What are key customer-relations challenges and how will you address them?
PC: We have a broad spectrum of products that people use in a lot of different ways. So the challenge and opportunity for us is understanding how those people use our products. How do we meet customer expectations? How do we give people trucks that allow them to be more productive, to make them money in the marketplace?
We put product engineers at the [assembly] plant because that's where our customers come. Our customers come to review their product. It was a thoughtful and purposeful thing when we put the engineers at the plant to meet those customer requirements. We don't cut the dealer out; dealers are an important part of receiving that voice of the customer, and they have the relationships with the customer. But we have to be just as intelligent and knowledgeable about how all of our customers are using our product.
Think of all of the aftertreatment, the whole exhaust system's changing. A dump truck isn't a dump truck isn't a dump truck, whether you're on the East Coast or the West Coast or North to South; all those look different. Configurations look different, lift axles look different. [We want to] make sure that on the exhaust side we have ways to meet all those packaging requirements.
CE: Is this like building a house? You start with an architect, and then when you're building it you have to deal with plumbers onsite?
PC: It's a great analogy. The industry next year will be around 60,000 units. There's not 1,000 of any one type of configuration out there. There's a lot of different configurations. We want to be as close to the customer as possible. We want to understand what they're doing, how they're doing it, and how we can drive value to their operations.
CE: What about 2010?
PC: Some of the Europeans have announced that they're heading down an SCR path. We're leaving a couple of options open; we're parallel pathing where we think we want to be. We want to be on a path to 2010 that meets customer needs better than anyone else, both from a cost standpoint as well as a functionality standpoint.
There's a potential for increased heat rejection, and there's a potential for additional aftertreatment. Certainly SCR is additional aftertreatments. Depending on the solution, the challenge is to do the right balance between heat and NOx reduction and particulate.