Staff | September 28, 2010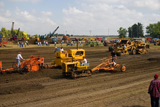 HCEA's convention features old iron in the dirt, usually operated by machine enthusiasts.
The Quinebaug Valley Engineers Association (QVEA) and the Northeast Rockbusters Chapter of the HCEA will co-host the 22nd Annual International Convention and Old Equipment Exposition at the Zagray Farm Museum in Colchester, Conn., July 20–22, 2007.
Hundreds of pieces of equipment will be featured. Some will be on display; others will be put to work in the dirt by equipment enthusiasts. The featured machine for 2007 is a 40-ton Northwest Model 80-D cable-operated shovel.
For more information, visit www.hcea.net or www.qvea.org, or e-mail hcea2007@yahoo.com or info@hcea.net.