Larry Stewart | September 28, 2010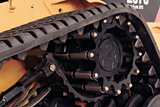 Caterpillar rubber-track sprocket.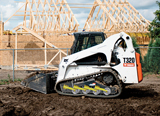 Bobcat roller suspension.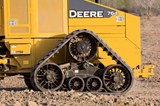 John Deere 764HSD track.
The Spotlight on rubber tracks last month focused on traction systems availablein the aftermarket, but there has been a lot of engineering going on in OEMs' proprietary track systems, too.
Bobcat's roller suspension system is available as an option on the T320 compact track loader and will be added to other Bobcat track loaders this year. For buyers who want more operator comfort, the new suspension system adds a leaf spring to each roller and raises the track idlers.
Caterpillar now offers a choice of single- or dual-level undercarriage suspensions on its 277C, 287C and 297C Multi Terrain Loaders. The 18-inch-wide rubber tracks now feature three rows of lugs, which create a larger area for the track to engage with the guides, and simplified tensioning. Modular components can be replaced individually, without requiring the track to be removed from the machine. Track replacement time is reduced significantly.
Deere says the rubber-track modules engineered with Camoplast for its new 764 High Speed Dozer can operate on 1-inch-minus crushed rock, sand, soil, snow and paved roads, with transport speeds up to 18 mph. Track rollers are mounted on a pivoting sub-frame which allows the drive belts to conform to uneven surfaces, and the front idler wheels are mounted to pivoting frames which move rearward against the tensioning cylinder accumulator pressure when the drive belt contacts an obstruction. This system reduces the forces placed on the drive system and extends life.
All of these track-frame designs have been opened up and optimized to shed mud and debris, and make cleanup less necessary and easier to do.