December 28, 2017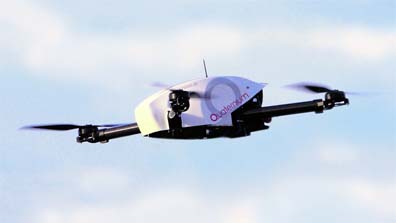 Drone manufacturer Quaternium is claiming a new flight time record after flying its HYBRiX.20 fuel-electric quadcopter for four hours and forty minutes in what it describes as a world record flight for a self-powered multicopter.
Quaternium posted a YouTube video December 26 that shows a time-lapse recording of its HYBRiX.2.0 copter hovering for four hours and forty minutes. The company says this a record time for drone flight.
The HYBRiX.20 multicopter is a hybrid gasoline-electric multirotor flyer which will fly for two hours with a full payload of about 4.5 pounds, and longer with lighter  freight.
The hybrid drone is powered by a 2-stroke gasoline engine and Lithium Polymer batteries (LiPo). Cruising speed is 30 mph with a max of 50 mph.
The company says the HYBRiX.20 is the first fuel-electric multicopter and gives operators doing inspections, mapping, and surveillance tasks more air time with faster recharging times.