Staff | September 28, 2010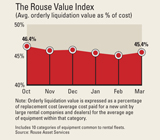 Orderly liquidation values from Rouse Asset Services in March recorded their first "significant" increase since June 2007, rebounding 1.1 percent from February. For the six months ending in March, values were down 2.0 percent. Categories leading the upturn were scissor lifts, telescopic-boom AWPs and skid steers.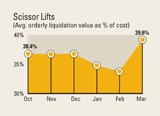 Scissor lift AWP values in March rose 7.4 percent above February, and average selling age was reported to be 81 months.