Tom Berg | September 28, 2010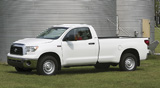 Two-door Regular Cab with 8 foot-1 inch bed will be the new full-size Tundra's base work truck. The long-bed will also be available with a 4-door Double Cab.
Toyota Motor Sales, U.S.A., is laying hopes of expanding its commercial and fleet business in a long-bed version of the enlarged second-generation Tundra pickup, due out early next year. The company announced the 8 foot-1 inch long-bed product during a work-truck meeting to underscore the importance of commercial business customers.
The new Tundra is as large or larger than competitors' current full-size half-ton pickups. It will come with V-6 and V-8 engines, including a new 5.7-liter V-8. With that engine and an optional towing package, a Regular-Cab Tundra will tow a trailer weighing more than 10,000 pounds, the company said.
Like the current Tundra, the new truck will be assembled only in the United States from components and parts made here. The new Tundra was designed and styled here strictly for the North American market, executives said.