Larry Stewart | September 28, 2010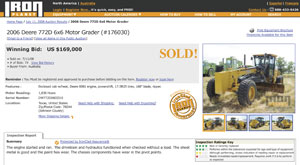 Off-shore buyers shore up prices.
Family owners of List & Clark Construction of Lenexa, Kan., chose to sell their entire fleet of equipment through an online auction when closing their business. IronPlanet liquidated the fleet for $3.9 million July 11, garnering $400,000 more than its initial price target. The auction drew a global audience of more than 10,000 visitors and averaged 29 bids per item.
"We liked that the auction was on the Internet and that we didn't have to move equipment in order to sellit," says Mark Beggs, P.E., president of List & Clark. "The lower mobilization and get-ready costs entered into our evaluations from the start, but the bottom line for us is that we hit our numbers.
"The guaranteed maximum was a conservative number going in," Beggs adds. "We assumed that — we're contractors, so we understand risk. Overall it was a pretty good experience. We had a few buyers that didn't follow through and pay —less than a whole percent — and we re-auctioned them at another IronPlanet auction. You would probably have the same problem selling them anywhere.
"If we hadn't been briefed on it before, we probably would have been surprised at the significant number of out-of-the-States buyers," Beggs says. "[IronPlanet] said 30 percent would be foreign buyers. It helped prop up the [sale prices]. It's surprising that somebody can buy a 40-ton truck and ship it to Egypt more cost effectively than buying it over there."