By Heather Burlingame, Senior Production Editor, and Larry Stewart, Executive Editor | September 28, 2010
In the last five years, we've seen a consistent increase in the number of backhoe- and skid-steer loaders in active service. Not only have sales increased, but backhoe-loader and skid-steer rentals are also on the rise. When you combine the growth in use of these established equipment lines with the pioneering popularity of mini-excavators and compact wheel loaders, it's easy to see why after-market companies are crowding the industry with attachments for compact equipment.
In their rush to carve out a piece of the small-equipment pie, these companies are bringing some interesting innovations. We offer the following sample to expand your thinking about what compact equipment can do, and to help you choose tools for your machines. In addition to the ones shown here, many manufacturers offer their own lines of branded attachments. Contact your distributors to learn what attachments they have to offer.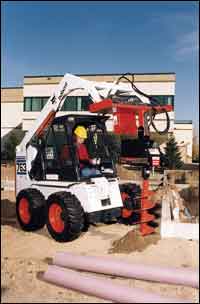 General Equipment's 671 Dig-R-Tach Series 16 earth drilling attachment connects to skid-steer loaders, knuckleboom cranes, small excavators and backhoe-loaders with a dipper-stick mounting bracket. By balancing flow volumes in proportion to auger diameters, it creates a clean hole with a minimal amount of loose soil. It features a 5- to 20-gpm flow range. To protect auger driveshaft wear, the Dig-R-Tach has a 2-inch hexagon auger-drive system. A round auger-drive system is also available. Users can add full-flighted auger extensions for additional drilling depth.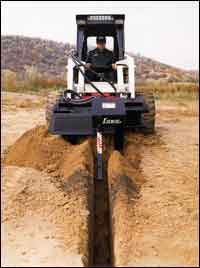 Lowe Manufacturing's Model 21CS trenching attachment features a boom design with a grease-cylinder tensioning system and end-boom roller. It operates with hydraulic flows between 13 and 25 gpm and offers side-shift capability. Connection to skid-steer loaders is quick with only two hydraulic-hose connections. Units are available in 2- to 5-foot digging depths and 6- to 12-inch trench widths. Continuous operating pressure capability is 3,000 gpm.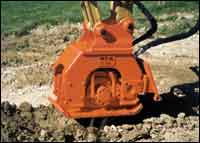 With baseplates from 12×25 to 45×58 inches, NPK's C Model compactors/drivers come in six models. The attachments fit backhoe-loaders and excavators from 2.5 to 70 tons. Each model features oil-splash lubrication, which reduces the frequency of routine greasing, and integrated flow-control and pressure-relieving valves to protect the motor. A self-aligning swivel aims to keep machine repositioning to a minimum when compacting in tight quarters.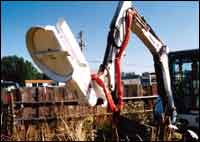 The ProMac Model 24 Single-Blade Brush Cutter is designed for use on mini-excavators capable of supplying 8.5 gallons of hydraulic flow per minute. A larger model requires 11 gallons per minute. The cutter is built to handle material such as grass, cattails and brush with stems up to 1½ inches in diameter.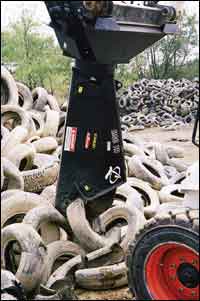 LaBounty says its MSD7R Mobile Shear gives skid-steer loaders, mini-excavators and backhoe-loaders the power to cut and process small ferrous scrap such as pipe, cable, conduit and rebar. It will also cut nonferrous scrap such as aluminum, lead pipe and copper cable.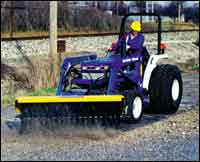 Sweepster's MRHL Front-Mounted Angle Broom attaches to skid-steer loaders with 25 or less horsepower. For large-scale cleaning, it has a 6-foot by 24-inch-diameter brush and comes with a 30-degree angle change. Poly, wire or poly/wire bristles are available, and brush widths range from 4 to 5 feet.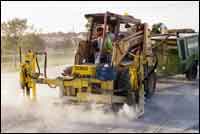 E-Z Drill's Model 210 Twin Vertical drill unit is a twin-gang vertical drill system for drilling ¾- to 2½-inch holes 18 inches deep in concrete. The unit is totally pneumatic, and requires a minimum of 260 cubic feet of air per minute. The remote control allows the operator to run the unit from the seat. Spacing is adjustable from 5 to 10 feet. The drills have individual regulators and oilers.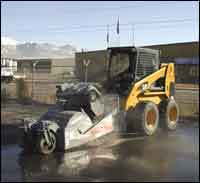 Asphalt Zipper says its AZ-200 for skid-steer loaders will pulverize up to 2,000 square feet of asphalt per hour, based on 4-inch-thick asphalt. The 5,600-pound unit is driven by its own on-board hydraulic system and 71-hp diesel engine through a belt-driven Fairfield Torque Hub. Cutter-head widths vary from 6 to 24 inches, and all can mill down to 8 inches deep. Hydraulic tilt control adjusts from 0 to 8 inches deep, and the cutting head will shift 24 inches side-to-side to mill flush to obstacles.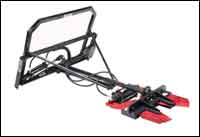 The EDGE Hi-Reach Tree Clipper from CEAttachments is designed for mounting on a skid-steer loader and will cut hardwoods up to 8 inches in diameter. A 5-inch-diameter cylinder, with a 2-inch chrome shaft, drives the ¾-inch, tempered-steel blades. The cutting head rotates 180 degrees to simplify positioning of the blades.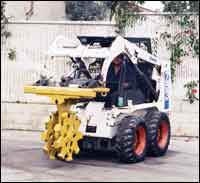 Available in widths from 4 to 48 inches, the SK Series Compaction Wheel from American Compaction Equipment provides fast and effective trench compaction. Thanks to its compact design, it works well in tight areas. The unit attaches to skid-steer loaders and mini-excavators.
Breaker Technology's TC-ME Series of hydraulic compactors brings BTI's big-machine solutions to mini-excavators. Two models, the TC50ME and the TC70ME, are designed to perform with minimal oil flow, leaving sufficient hydraulic volume to power the boom. A built-in flow divider supplies the motor and returns excess hydraulic flow to the carrier. Oil-bath lubrication eliminates greasing.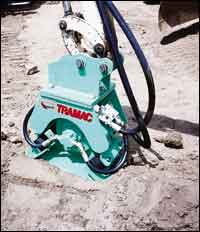 Tramac's TraPac-6 and TraPac-6TM are designed for excavators ranging from 3,000 to 9,000 pounds. The standard base plate is 11 by 18 inches, and optional bolt-on base plates of 17½ by 18 inches and 23½ by 18 inches are available. Optional flow valve allows the compactor to adapt easily to carriers with flow ranging from 7 to 30 gallons per minute. Bearings run in a constant oil bath, so no greasing is required. The base plate and eccentric housing are integrally mounted, so there are no bolts to be tightened.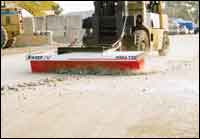 TrynEx International's SweepEx Mega 720 contains no moving parts, which minimizes downtime. It has eleven rows of brushes and a 72-inch-long mainframe. Brush-end attachments increase width to a maximum of 108 inches. Replacing the brushes is easy: Remove the end protectors, then replace or rotate the brushes as necessary. The unit attaches to most service vehicles. Forklift mounting kits, bucket lips, three-point hitches and skid-steer pivots are available.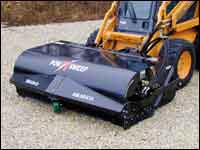 The Bradco Bucket Broom for skid-steer loaders holds more debris than sweepers with less recirculation, according to ATI. Sweeping width ranges from 73 to 85 inches, and with the optional gutter brush, sweeping width ranges from 86 to 98 inches. A positive seal between the broom and bucket provides dust control. No tools are required for ratchet-style adjustment of the brush footprint. The unit detaches easily and is equipped with a bolt-on edge.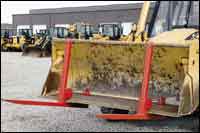 CTI's 4-in-1 bucket forks for backhoe-loaders have a 6,000-pound lift capacity. No welding or screws are required, thanks to a closed clam that holds the fork in position. Rigid mounting ensures that forks won't swing or shift sideways. Thirty-seven-inch towers keep loads stable, and safety chains keep the forks in place—even when the bucket is opened. Operators are able to see forks from the cab.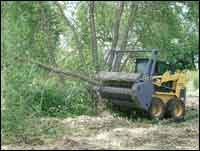 The rotor on Loftness' Timber Ax utilizes combined rigidly mounted, sharpened blades with an adjustable shear bar. The rotor and blades turn in the opposite direction of the ground wheels, which lifts material off the ground. Loftness says reverse rotor rotation improves cutting action, reduces horsepower requirements and minimizes knife wear. The unit will cut up to 6-inch-diameter trees with as little as 40 hydraulic horsepower. It will also mow the site while it mulches brush and trees.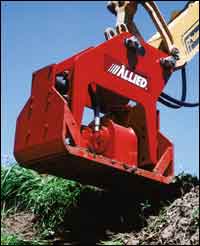 The new NT 8900 soil compactor from Allied, weighing 915 pounds, mounts on carriers ranging from 9,000 to 30,000 pounds. Allied says it delivers the same compacting power (6,400 pounds of impact force) as a 24-inch-wide compactor, but delivers it through a 16-inch base plate. It compacts trench lifts of 2 to 4 feet to 95 percent Proctor, with a production capability of more than 30 cubic yards of material per hour.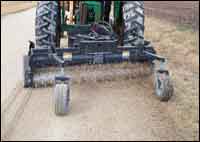 FFC's PTO PowerRake pulverizes soil, removes rock, finish-grades and spreads topsoil. An 8.6-inch-diameter drum moves soil forward, and carbide teeth provide maximum coverage. Like the four other models in the PowerRake line, the attachment is gear driven and direct drive. It comes in three widths from 67 to 101 inches with 20-degree, bi-directional angling.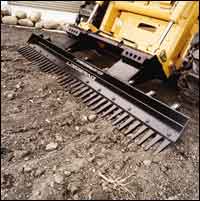 With the Eliminator grading rake, Loegering aims to eliminate the manual labor involved in preparing soil—regardless of soil conditions. The skid-steer-loader attachment is available in 42-, 72- and 84-inch models with 12- or 13-inch teeth. The Eliminator can scarify and level dirt in both forward and reverse, and pushes soil within inches of edges.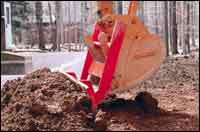 Specially designed adapters weld on to any excavator bucket and hook the Grade Master backfilling and grading blade to any excavator in just 10 seconds, all from the operator's seat. The unit is detached just as easily, all without pins, chains, bolts or tools. Adaptors are welded permanently to your bucket, in most cases with less than an hour of labor. Dirt Buddies offers Grade Master in 4-, 6-, 8-, and 12-foot sizes.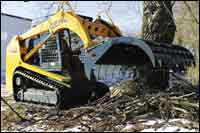 The Quick Claw from Quick Attach opens to 48 inches to clear brush and grab rocks. The grapple's curved teeth rake and clean surfaces without damaging them. The 650-pound unit has nine upper teeth and 10 lower teeth with 7.5 inches between each tooth. The unit's T-1 steel construction is stronger than regular steel, according to the company.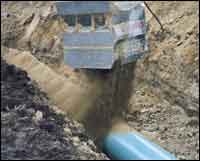 With patented rotors, the Mobile Integrated Screening Unit (MISU) Padding Bucket processes materials including sand, soil, salt, compost, clay, municipal waste, demolition debris and more. The product's exclusive North American distributor, National Attachments, says the single bucket screens, sorts and pads quickly. Models are available to suit a range of carriers from skid-steer loaders and backhoe-loaders to 125,000-pound excavators and 5-cubic-yard wheel loaders.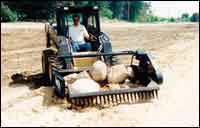 The Kwik-Pik Rockpicker from Loftness removes rocks and debris from 2 inches to 2 feet in diameter. It mounts in place of the bucket and is operated while the loader is traveling forward. A hydraulically driven reel requires 6 gallons per minute of flow, but is only used intermittently. A new 7-foot model fits New Holland bi-directional tractors.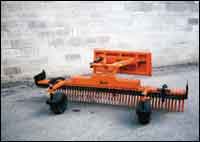 York's Model SSF has five working positions to handle a variety of work. It can be set to push or pull, and it can be angled to discharge material either right or left. It is available in 6-, 7- or 8-foot lengths. York's full-floating skid-steer frame works in forward or reverse, with the proper mounting plate attached. Options include caster wheels, grader blade, end boots and hydraulic angle control.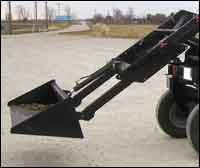 Any category of attachments that mounts on a three-point hitch or skid-steer loader's quick coupler can be mounted to Paul Wever Construction Equipment's Construction Carry All (CCA). The CCA can be towed behind a pickup truck or pushed in front of it when attached to a heavy-duty bumper package. A hydraulic power pack is driven by the truck's 12-volt electrical system, and functions are controlled by a remote control. Many attachments are available.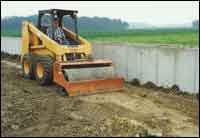 MBW has introduced the ATS (smooth drum) and ATP (padded drum) vibratory rollers for skid-steer loaders. One operator performs both the backfill leveling and compaction functions from the safety of the skid-steer cab. The exciter assembly is lubricated by an oil mist system, and the hydraulic system allows only the proper amount of oil to flow to the exciter drive motor. Excess oil flow is diverted to a tank, which MBW says prevents over speeding of the drive motor and premature failure of exciter bearings. 

The Fox 380 C-Plow converts from a conventional snowplow to a back-dragging plow with the touch of a button. The unit attaches easily to skid-steer loaders equipped with universal mounting plates. All blade functions are hydraulically controlled from the cab. Adjusted to a 31-degree angle, the 8-foot blade clears an 82-inch-wide path. The attachment weighs 740 pounds.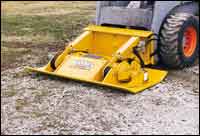 Designed for skid-steer loaders, the Pac-A-Derm from Warren Power Attachments can compact 18 inches in depth and achieve 95- to 100-percent compaction. In five sizes from 69 to 84 inches, the attachment works with low-flow auxiliary hydraulics. It features center- and roll-pivoting actions for constant down pressure on surface contours.
Van-Boh Systems' Culvert Clean-errr attaches to a skid-steer loader, which lowers the attachment into position. The unit's hydraulic motor then forces the brush through the culvert to unplug it. Brushes are available to clean 12-, 15- and 18-inch culverts. With extensions, the attachment can clean a culvert up to 40 feet long.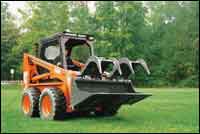 Kenco's Skidsteer Grapple Bucket adapts to uneven loads with hydraulic cylinders that close independently. The unit opens wide to handle logs, brush and small rocks. Hydraulic lines are enclosed for protection. Bucket size ranges from 60 to 84 inches.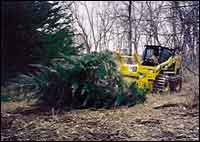 Brown Bear's BC283 Brush Shredder for skid-steer loaders mulches trees and brush up to 6 inches in diameter. The unit discharges material down and under the machine, with minimal front discharge. A gear-type hydraulic motor drives the horizontally mounted flail or fixed-tooth rotor.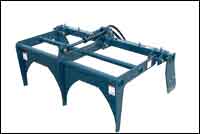 Rated at 3,500 psi, Virnig Manufacturing's bolt-on grapple for skid-steers converts buckets to grapple attachments. Installation requires no welding or cutting, thanks to the telescoping mount system that accommodates various bucket widths and styles. Two one-cylinder models and one two-cylinder unit are available.

McLaughlin adapted a 100-rpm hydraulic motor to wield its full range of Mighty Mole Drilling Tools, including Flex-Alloy drill rod, mole heads, reamers and specialty tools. The M-4500SS comes ready to quick-attach to a skid-steer loader's boom. Another, undesignated model is designed to quick-attach to excavators or backhoe dipper pins, or directly to the bucket. The motor runs off 9 gallon-per-minute hydraulic flow supplied by the carrier machine. McLaughlin says the attachments bore clean, compacted cavities from 1¼ to 4½ inches. Bores can be tracked electronically and directed by potholing.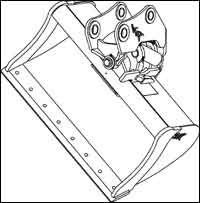 The Tilting Coupler from Leading Edge Attachments is a quick-attach coupler with a hydraulic cylinder between the bucket link and the dipper stick pivot that allows the operator to tilt the bucket 80 degrees. It simplifies ditching or grading on embankments, maneuvering hydraulic hammers, and pouring of bedding material. The 300-pound attachment is said to fit backhoes and excavators ranging from 11,000 to 16,000 pounds. It requires a bi-directional hydraulic circuit with 3,500-psi reliefs.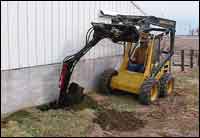 The pivot point of Lackender's Boomer Hydra-Swing backhoe for skid-steer loaders adjusts toward the carrier's edge so you can dig along foundations. Electric-over-hydraulic controls allow for the use of both cylinders from one valve. The Boomer will dig 7 feet deep.