September 28, 2010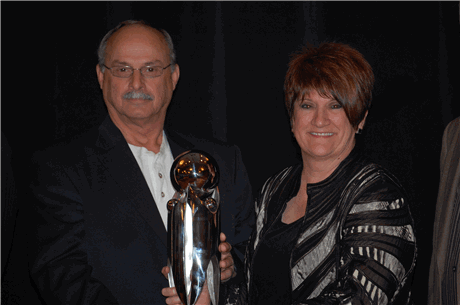 Bill Prussman, CEM, and Marilyn Rawlings, CEM, with the 2010 Fleet Masters Award.

Lee County Fleet Management, led by Marilyn Rawlings, CEM, took home the 2010 Fleet Masters Award, presented March 15 at AEMP's Annual Management Conference in Dallas.
A team of 32 full-time employees is responsible for the cradle-to-grave management of 734 off-road units and 1,305 licensed units. Three of the five members of Lee County's leadership team hold Certified Equipment Manager (CEM) certification from AEMP.
Lee County has set specific key objectives in order to establish efficient and effective delivery of fleet services: Education, best practices, benchmarks and measures, and team building. Each employee receives 40 hours of training each year, and each member of the leadership team submits a personal and professional growth plan each year.
Networking with other organizations has enabled Lee County to implement valuable equipment maintenance and management practices. Fleet leaders not only attend various conferences, but they have also been asked to speak at many of them. Fleet supervisors are encouraged to visit other governmental facilities, review procedures, and generate new procedures for Fleet Management.
Benchmarks provide Lee County with valuable information to compare public service against private business. Fleet Management also measures individual performance with the vision of remaining competitive with the private sector.
The award is presented by AEMP and Construction Equipment to honor equipment management professionals who excel in meeting the unique challenges inherent in delivering cost-effective management of mixed fleets of on and off-road equipment. Winners are recognized for their practices in the areas of human relations, vendor relations, asset management, maintenance management, and technology.
The Fleet Masters awards are sponsored by the AEMP Strategic Alliance Partners: Castrol, Caterpillar, Construction Equipment, International, IronPlanet, John Deere, Komatsu, Trimble and Volvo Construction Equipment.