September 28, 2010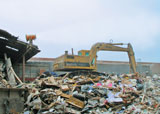 A waste handling and recycling center in Brooklyn, NY, purchased a high-performance dust control system that generates 9,200 CFM (cubic feet per minute) of air movement to control dust when construction and demolition debris are unloaded or transported.

Cooper Tank Transfer mounted an oscillating DustBoss DB-30 on a stationary I-beam that was 20 feet above ground to obtain the maximum reach and coverage. A durable design helps this unit to operate 24 hours a day, six days a week for over a year to deliver the most effective dust control for its size to protect workers and surrounding areas.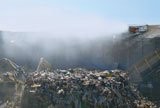 General manager Ray Kvedaras said the transfer station wanted a dust control technique that not only addresses the problem in the immediate area as the dust was released but also meets tightening environmental regulations.
High performance machine for many industries
DustBoss DB-30 is the smallest in a line of high-performance dust and odor control machines from Dust Control Technology.

Inside the DB-30 model is a 7.5 horsepower motor that generates air movement. A ring of specially-designed brass nozzles changes the water to fine droplets as it sprays at the dust created during material unloading. It uses less water than hoses and sprinklers.

A ducted fan, with an adjustable throw angle of 0 to 50 degrees elevation, is designed to swing back and forth up to 70 degrees and throws water droplets up to 100 feet from ground level to cover 5,500 square feet using a 5/8-inch garden hose. At Cooper Tank Transfer, the DustBoss has a wider reach at its above ground location.

The DB-30 can be extremely effective indoors or in confined spaces because of its compact size. The unit is equipped with a 1.5 inch pre-filter with quick cam release for easy access and is set up to use drinkable or non-drinkable water. Optional features on the DB-30 include single phase or international motors, carriage mount for transporting, and a dosing pump for chemical applications such as odor control.
DB-30 saves manpower
Cooper Tank Transfer processes more than 400,000 tons of construction and demolition waste each year and about 80 percent of this is recycled. Screening materials, separating large pieces, and removing ferrous metals create dust that must be controlled without soaking all debris.

Kvedaras said the DB-30 creates a constant mist without soaking debris piles that would block screens with a residue that must be cleaned from the conveyor. "The residue complicates our processing and increases maintenance."

The primary benefit at Cooper Tank Transfer is the ability of the DustBoss to hold down dust and odor without adding manpower to its everyday operations. "It also contributes to our overall commitment to environmental responsibility and respect for our neighbors," Kvedaras emphasized.