By Mike Anderson, Senior Editor | September 28, 2010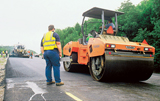 The largest Hamm double-drum vibratory asphalt roller, the 84-inch HD 130 is now also available in an Oscillation model. This offers top-of-the-product-line asphalt compaction capabilities from Hamm in both conventional vertical and non-aggressive horizontal force.
---
---
---
In the nearly four years since Buying File last profiled double-drum vibratory asphalt compactors, the list price for the largest models has on average gone up 19.5 percent. If only that was all.
Factor in the cost of fuel, service and financing, and the average hourly rate to put 11.3-metric-ton-plus tandem asphalt rollers into action has jumped 30.7 percent, closing in on the $90 mark, reports EquipmentWatch.com. And even that high number's probably more and more by the day just a pleasant memory, considering the direction fuel costs are headed.
The bottom line is that tandem asphalt compactors need to operate as efficiently as possible. Leading OEMs have responded with technological advances to their machines, but even the most progressive and optimistic of product development professionals warn that factors beyond their control — the quality of mix delivered to the site, the local ground conditions and the weather — remain to frustrate even the most well-equipped contractors.
Already with roller models established with frequency and amplitude variations, ever-ambitious equipment manufacturers are continuing to "do what they can."
For optimum project efficiency, compaction speed must match paving speed, according to industry white papers prepared by Dale Starry, Volvo's director, strategic technologies. At the same time, vibratory compactor drums must make between 10 and 14 drum impacts for each 12 inches of travel. In other words, the race is on.
Previously established in Europe, Bomag's intelligent compaction systems became part of the Bomag Americas asphalt compaction nomenclature with the 2005 introduction of the BW190AD-4 AM model. Plans are ongoing for AM — Asphalt Manager — to be offered on the newly introduced 66-inch BW266AD-4 and 78-inch BW278AD-4 models, but that will be some time down the road.
Asphalt Manager automatically controls the output energy of the special front drum in order to prevent over- or under-compaction of the asphalt mat. The roller makes the adjustment through a process called vectoring, which involves changing the angle of the energy delivered from the drum to ensure force is directed to the material only as needed.
"Asphalt Manager is a terrific tool for giving the operator and the contractor feedback on the job he's doing," says Bill Stalzer, Bomag Americas product manager, asphalt. "Not only does it map and display the temperature and stiffness of the mat, but it also adjusts to that stiffness automatically. With the feedback and the adjustment, we close the loop to give the operator and the contractor a better tool to do a better job."
It goes back to putting equipment to work in the most efficient manner.
"You're going to save on the number of passes and the quality of the passes, and that can translate to anywhere from, at the low end, a 10-percent to as much as a 40-percent advantage," says Stalzer. "If you had to make three passes instead of five, you're way ahead. You're keeping up with a paver that can keep moving forward, and you're doing a quality job, which I think is both more important and harder to put a value on. Five years from now, it's still there, instead of starting to unravel or having any potholes starting to form. We in this industry need quality asphalt pavements to spread the dollars that are being stretched and stretched and stretched today. That quality is tantamount to productivity and speed, and maybe even smoothness, because we don't want to do it again in five or 10 years; we want to get it right.
"With Asphalt Manager, you've given the operator a tool to get it right. He's checking the temperature constantly, he's checking the stiffness constantly, and he's adjusting to that stiffness, so that he's not over-compacting, which ends up causing some problems. In the meantime, he's saving time and money. He's doing it better and faster."
Now part of the Volvo Construction Equipment product line, the former Ingersoll Rand tandem asphalt compactor line established "Smart" technology in the early part of the decade to simultaneously meet a contractor's desire for productivity and an agency's expectations of paving density and smoothness.
Not limited today to the Volvo brand, or necessarily to larger-drum-width rollers, automatic vibration control ensures drum vibration only occurs at appropriate times. A similar approach, but in a newer application, is found in Volvo's patented control of the water spray system, under which water spray starts and stops automatically on Volvo's higher-end, fully featured models. Additionally, the rate of water flow can be varied electronically to match the rolling speed of the compactor to reduce excess spray that causes premature surface cooling and surface crusting.
Additionally, Volvo's HFA models will, by altering oil flow through the hydraulic pumps, automatically adjust vibration frequency to the optimum level in each of the eight amplitude settings available, as compared to operating with a fixed vibration frequency. The HFA's built-in control system extends to automatically lag vibration on the trailing drum, so that both drums begin to vibrate at or near the same point on the surface.
Caterpillar offers versatile vibratory systems with its larger asphalt compactors. A five-amplitude system leverages a single frequency to provide high or low impacts for working on thick or thin lifts. Versa Vibe models offer four amplitudes and two frequencies to provide high amplitude/low frequency for tough Superpave mix designs or high frequency/low amplitude to match higher paving speeds and thinner lifts without over-compacting.
Among the tandem vibratory asphalt compactors rolled out at Conexpo-Con/Agg 2008 is an extension to Hamm's Oscillation product offering, which uses horizontal rather than vertical force to compact.
At an operating weight approaching 30,000 pounds, the 84-inch-wide HD O130V is the largest model in North America to incorporate "non-aggressive" Oscillation technology, under which the drum never leaves the mat, and both the surface and operator avoid pounding. The movement changes its direction of effect during one turn, generating an oscillating or rocking movement of the drum.
Another Las Vegas debut this year, Bomag's new 78-inch-wide BW278AD-4 offers innovative features as standard, says Stalzer. These include constant mat temperature monitoring displayed prominently on the operator station's dash in real time, "and as accurate as hand-held units — they match up perfectly." The intuitive instrument cluster also provides feedback of amplitude, frequency and impact spacing.
"Eco-Mode is a feature that allows the engine to only use the power that is being requested at the time," says Stalzer. "As you idle down the road, the engine is idling also, instead of running at full blast ready to turn the vibrators on. And now when you ask for the vibrators, instead of having to turn the engine back up first, it automatically sequences the engine up as it is sequencing the vibrators up.
"We see certainly 20-percent fuel savings with this." That's just part, says Stalzer, of roller manufacturers "doing what they can."
Double-Drum Asphalt-Compactor Specifications (10 metric tons & up)

Model

Operating Weight (lb.)

Drum Width

Vibration Frequency (hz)

Centrifugal Force (lb.)

Engine Model

Gross Power (hp)

Source: Spec-Check Xpanded Specs (as of May / 08)

Hamm HD 110 VHV

22,652

66.1″

42 – 63

22,800 – 27,225

Deutz TCD 2012 L04 2V

136

Hamm HD 110 HV

22,652

66.1″

42 – 53

25,650 – 27,675

Deutz TCD 2012 L04 2V

136

Caterpillar CB-534D Versa Vibe

22,836

67″

42 – 63.33

17,227 – 22,234

Caterpillar 3054C

130

Caterpillar CB-534D

22,836

67″

42

7,922 – 25,208

Caterpillar 3054C

130

Dynapac CC424 HF

23,150

68″

51 – 67

20,925 – 31,950

Cummins QSB4.5-T3

125

Dynapac CC422V HF

23,150

66

50 – 67

20,780 – 30,290

Cummins 4BTAA3.9-C

125

Dynapac CC422V

23,150

66″

51

16,220 – 32,510

Cummins 4BTAA3.9-C

125

Sakai SW800

23,670

67″

42 – 67

10,580 – 27,120

Isuzu DD-4BG1T

109

Hypac C766D

24,000

66″

57 – 67

30,300 – 32,800

Cummins QSB4.5

130

Bomag BW266AD-4

24,000

66″

57 – 67

30,300 – 32,800

Cummins QSB4.5

130

Caterpillar CB-534D XW

24,860

79″

42

7,922 – 25,208

Caterpillar 3054C

130

Caterpillar CB-534D XW Versa Vibe

24,860

79″

42 – 63.33

17,227 – 22,234

Caterpillar 3054C

130

Dynapac CC524 HF

25,580

77″

51 – 67

22,725 – 35,325

Cummins QSB4.5-T3

152

Bomag BW278AD-4

25,800

78″

57 – 67

33,650 – 37,100

Cummins QSB4.5

130

Hypac C778D

25,800

78″

57 – 67

33,650 – 37,100

Cummins QSB4.5

130

Bomag BW190AD-4 HF

26,015

78.74″

48 – 60

28,800 – 40,950

Deutz BF4M2012C

131

Hamm HD O120V

26,422

78″

42 – 50

31,275 – 41,850

Deutz TCD 2012 L04 2V

136

Hamm HD 120 HV

26,488

78″

42 – 53

35,100 – 41,850

Deutz TCD 2012 L04 2V

136

Dynapac CC522V

26,570

77″

51

15,920 – 31,410

Cummins 4BTAA3.9-C

125

Dynapac CC522V HF

26,570

77″

50 – 67

21,330 – 30,490

Cummins 4BTAA3.9-C

125

Dynapac CC432V

26,790

66″

51

15,300 – 29,225

Cummins 4BTAA3.9-C

195

Bomag BW190AD-4 AM

26,896

78.74″

40 – 50

35,550 – 55,575

Deutz BF4M2012C

131

Volvo DD118HF

27,670

78.7″

55 – 67

22,980 – 42,680

Cummins QSB4.5

148

Volvo DD118HFA

27,670

78.7″

50 – 70

33,090 – 42,070

Cummins QSB4.5

148

Volvo DD112HF

27,670

78.7″

50 – 70

33,090 – 42,070

Cummins QSB4.5

148

Dynapac CC624 HF

27,780

84″

51 – 67

24,300 – 38,025

Cummins QSB4.5-T3

152

Caterpillar CB-564D

27,782

84″

42 – 63.33

7,922 – 22,234

Caterpillar 3054C

130

Dynapac CC622V HF

28,110

84″

50 – 67

21,950 – 31,050

Cummins 4BTAA3.9-C

125

Caterpillar CB-634D

28,160

84″

44

13,039 – 35,745

Caterpillar 3116 T

145

Bomag BW284

28,425

84″

59.7 – 66.7

34,665 – 41,235

Cummins QSB5.9-C

188

Hypac C784

28,425

84″

57 – 67

34,665 – 41,235

Cummins QSB4.5

160

Sakai SW850

28,510

79″

42 – 67

13,010 – 33,290

Deutz BF4M2012C

125

Hamm HD O130V

29,277

84.3″

42 – 50

31,275 – 43,650

Deutz TCD 2012 L04 2V

136

Sakai SW900

29,630

84″

42 – 67

15,210 – 38,800

Isuzu BB-6BG1T

166

Hamm HD 130 HV

29,883

84.3″

42 – 53

35,100 – 43,650

Deutz TCD 2012 L04 2V

136

Volvo DD138HF

30,325

84″

53.3

21,840 – 42,260

Cummins QSB6.7

173

Volvo DD138HFA

30,325

84″

45 – 66.7

36,680 – 41,720

Cummins QSB6.7

173

Volvo DD132HF

30,325

84″

45 – 66.7

36,680 – 41,720

Cummins QSB4.5

148

Dynapac CC722

36,985

84″

48

22,950 – 48,375

Cummins QSB6.7

228

 
The Cost of Ownership

Size

List Price

*Hourly Rate

* Hourly rate represents the monthly ownership costs divided by 176, plus operating cost. Adjusted operating unit prices used in the calculation are diesel fuel at $3.96 per gallon, gasoline at $3.38 per gallon, mechanic's wage at $44.79 per hour, and money costs at 4.75 percent.
Source: EquipmentWatch.com , phone 800/669-3282

Less than 1.8 metric tons

$25,188

$12.96

1.8 – 2.9 metric tons

$42,126

$22.45

3.0 – 4.9 metric tons

$56,557

$29.51

5.0 – 7.9 metric tons

$121,866

$57.93

8.0 – 11.2 metric tons

$148,198

$71.57

11.3 metric tons and up

$195,513

$88.86