Staff | September 28, 2010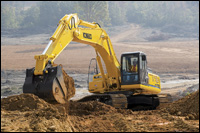 The new Kobelco SK350LC Acera Mark-8 hydraulic excavator weighs in at 79,600 pounds, digs to a depth of 24 feet 10 inches, and can reach to 36 feet 3 inches at ground line. The machine's Tier-3-certified Hino diesel engine develops 264 horsepower and features electronic fuel injection. A power-boost switch allows the operator to call up 10 percent more power for increased bucket breakout force — and to do so without time limitation.
Read the Field Test.