Tom Berry | September 27, 2011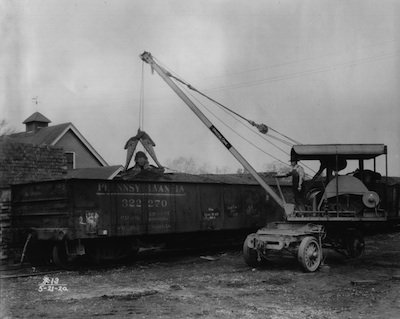 Along with introducing the world's first truck-mounted crane in 1919, Universal Crane Co. also produced very early wagon cranes (above). This example was photographed in May 1920. The term "wagon crane" has been applied to both towed cranes like this example—note the drawbar and the apparent lack of a drivetrain—and modern self-propelled, self-contained cranes; but the nomenclature was not applied to hydraulic cranes of similar design, even though they were also self-propelled. Notice too the primitive outriggers inside the wheelbase of the tires.
The Summer issue of Equipment Echoes, the quarterly magazine of the Historical Construction Equipment Association, contains an illustrated history of the evolution of wagon cranes and other mobile cranes in the United States from 1900 through 1950.
This article was submitted by Tom Berry, archivist of the Historical Construction Equipment Association (HCEA). With more than 4,300 members in 25 countries, activities include operation of National Construction Equipment Museum and archives in Bowling Green, Ohio; publication of a quarterly magazine, Equipment Echoes; and hosting an annual working exhibition of restored construction equipment. Individual memberships are $30 for USA/Canada, and $40 elsewhere.