Tom Berg | September 28, 2010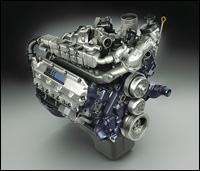 International Truck and Engine has prepared a series of cleaner-burning MaxxForce diesels to power its vehicles starting in January, and will give most trucks and tractors "Star"-suffixed names like the PayStar label now being applied to the 5000i severe-ser-vice trucks.
Most notable to construction-truck operators is a new WorkStar name to appear on 7000-series heavy vocational trucks. These and all other Internationals are getting technologically advanced MaxxForce engines as pre-EPA '07 diesels cease production at the end of December.
Other new names are CityStar, for medium-duty CF low-cabover trucks, and DuraStar, for the 4000-series medium- and medium-heavy trucks. TranStar, an old name used into the 1980s on over-the-road tractors, is being revived for International's 8500 and 8600 highway tractors, according to Debbie Shust, heavy truck marketing manager.
The 9200 and 9400 series tractors will not get Star names because they will be replaced by versions of the new ProStar tractor. And the 9900i and 9900ix tractors will keep their current numerical designations because they're well known, she said.
Five MaxxForce diesels are based on current V-6, V-8 and inline-6 designs which have been upgraded for better performance and to meet the Environmental Protection Agency's '07 emissions limits, said Jack Allen, president of International's Engine Group. Two others are big-bore I-6s that engineers are developing based on designs from MAN of Germany.
Advances include higher-capacity electronic controls, high-pressure common-rail fuel systems with multi-event injectors, higher rates of exhaust-gas recirculation, variable-geometry turbochargers, and exhaust aftertreatment devices.
MaxxForce engines have undergone 6 million highway miles and 80,000 lab hours of testing, Allen said. During a call-in press conference on Nov. 6, he listed the new models as:
MaxxForce 5, a 4.5-liter V-6, is the double-turbocharged VT-275 with an upgraded intake throttle, a larger EGR cooler and enhanced electronics. It is rated at 200 horsepower and 440 lbs.-ft. of torque, and will power Class 4 and 5 City Star LCF trucks.
MaxxForce 7, a 6.4-liter V-8, was extensively redesigned from the 6-liter VT-365 with enhanced electronics, a high-pressure fuel system and a variable-geometry turbocharger. It is said to be quieter and more responsive and will deliver better fuel economy than the 6-liter engine.
MaxxForce 7 has ratings of 200 to 230 horsepower and 560 to 620 lbs.-ft. for use in Class 5, 6 and 7 DuraStar trucks, two of International's XT midrange pickups, and in school and commercial buses.
MaxxForce DT is based on the 7.6-liter DT 466 I-6, and has a bigger EGR system, foam-molded wiring harnesses and closed-crankcase ventilation system. These provide lower emissions and increased reliability and durability. It's rated at 210 to 300 horsepower and 520 to 860 lbs.-ft.
It will power Class 6, 7 and 8 DuraStar and WorkStar trucks.
MaxxForce 9 is a redesigned 9.3-liter DT 570. It will have ratings of 300 to 330 horsepower and 800 to 950 lbs.-ft., and will power Class 7 and 8 DuraStar and WorkStar trucks.
MaxxForce 10 is a redesigned HT (high-torque) 570 with 310 to 350 horsepower and 1,050 to 1,150 lbs.-ft., and will be used in Class 8 WorkStar and TranStar trucks and tractors.
MaxxForce 11 and 13 are International's upcoming big-bore I-6 diesels based on MAN designs. MaxxForce 11 will be offered in Tran Star tractors while the MaxxForce 13 will be available in ProStar tractors.