By Tom Berg, Truck Editor | February 10, 2011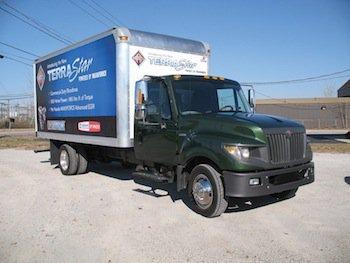 Navistar International's TerraStar is not the company's first foray into the light side of medium-duty trucks. Throughout its long history as International Harvester, the company made pickups, cab-chassis, and vans that some of us old-timers remember.
 Most recently, Navistar thought it could grab some low-cabover sales with a CityStar series that Ford also sold as its LCF. But they went over like lead sleds with truck operators and the Great Recession did them in entirely. Although Japanese importers do a credible job with their low-cabovers in mostly metro areas, the real sales numbers in North America are in conventional-cab trucks and, of course, that's what the TerraStar is.
Navistar says the design process took only about a year when it showed off the prototype last March, and it went into full production by last October, at the vocational-truck plant in Garland, Texas.
 Our test truck was a pre-production version assembled on Aug. 10, according to the build sheet. As such it lacked some minor trim pieces, but what you see is what you'll pretty much get if you choose the basic trim package: a dark-grey grille and headlamp bezels (a chrome nose is now optional), and a roomy steel cab taken from the larger and heavier DuraStar series, which also contributed to the handsome and very functional instrument panel. A variety of seats is available, and the truck's Diamond Logic multi-plexed wiring system can be equipped and programmed to run a lot of equipment.
 Navistar says its competitors are Ford's F-450 and 550, and Dodge's Ram 4500 and 5500. Now absent are General Motors' Chevy and GMC C4500 and 5500 series, which GM killed in the summer of 2009, along with its heavier medium and medium-heavy models. Navistar considered buying this lineup from GM, but backed away from a preliminary deal. GM's departure left a big hole in the market and TerraStar is among the candidates for the business of a lot of ex-GM customers. Interestingly, this truck was ordered by Lakeside International's store in Janesville, Wis., once the birthplace of many GM car and truck models, but the old, sprawling plant is now closed.
 This "box truck" is not something a construction outfit is likely to buy, but install a dump or service body on the chassis and it's a vocational truck that'd be at home on any work site. Need four-wheel drive? That's available now, along with Extended and four-door Crew cabs. I drove this Regular cab version on the streets of Fort Wayne, Ind., home of Navistar's technical center, and it wasn't long before I decided that it's a pretty neat machine. Some of the streets were smooth from recent paving, and some broken and bowed from years of frost heaving and heavy traffic. What the suspension couldn't absorb in the way of bumps, the air-ride seat (powered by an integral pump) could.
 I made a number of right-angle turns at street corners and found it nicely maneuverable, and backed around some to see what I could see in the mirrors, which was a lot. I drove briskly, but as smoothly as I could 'cause I don't believe in beating on equipment to see if I can break it (let the crazy car writers do that).
There was room for three in the tall and wide steel cab, though there were only two of us in it. The other guy was Nick Lengacher, the program manager who oversaw much of this vehicle's development. As such, he deserved a better ride than he sometimes got from the solid-mounted passenger seat, but he wasn't complaining. The cab sits about 4 inches lower than it does on heavier midrange models for easy entry and exit. The frame is made expressly for the TerraStar, and the tilting hood is something the Ford and Dodge competitors don't have.
 The V-8 diesel engine was lively and pretty quiet, with no signs of overheating, though there was no reason for it on this cool autumn day. Engine cooling is a possible issue because Navistar's Advanced EGR system sends higher doses of exhaust gas into the engine's cylinders, and heat from the gas as well as combustion must be carried away by the liquid cooling system. That includes a 697-square-inch, two-row, cross-flow radiator and a Borg-Warner viscous fan drive.
 The engine was Navistar's 6.4-liter MaxxForce 7, which has its roots in the old 6.9-liter V-8 and not-so-old 7.3-, 6- and 6.4-liter Ford Power Stroke and International T444E. This latest version has been thoroughly revamped to meet federal 2010 exhaust emissions limits (but not California's Clean Idle requirements). In the TerraStar it's standard with a rating of 300 horsepower and 660 pounds-feet, so is more than gutsy enough to propel this lightly loaded (with about 2 tons of ballast) truck around.
 MaxxForce 7's block is now cast in compacted graphite iron for greater stiffness and lighter weight than grey iron. It has two simple turbochargers—a less costly alternative to a single variable-geometry turbo—along with the A-EGR system that needs no urea aftertreatment equipment. Of course, it also has sophisticated electronic controls and programming software.
 The MxF 7 ran through a smooth Allison 1000 6-speed automatic, which takes much of the work out of driving, leaving the man or woman behind the wheel to focus on other things, like traffic and hauling or delivery duties. The Allison is the one and only transmission offered in the TerraStar.
While traversing the sometimes bumpy Interstate 469 loop around Fort Wayne's north and east sides, I asked Nick about the possibility of adding gasoline power. Navistar hasn't offered a gasoline engine since the early 1980s. But planners are seriously talking about it, partly because the high cost of meeting federal exhaust emission limits has made diesels expensive to buy, and while diesels still get better fuel economy, diesel fuel now costs more than gasoline. He wouldn't say which gasoline engines they're considering, but one candidate is surely GM's 6-liter Vortec V-8, which is now used by Work Horse, Navistar's walk-in van builder.
 A gasoline option would cut $8,000 or more from the price of a TerraStar, Nick said, because it'd be not only less costly to buy, but would also allow use of a smaller, less expensive cooling system. Plus, a gasoline mill could be easily adapted to burn propane. That opens even more sales avenues for the new truck and new "green" power options for any buyer.
Meanwhile, the diesel-powered TerraStar will be priced as a premium truck, Navistar executives have said. They say it will cost about $2,000 more than a comparable Ford or Dodge, though, of course, prices will vary in every case. Dealers are now getting TerraStars, and you might find them more than interesting.