Walt Moore | September 28, 2010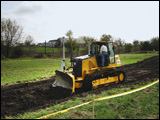 In the rich soil of a farm field near Lawrence, Kan., a machine user first gets the details about this dozer's automated grade-control system from a Leica Geosystems representative, then tries the technology for himself.
As CE editors talk to site-development contractors, we're taking note that more and more of these equipment users are employing grade-control systems on their machines — on dozers and motor graders in particular, but increasingly also on scrapers, hydraulic excavators and compactors. But, that said, the number of firms employing positioning technology actually is quite small, compared with the number that could potentially benefit from these systems.
So, recognizing the earthmoving industry's need for grade-control education, Leica Geosystems recently hosted a large number of customers and potential customers to a Field Day event that focused on the latest machine-positioning (and surveying) systems and encouraged attendees to try the technology hands-on.
At the site near Lawrence, Kan., the company showed a broad range of its positioning technology for earthmovers, including laser-guided systems for skid-steers, 2D systems for backhoes, 3D systems for excavators and GPS- and total station-based systems for dozers and motor graders.
Along the way, of course, Leica representatives were diligent in presenting the message of positioning technology's potential benefits, including substantially less staking (and consequent cost savings), increased production with greater accuracy, virtual elimination of rework, the ability to get onto the site sooner (no waiting for the surveyor), and the ability to uncover potential conflicts in design before the project gets underway. We're guessing that some attendees became true believers in the middle of that Kansas farm field.