By G.C. Skipper | August 3, 2012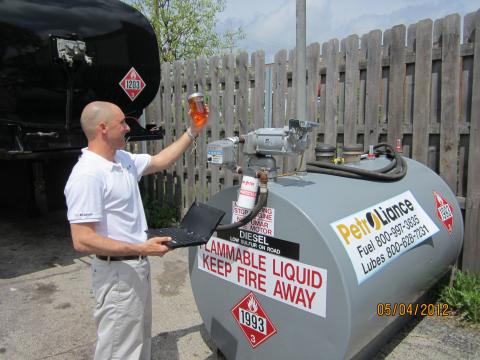 Reprinted with the permission of Equipment Manager magazine, the magazine of AEMP.
Effective fuel management begins with purchase negotiating and ends at the exhaust, according to Greg Wyatt, commercial vehicle specialist with PetroLiance LLC.  Historically, fleet fuel management was a fairly straightforward undertaking, but since the Environmental Protection Agency has ratcheted up its war on pollution and green has become the favorite color of causes, the delivery-to-exhaust trail has become more complicated, sprouting side paths that resemble a river's tributaries. One detour from the norm leads to fuel price volatility (see sidebar); another to advanced fuel and filtration technology; and yet another winds its way to multiple streams of alternative fuels, all flowing into fleet inventory and all requiring storage tanks to separate and protect each type.
For many operations, fuel is the second biggest expense behind labor, Wyatt says, yet few businesses have a strategy for managing that cost. "They are completely at the mercy of market conditions," he says. PetroLiance markets only ultra-low sulfur diesel fuel (ULSD) in terminal areas east of the Mississippi. It also operates seven fuel bulk tank facilities that store ULSD, gas/ethanol blends and biofuels.
The key elements of successful business are managing risk and controlling as many factors as possible, Wyatt says. "In this case, risk means any factor that can significantly impact the business viability and productivity," he says.
Deciding to be proactive rather than reactive is the first step in managing fuel costs. To achieve your goals, you need to follow some basic rules, Wyatt says. First: These tools are used to manage your fuel budget–never to anticipate the market. Second: Take what the market gives you. Depending upon market conditions, the best tool may be a fixed price, a cap or a collar, which is a contract that allows prices to fluctuate between a minimum and maximum price range. Third: Hedge at least 50 percent of your volume. A typical contract is 42,000 gallons per month. If your monthly volume can't qualify, a quality fuel distributor may offer a fractional portion of a contract. "This will likely carry a premium, but should still allow you to achieve your fuel management goals," Wyatt says.
Fleets should take steps to mingle risk management tools (fixed price, caps, collars) that can be used regardless of how fuel is purchased. "Align yourself with a quality fuel distributor who stays on top of market conditions, has access to good data and offers programs that allow fleets to lock in fuel prices," Wyatt says, adding, "Managers who try to beat the market will always lose."
On the technical side, the off-highway industry finds itself pushing the fast-forward button to keep pace with advanced systems—filtration systems, aftertreatment systems and fuel injection systems—that won't tolerate water and dirt.
"Dirty fuel increases unscheduled maintenance and creates additional downtime on vehicles," says Air Force Master Sergeant Andrew W. Slater, commercial vehicle maintenance manager for the U. S. Air Force in Europe, Ramstein Air Base, Germany. "Dirty fuel can clog fuel system components and can cause detrimental wear on components that have tight tolerances."
Fuel filtration, Slater says, initiates at the fuel stand and then is filtered again by the vehicle's fuel filtration system.
"With the massive compound of changes going on, the technology we used 10 years ago doesn't work," says Philip Johnson, new business development-engine liquid filtration for Donaldson. "For all of us in the industry, it's a matter of catching up."
Handling of fuel and lubricants has become such a major issue that Donaldson has established a new group whose responsibility is to focus on improving the process of filtering bulk oil and fuel before they are pumped into fleet equipment. "How fuel and lubricants are handled really is going to be a step-changer for equipment uptime and availability," Johnson says.
Fuel Filtration Failures
Waste Management has dealt with filtration problems.  About two years ago, fuel filters in the fleet began to collapse or "by-pass when we weren't expecting it," says John Meese, senior director of heavy equipment, disposal operations support. Meese turned to several industry filtration experts for help and singled out two companies that he now "heavily relies on for filtration products." One was Caterpillar and the other was Donaldson.
Meese has always expected engine oil, for instance, to be delivered in bulk at a specified level of cleanliness. He is currently standardizing and implementing strict maintenance practices across Waste Management's operations. For example, the company sends out a field service support team to make certain field operations are in step with the maintenance and business systems standardized by Waste Management.
"The system allows us to track what's being done," Meese says. "It also sends out notices when the machines have to be serviced. That PM schedule is the riding tool for management to see that it's happening."
The team conducts a job site inspection to ensure that the company-specified oil and filters, for instance, are being used to maintain the standardized cleanliness levels. "We don't want to have a 55-gallon drum sitting with an inch of water sloshing around the top of the barrel right next to the hand pump," says Meese. "There are very basic things that we do, but it takes time since it is a re-education process. Years ago, fuel systems weren't so sensitive, engines didn't run at such high temperatures, hydraulics to component tolerances weren't so tight. Today, a tiny speck of dirt can create problems for you quickly, and we can't afford to do that."
The job of standardizing fuel management is an ongoing effort that Waste Management "hopes to have in place across the country by the end of the 2012 third quarter," Meese says.
As stringent as cleanliness levels already are, the levels yet to come, particularly for diesel fuels, significantly exceed the requirements of either hydraulics or engine lubes, says Donaldson's Johnson. "The cost of a diesel pump and injector fueling systems can be 40 percent of the cost of an engine," he says. "There are environmental improvements and cost savings to be made, but only if fleet managers maintain the systems properly."
One new and challenging problem that has arisen with the removal of sulfur from diesel has been the addition of additives to replace the natural lubrication that the sulfur provides. These additives tend to be high in surfactants. The addition of biodiesel, which is also a surfactant, creates a major problem for the use of fuel water separators, quickly rendering many virtually useless, Johnson says.
That problem will have to be addressed by separating the water either by gravity or by better maintenance of storage tanks before the fuel is added to the vehicle. "We will have to look at new technology to remove water on the vehicle as well," he says.
It is essential that fuel, particularly diesel fuel, "be as clean as humanly possible before use just to give the on-equipment filtration system a chance to work," he says.
Johnson recommends that fleets only use above-ground storage tanks for fuel. "Underground tanks cause more problems," he says. "Anecdotally, it is our observation that water is getting into underground tanks, contaminating the tanks. Condensation can also present a problem, but many of the heavily water-contaminated tanks we encounter are underground. Sometimes draining water from underground storage tanks can be particularly challenging.
"Another reason we prefer above-ground storage is that it is our preference to filter all fuels and oils before taking ownership of a problem batch of fuel," Johnson says. "Our challenge doing this is finding a suitable position to install an inlet on an underground storage tank."
If water finds its way into the fuel system, it has an adverse effect on additives and breeds bacteria, either of which will plug the equipment's fuel filtration and bring it down, Johnson says. Cleanliness specifications and standards need to be tightened significantly. "They should be upgraded for diesel fuels in particular," Johnson says.
Engine manufacturers are conducting a lot of research  to find out what size particle causes the most damage to systems, he says.
"We don't know. We know it's small, probably around one or two microns, which is the size of a single cell of bacteria. What we do know is that any free water or fine dust will rapidly destroy a modern fuel injection system. That's why we recommend cleaning all oils and fuels before using them if you want more uptime than downtime."
At Waste Management, Meese handles the cleanliness problem by taking samples of the fuel when it comes in. "We are very aware of algae that can grow in a tank," he says. "We have 28,000 collective vehicles and 4,500 mainstream construction equipment vehicles that must run every day, so we are pretty serious about fuel cleanliness."
Alternative fuels
Waste Management uses ultra-low sulfur diesel throughout its fleet. Some biodiesel is also used—B-10 and B-11, for instance—but that's because there is a tax break at that level. Despite numerous approaches from suppliers to use higher levels of biofuels, Meese says, "We think B-10 [with that one B-11 exception] is as far as we want to go right now. There aren't enough regulations and enforced standards in some of these fuels, and I don't think [we will use higher biofuels] for a while."
Waste Management is quickly becoming the largest user of compressed natural gas, however. The reason, says Meese, is that natural gas is cleaner and doesn't require diesel particulate filters. The second reason is that Waste Management owns a large amount of real estate in Pennsylvania: 28 landfills and huge tracts of land where "fracking" (hydraulic fracturing) is going on.
"We opted to take certain percentages of the royalties in natural gas rather than cash," Meese says. "We can take that natural gas much cheaper than we can purchase it."
Natural gas does use slightly more lubricants than diesel fuel, he says, but "it's an easy trade-off for us."
Of course, not many fleet operations are as large as Waste Management, but that should not stop fleets from drafting a written fuel management plan tailored for their own company, Meese says.
The basic elements consist of knowing the regulations in the local area, training operators so they know why they have to do certain things and using newly developing technical devices.