By G.C. Skipper, Contributing Editor | September 28, 2010
If employee training isn't high on your priority list, it may be time to reconsider.
Employee training decreases turnover by helping to keep employees interested in their jobs and involved in the company. Training cuts costs by helping to develop a safety-conscious staff, which can cut down on accidents. It improves productivity by producing employees that are more efficient. And for technicians, training is necessary just to keep up with the rapid advances in technology and machine design.
Sam Houston, CEM, and division chief of fleet maintenance for the City of Jacksonville (Fla) is a strong advocate of using formal training programs.
"Formalized training should include both classroom and hands-on sessions," he says. "That's one way to make sure technicians know how to do the work correctly and in a timely fashion."
To develop a formalized program for your company, take a needs survey and an aptitude assessment of each technician.
"You must find out what each individual's skill level is," says Houston. "That tells you where you need to ramp up your efforts. Never train just to train. Train in the areas where technicians need the most help. A formal training program helps do that."
Erle Potter, CEM and licensed professional engineer with the Virginia Department of Transportation (VDOT) in Richmond, says once his training team completes its needs assessments, it develops a schedule of quarterly meetings to review those needs and determine the courses that are necessary to fill the need.
"The second step is to prepare a detailed curriculum and course descriptions," he says. "You can't just go to a vendor and say you want a course on ABC. He has to know what he's going to teach and you have to make sure that everything is included."
Once the program is under way, Potter recommends an assessment to see how well the employees are doing in the course.
"If, for example, everyone scores a perfect 100 on every test, or if most of the class fails a specific test, there's something wrong," he says.
You'll also want to have the students evaluate the course.
"Instructors are not necessarily creative," says Potter. "Student evaluations allow you to gauge the ability of the instructor to teach the materials. If necessary, you can recommend areas of improvement or even replace the instructor. You need to regularly evaluate the program and fine-tune it."
This type of program has worked well for VDOT since it was put in place in 1995.
"When we started, we worked with a community college that offered courses we wanted to send our employees to," he says. "It didn't work very well. The problem was that they just presented the same courses over and over again. And the courses were typically more oriented toward automotive and truck maintenance. They didn't cover the work we do."
To improve the program, an advisory board was formed with representatives from each of the nine districts. The group was made up of technicians and shop supervisors. Its job was to figure out what training was needed, how it could be done, and what would be required to start the program.
"The board called itself TRUCKS (Training Rewards Us with Compensation, Knowledge and Skills)," says Potter. "We started from scratch, reviewing what was good and what was bad about our current training program."
Finally, the group recommended VDOT establish a three-tier approach, based on the experience level of the technician, with three categories of instruction. Core skills were broken into entry, intermediate, and advanced levels—and a variety of resources were researched to provide the different levels of training.
Entry-level skills training was done by local community colleges that offered basic automotive technology courses. Intermediate training was provided by original equipment manufacturers. Advanced training, which called for certification of technicians, was provided by the certifying agency.
"For example, the Virginia State Inspection certification was taught by the Virginia State Police," says Potter. "The state police developed the program and taught it at our locations. They also conducted the test and issued the certifications."
Other advanced training and certifications were handled by organizations such as the Fluid Power Society, experts in hydraulics, and a company that's responsible for training and certifying technicians to meet standards set by the American Welding Society.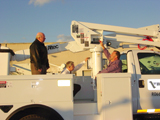 Bucket truck inspections are part of the Virginia Department of Transportation's (VDOT) training program. Left to right are Dick Bonistalli, Eric Potter and Blair Kinker, all with VDOT.
"Through our Human Resources Division, we were able to work with an organization called ManTech Systems Engineering," says Potter. "ManTech subcontracts most of the training to other organizations, but it maintains all the records, including what course the technician took and what his scores were.
Many of the classes require the employee to pass prerequisite courses. And although the lengths of courses vary, most are three days.
"In a given district, we might have eight people training three days a month," says Potter. "There are not that many people in training at one time."
Before taking a class, technicians are required to take pre-tests.
"Pre-tests and post-tests allow us to know what the technician knew before he took the course and how much he learned from taking it," says Potter.
These training programs have been so successful that VDOT has been recognized by the National Institute for Automotive Service Excellence (ASE) for having the largest number of recognized ASE Blue Seal of Excellence shops of any governmental entity. The North American Transportation Management Institute (NATMI) has also recognized VDOT for having the second highest number of NATMI-certified shop supervisors of any fleet, public or private, in North America.
Training for the smaller company
With approximately 400 technicians throughout VDOT, Potter doesn't have to worry about shop production when he takes technicians off the floor for training, but that's not usually the case with smaller companies.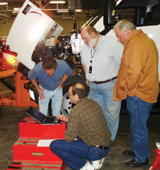 Laptop training has become a necessity in the Virginia Department of Transportation's training program. Left to right are Barry Linkous, Raymond Weeks, Donnie Laprad and John Dunn.
Jay Dee Sale, director of parts and service for Red Mountain Machinery, with facilities in Chandler, Ariz.; Las Vegas, Nev.; and Riverside, Calif., says one thing he ran into in setting up a training program was finding the time for training.
"When you're working as hard as you can and you're short of people, it's difficult to take technicians off the floor and send them to training," he says.
Sale tried scheduling the classes on the weekends, but technicians didn't want to give up their personal time to attend.
"They wanted to be trained on company time, but that meant we'd lose all our service capabilities during critical business hours," he says. "That wasn't going to work."
Then Sale tried dividing the training so only one-third of the technicians would be in training at any one time.
"Taking a third of the technicians off the floor might not be an issue for larger companies, but we don't have hundreds of technicians to rotate," says Sale. "Even if you take only a handful of people off the floor, it impacts our shop productivity. And, of course, no matter which training day we selected, that was the day we received an overload of service calls."
A formal training program didn't work for Red Mountain, but Sale did find a solution.
"We use an on-the-job approach," he says. "When one of the technicians is having a problem, our training instructor works with him. The trainer is not there to do the work for the guy. He's there to train him on the specifics of the problem."
While Sale admits this training method is not ideal, it has improved shop productivity.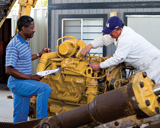 Too small to take technicians off the shop floor for formalized training, Red Mountain Machinery created an on-the-job approach. When a technician has a problem, a training instructor works with him in the shop. According to Jay Dee Sale, director of parts and service for Red Mountain, the plan has improved shop productivity.
"If I have a technician that's struggling, I put the trainer with him and the technician learns first-hand how to deal with the problem," he says. "We're really seeing it make a difference in efficiency. In addition to the trainer's one-on-one training responsibilities, he also oversees all the work done in the shop."
Whatever training approach works best for your company—formalized, one-on-one or a home-grown variety—you'll likely have to develop a budget to cover it. How companies arrive at those budgets depends largely on the organization.
Some companies take a direct approach. For example, Houston budgets $15,000 annually for training.
"You have to put together a training program that carries you for several years, and it will almost certainly have to be updated," he says. "As far as the specific budget you'll need— you have to take into account how much you'll be paying for outside schooling, how much you can do in-house, and how much can be done by OEMs."
Potter says there are a number of things to consider.
"One way to budget is to look at your needs and see what the cost of those courses will be," he says. "Can you squeeze it all into one year? After all, the reason we have technicians is to turn wrenches, not have them in class all the time. But, by the same token, you have to keep them up to date on technology, because if they're not trained, they can't do the work."
Another problem facing equipment professionals when it comes time to train employees is motivation.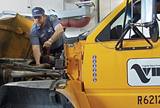 The Virginia Department of Transportation's Bruce Nelson tries hands-on training to troubleshoot this vehicle.
"Motivation is a tough subject," says Houston. "Money means a lot to a lot of people but another way to motivate people is to get them involved so they feel they are part of a team. You have to know what makes people tick. You have to show that you care about them, their families, and what they do. You have to pat them on the back every once in a while and give them a raise when you can."
When it comes to wages, VDOT can't compete with the private sector, but technicians stay with VDOT. One of the reasons is training.
"Training gives them the confidence that, if something were to happen, they could take their certifications with them and find a job somewhere else," says Potter.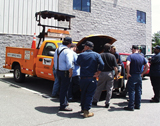 Students in the Virginia Department of Transportation's training program gather around the engine of a utility truck to take a turn at troubleshooting a problem.
Another major factor is recognition.
"We bring in the District Technician of the Year from each district for an awards ceremony and present certificates," says Potter. "Their pictures are run in a monthly newsletter distributed by VDOT, and their names are sent to AEMP as nominations for the National Technician of the Year Award. We've had several winners."