By Rod Sutton, Editor in Chief, and Heather Burlingame, Senior Production Editor | September 28, 2010
Allied Construction has added Model 500, 1000, 1600 and 2300 to its line of Ho-Pac hydraulic vibratory compactor/drivers. Improvements include more impact energy, multiple bolt-on base plates, an accurate four-function valve, and maintenance-free oil-splash-bearing lubrication, says the company. New hose routing provides protection against sheared or damaged hoses, and tough-coat hoses prevent cuts and extend wear life. The Variable Mounting System provides multiple mounting configurations (with the exception of Model 500) for a custom fit. Recommended carrier weight ranges from 6,000 to 120,000 pounds.

The largest in Atlas Copco's hydraulic-breaker line, the HB 7000 is also the largest breaker in the world, says the company. With a service weight of more than 13 tons, the attachment is ideal for primary and secondary quarry breaking, demolition, tunneling, trenching and foundation work. The unit accepts a maximum hydraulic flow of 119 gpm at 2,610 psi, and delivers an impact rate of up to 450 bpm. AutoControl matches the hammer's frequency and power output to operating conditions for reduced shock to the hammer and carrier. StartSelect allows the operator to adjust start-up and shut-off to fit jobsite conditions. For reduced vibration and noise, the breaker comes equipped with a VibroSilenced damping system.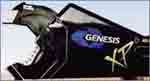 The newest shear in the XP Series, the GXP 1500 is designed for excavators from 120,000 pounds and up (155,000 pounds for the 1500R rotating model). With a 44-inch jaw opening and throat depth, it provides nearly 2,600 tons of cutting force at 5,000 psi. The bolt-on piercing tip reduces buildup- and welding-related downtime, and can be replaced with a few bolts.
Rock Guards Provide Protection
Now available on 20 base models of American Compaction Equipment's Excavator Compaction Wheel, rock guards provide added protection against rocky soil conditions. The guards also improve attachment performance, says the company. Diamond Compaction Wheels are available from 14 to 72 inches wide and include an OEM mount with pins and a soil-leveling plate.
Asphalt Zipper's AZ-480HD loader-mounted reclamation/milling attachment is ideal for asphalt-removal applications, including utility trenches, road reclamation, road repairs, soil stabilization and parking lots. It grinds up to 12 inches deep, which helps to eliminate the expense of chunking and hauling old asphalt. The unit is easy to transport on a trailer behind most pickup trucks, says the company.
For extra power and jaw alignment in shearing and crushing applications, Allied Gator's MT Series Multi-Tool features the company's Power-Link and Guide System, which increases the tool's force as the jaws close. From the MT5 to the MT180, 11 models are available for carriers from 5,000 pounds. Interchangeable jaw sets may be switched in minutes, says the company, without removing hydraulic hoses. The attachment comes in rotating and non-rotating configurations—both of which allow second and third member mounting applications.

Scrap Grapple Buckets from Sweepster/FFC are available in two capacities: 1.0 and 1.75 cu. yd. To grab uneven loads, the dual grapples are individually operated, and the cutout endplates make it simple to handle various lengths. Trash Grapples are also available in two capacities: 1.75 and 2.25 cu. yd. Full endplates and a one-piece grapple secure loose material. All models are 96 inches wide and have a lift capacity of 10,000 pounds. Operating weight is 36,000 pounds.
Seven Boxed Tines for Durability
AIM's High Capacity Scrap Grapple features a reinforced solid-box body—as opposed to a hollow-box configuration—and a three-over-four-tines design. A four-bolt flanged hinge maintains the linkage of the grapple for optimal installation times. Three working positions provide versatility. The attachment is available in 54- and 60-inch widths for excavators from 40,000 to 100,000 pounds.
Grips and Lifts to 9,000 Pounds
Kenco Multi-Lift has an automatic actuator for hands-free operation and adjustable grips to fit a range of sizes from 0 to 34 inches. Larger lengths are available on a custom basis. The grip can be used on a variety of objects and can be configured to grip from the outside or inside surfaces. It will lift up to 9,000 pounds.
CTI's 4-in-1 bucket fork for backhoe-loaders requires no welding or screws; a closed clam holds them firmly in position. The forks have a 6,000-pound lift capacity with 48-inch solid-steel tines. To attach, open the bucket clam, drive into the forks, pick them up with the front cutting edge, and then close the clam on the retainer bars that fit between the back cutting edges. Hook the safety chains before working. The company also offers forks for wheel loader 4-in-1 buckets.
C&P Attachments' line of grapples allows users to pin directly to the machine or to use quick couplers for fast interchange. Designed with a high-strength plate, the couplers also feature internal gussets for the toughest applications. The grapples fit excavators from 4,000 to 100,000 pounds.
For carriers from 17 to 66 tons, Tramac's DA Series demolition processors consists of three models: DA-370, DA-450 and DA-550. Each features a choice of the MB demolition jaw, MS steel shear jaw, and MC concrete cracker jaw. The MB demolition jaw cuts rebar in two perpendicular directions simultaneously, which allows material to be immediately transferred to a recycling center. Cutting force at the throat ranges from 210 to 695 tons, depending on model. Jaw openings range from 23.6 to 37 inches for MB jaws, 16 to 28 inches for MS, and 25.5 to 51 inches for MC jaws.

The Multi-Ripper bucket from Leading Edge Attachments features multi-ripper engineering of staggered ripper teeth that fracture the substrate in sequential order, making it ideal for severe frost or rock-removal tasks. No two teeth align with each other, so maximum breakout force is applied sequentially to each tooth. The bucket scoops all material that is ripped, leaving a flat trench bottom. The rolling of the bucket, by extending the bucket cylinder, provides full-multiplied breakout force individually on each tooth so that the substrate is ripped out by each individual tooth lifting action.

Model 60 Talon Debris shear from Morbark recycles stumps, logs, poles and other wood waste by splitting and shearing material up to 60 inches. Preprocessing with the Talon eliminated rock and dirt from the waste, saving wear and tear on the grinder. Talon comes standard with dual movable fingered bucket with replaceable, hard-surfaced weld-on splitting tips, heavy-duty movable scissors-action shear blade, and two replaceable weld-on blades.
Handles Irregular Objects
E-Z Grip material handler bucket from Werk-Brau aids in handling and loading irregular-shaped objects. It retracts against the stick, so it can be left on during normal excavation. A high-quality hydraulic cylinder withstands rugged working conditions.
RKS Road King Sloper from Rockland can be used while the grader is articulated and enables the machine to do ditch sloping while staying on the road, where it has better traction and speed. Sloper has 32 inches of hydraulic side shift, is equipped with hydraulic pressure relief, and can be easily removed. Heavy-duty box frame moldboard has heat-treated, reversible cutting edges.
Increased Performance with Less Maintenance
Stanley LaBounty's UPSV Series Universal Processor has interchangeable jaw sets for maximum productivity in various applications. It has 360-degree powered rotation for efficient processing at any angle, speed valve for fast cycle times, and slotted pivot for faster and easier jaw changeout. Optional jaws are available.
Boosts Reach by 30 Percent
Paul Wever Construction Equipment's Extendable Dipper can give excavators up to 30-percent more reach, enabling it to move more material, in a wider radius, without machine movement. Easy installation and the ability to transport it with the machine make the dipper economical to use. It is also able to lift heavy loads.
Helac's PowerGrip multipurpose bucket can trench and grade. It can also be used as a clamshell, grapple or hydraulic thumb. The bucket operates independent of the bucket curl cylinder, so the jaw will open 120 degrees to move large objects. Serrated bucket edges hold material in place, and the jaw won't twist when moving irregular objects because equal force is applied to both sides. PowerGrip has no exposed cylinder rods, hinge pins or bushings. Tool circuit connection manifold includes integral load holding and pressure control.
The Add-A-Boot from L&G Products provides an extra 4 to 8 feet of reach for all major excavators without requiring any additional hydraulics. The fixed extension is easy to install and can be used in conjunction with other excavator attachments such as hammers, tampers and grapples. It is manufactured with A514 steel and has hardened bushings.
No Hydraulic Service Required
The Geith Auto-Klamp mechanical thumb automatically folds away when not in use. It is easy to install and requires no hydraulic service, says the company. High-strength mounting pins and a one-piece base plate provide durability. Other features include a serrated edge for load holding, four-point adjustment, and an auto-slide-away system.
C-Hook from Hendrix enables pipe-laying crews to be reduced from three people to two, keeping personnel out of the trench for safer operations. Used with the Hendrix quick coupler, C-Hook eliminates the need for someone in the trench to align and unshackle pipe sections. No trench box is required, so trench width can be reduced, further cutting jobsite costs.