December 7, 2017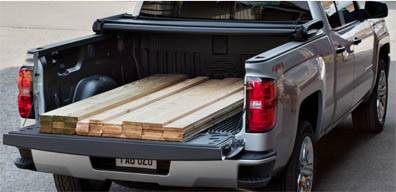 According to a report in the Wall Street Journal, GM is planning to introduce carbon fiber beds in its premium model Chevrolet and GMC pickup trucks in about two years.
The carbon-fiber pickup box is under development and expected to be offered on higher-priced Silverado and GMC Sierra pickup trucks in late 2019, WSJ sources said. Plans could change if the project hits technical or cost hurdles, the people said.
Currently, carbon fiber is reserved for exotic vehicles due to its production costs. Components are formed from carbon fibers are woven into fabric, then shaped and strengthened with vacuums and chemical hardeners. Mass production of pickup truck components will require an entirely different manufacturing process than the metal stamping methods used now. GM will have to create a different supply chain where formed parts will be shipped to its assembly plants.
The advantages of carbon fiber parts are weight and durability. Carbon fiber is at least 50-75 percent lighter than steel and 20-50 percent lighter than aluminum, depending on the type, according to Ducker Worldwide, a materials consultancy that works with auto makers. It would improve dent resistance and give GM a differentiating feature in the fierce realm of truck marketing, said Richard Schultz, a metals expert at Ducker.
As automakers look towards the EPA fuel economy standards set to go into effect in 2025, the search for lighter technologies like carbon fiber become more important.
GM sells about 800,000 pickups a year. If the carbon fiber beds are well accepted at a premium cost by consumers, it could mean broader adoption in the auto industry.
image: GM