September 28, 2010
Items:
Dynapac
Bomag Americas
Hamm
Caterpillar
Case
Volvo
Wacker Neuson
Stone
Multiquip
Sakai
JCB
LeeBoy
Rollers Leave No Marks Behind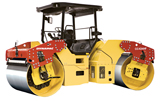 "Soft" starting and stopping prevent Dynapac's new-generation articulated tandem roller models from bowing or cracking the asphalt layers, allowing even inexperienced operators to start and stop without leaving marks. The three new models have operating masses ranging from 10.5 to 12.6 metric tons, with their weights split evenly between the front and rear drum modules. The position of the Cummins engine on the rear module, with all service points located on one side of the machine and accessed by large, easy-to-open hoods, contributes to fast machine servicing. Service information is displayed directly on the driver's LCD monitor.
Number of models: 14
New models: CC424HF, CC524HF, CC624HF
Product-line features: As a supplement to the central water tank, the use of optional additional front and rear tanks on the Dynapac new-generation tandem rollers is able to provide a total water capacity of up to 370 gallons, enabling a full day's operation without refills.
New Look to Larger Models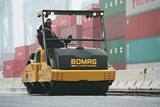 A redesign of Bomag's 66- and 78-inch-wide tandem-drum asphalt rollers was on display at Conexpo-Con/Agg 2008 in the form of the BW266AD-4 and BW278AD-4 models. A new cockpit features a sliding/swivel seat that makes it easy for the operator to adjust positions without having to switch seats, while providing a clear view of the roller drum edges. When the seat position is reversed, the joystick controls reverse automatically for natural right/left, forward/back control. An intuitive instrument cluster provides responsive, easy-to-read feedback of machine vitals and mat conditions. Other machine enhancements include the ECO-mode engine control system, higher-capacity water tanks, ground-level maintenance access, and an improved work-light package.
Number of models: 14 under Bomag brand; 5 under Hypac brand
New models: BW266AD-4 (Hypac C766D); BW278AD-4 (Hypac C778D)
Product-line features: Plans are in the works to offer the Asphalt Manager system on the new BW266AD-4 and BW278AD-4 models. Established on the 78.7-inch BW190AD-4 AM model, Asphalt Manager automatically controls the output energy of a special front drum in order to prevent over- or under-compaction of the mat. The roller makes the adjustment through a process called vectoring.
Oscillation Technology Stretches Out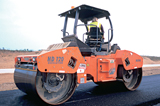 In the past 18 months, the Hamm Compaction Division of Wirtgen America has rolled out a new compact line of double-drum asphalt rollers designated VV for "Vibration Front, Vibration Rear," which allows vibration in both, either or neither drum. At this year's Conexpo-Con/Agg show, Hamm rolled out the 84-inch HD O130V, the largest asphalt compactor in North America to incorporate the exclusive Hamm Oscillation technology. Non-aggressive Oscillation technology compacts hot mix with a gentle rocking motion, not vertical pounding.
Number of models: 17
New models: HD 8 VV, HD 10 VV, HD 10 C VV, HD 12 VV, HD 13 VV, HD 14 VV, HD O130V
Product-line features: Operators of Hamm's HD-Series asphalt rollers benefit from a 180-degree swiveling, rotating operator's seat; dual, seat-mounted, 5-in-1 control levers; and a tiltable operator's station. For efficient compaction, the machines have a 31-inch curb clearance and can be offset hydraulically 3.9 inches to either side at the articulation joint.
Utility Models Offer Versatility, Too
The focus of upgrades to the Caterpillar double-drum vibratory asphalt compactor product line has been on utility models, with eight models representing five sizes rolled out in the past 12 months alone. The utility compactors' hydraulic propel lever provides a two-way regulating curve that gradually increases speed in the first half of the stroke for precise control in tight quarters, and then rapidly increases in the second half of the stroke for high-speed maneuverability. Jobsite versatility is enhanced by dual-frequency vibratory systems.
Number of models: 13
New models: CB14, CB14XW, CB14 Full Flush, CB22, CB24, CB32, CB34, CB34 XW
Product-line features: Caterpillar large asphalt compactors offer versatile vibratory systems able to exceed the density requirements of various mix designs and paving conditions in fewer passes. The versa-vibe vibratory system offers four amplitudes and two frequencies; the five-amplitude vibratory system features five different amplitude settings and a single frequency.
Single-Lever Joystick Controls Compactors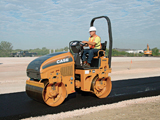 With a Tier-3 update on all models in 2007, Case offers three double-drum vibratory asphalt compactors ranging in drum width from 39.4 to 51.2 inches. Hydrostatic drive to both drums provides Case's DV201, DV202 and DV204 models with superior traction while delivering compaction performance. Recessed drive motors provide curb clearance and unobstructed operator sightlines to the edge of the drums, which are tapered for a smooth transition on lifts.
Number of models: 3
Product-line features: Working in an uncomplicated operator environment, Case double-drum asphalt roller operators have single-lever joystick control of vibration, forward and reverse, and machine speed. For easy maintenance, one-piece lift hoods supply complete access to the engine compartment.
New, Smaller Models Update Full Line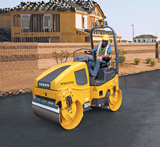 The newest additions to Volvo's double-drum vibratory asphalt compactor product line, the DD22 and DD24 light- and medium-duty models were rolled out at this year's Conexpo-Con/Agg show. With drum widths of 39 and 47 inches, respectively, the two 2.5-ton rollers both feature front and rear drums that protrude beyond the frame, making it easier to compact around obstructions. To provide a quality mat, the propulsion system features hydrostatic drive to both drums in series. An optional anti-slip control provides enhanced traction by use of a flow divider.
Number of models: 17
New models: DD22, DD24
Product-line features: With a product line topping out with three 84-inch-drum-width models, Volvo offers double-drum compactors in both high-frequency (HF) and high-frequency, high-amplitude (HFA) configurations. Eight amplitudes allow operators to adjust to the right setting for required density without worrying about fracturing aggregate particles. On HFA models, each amplitude setting automatically adjusts to the highest frequency allowable.
Water Tank Smaller, but Lasts Longer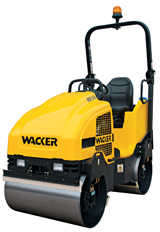 Introduced in early 2007, Wacker Neuson's three newest double-drum compact ride-on asphalt rollers feature a redesigned frame and operator's platform providing both the visibility and maneuverability to compact right to the edge of the mat. With a water pump timer adjustable to eight positions, a new pressurized water system allows the operator to better control water flow. The system's efficiency allows Wacker Neuson to reduce the tank size while increasing running time per tank of water.
Number of models: 6 compacts, including 1 walk-behind
New models: RD 12-90, RD 12-90A, RD 16-90
Product-line features: With a drum width of 35.4 inches, the hydrostatically driven RD 12-90 is available in two variances — powered by a 20.5-horsepower Wacker Neuson engine or an 18-horsepower Honda engine, the latter model designated with an A.
Pro Features Rolled into Compact Package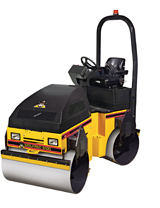 The WolfPac asphalt compactor line offered by Stone Construction Equipment tops out at the WP6100 — a 47-inch-wide, double-drum-drive, double-drum-vibration unit that incorporates professional features requested in a road roller, yet is still suited for confined-area compaction of base, binder and finish coats. The operator can activate the vibration to the specific drum or drum combination via an electro-hydraulic circuit combined with a custom-designed manifold.
Number of models: 6, including 1 walk-behind
Product-line features: The 40-inch WP4100 and both the gas and diesel versions of the 35-inch WP3100 are available with optional foldable ROPS. When folded to a height of 73 inches, the machines can be backed into structures such as garages for optimum paving coverage.
Asphalt Compactors 'AR' Numerous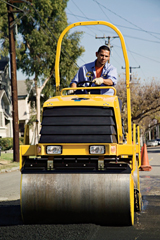 With AR-Series tandem and combination vibratory compactors ranging in operating weight from 1.5 to 4 tons, Multiquip compact asphalt rollers feature as standard maintenance-free articulation joints with permanently-sealed bearings, along with dual frequency and amplitude, offset drums, and pressurized water systems with dual filtration. The diesel models, topped out at a drum width of 51 inches, are powered by Yanmar engines.
Number of models: 17, including 11 ride-ons under Multiquip's Rammax brand, three additional established ride-ons, and three walk-behinds under Multiquip's Mikasa brand
Product-line features: Easing transportation and facilitating low-clearance compaction applications, folding ROPS are standard on AR-Series asphalt rollers. So, too, are noise attenuation, sliding seats, and 100-percent side clearance through full flush drums.
Product Line Rolls Ahead with Upgrades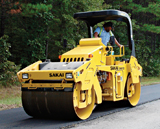 In addition to the 58-inch-wide combination oscillating-vibratory roller shown here, Sakai rolled out at this year's Conexpo-Con/Agg show in Las Vegas a pair of large, high-frequency, higher-force vibratory asphalt compactors designed to achieve density faster, regardless of mix design. The updated SW880 and SW990, with 79- and 84-inch drum widths, respectively, both turn their higher forces into better compaction when running dynamically and provide more powerful static finish passes. A 30-inch curb clearance allows these machines to avoid guardrails.
Number of models: 11
New models: SW320, SW330, SW652, SW652ND, SW880, SW990
Product-line features: With all double-drum asphalt rollers offered by Sakai America updated or new in the past 18 months, drum energy of 4,000 vibrations per minute or higher is combined with dual-drum hydrostatic drive and counter-rotating drum eccentrics. All vibration controls are located at the operator's station.
New Models Serve Rental Market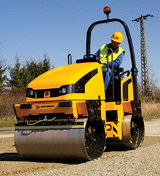 With its six-base-model Vibromax double-drum vibratory asphalt compactor line, JCB currently offers compact and utility machines ranging up to the VMT500, which checks in at an operating weight of 9,645 pounds and drum width of 55.1 inches. Specifically aimed to serve the rental market with high-capacity fuel and water tanks, the VMT160 and VMT260 were most recently rolled out at the smaller end of the product line. Electrically controlled, hydrostatic direct drive on both drums of these models enables operators to maximize performance in any application by selecting double, single front, or single rear vibration. The product line is expected to add the even-more-compact VMT100 in 2009.
Number of models: 6
New models: VMT160, VMT260
Product-line features: JCB's Automatic Vibration Control system is standard on the new VMT160 and VMT260 models. Available on two variances of the VMT160, Total Side Clearance enables the operator to compact flush against a wall.
Roller Available with Towable Option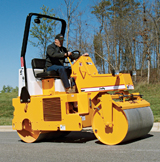 The split-front-drum design of LeeBoy's lone double-drum vibratory asphalt compactor is designed to eliminate the tearing of the mat during turns. At a compaction width of 44 inches, Model 400 has a static weight of 2.5 tons and a maximum centrifugal force of 4,000 pounds with a vibration frequency of 2,600 vibrations per minute. A stainless-steel water tank has been replaced by a plastic tank as part of an 80-gallon spray system.
Number of models: 1
Product-line features: A towable option, designated as the Model 400T, features hydraulically operated tires on each side of the roller and an adjustable towing tongue with safety chains. The LeeBoy 400T roller may be towed at speeds up to 45 miles per hour.