September 28, 2010
Items:
Read "Commercial Asphalt Pavers Outgrow Their Name" for more on trends in commercial asphalt paver design, manufacture, and use.
Heavy-Duty Commercial Paver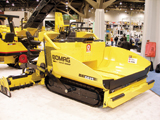 The BF 6615 crosses the traditional 19,000-pound boundary defining commercial pavers. The 20,500-pound machine has 9 tons of hopper capacity and a basic screed width that stretches to 15 feet for handling high-volume parking lots and streets. Heavier material-handling components and bolt-on, 400 Brinell steel screed plates are intended to make the paver more durable and easy to rebuild. It has Bomag's first electrically heated screed, a feature contractors are coming to expect on high-volume work.
Number models: 6
New models: BF 6615, BF 814, BF 815 and 4413
Product-line features: Independent, hydraulically controlled screed extensions on the BF 6615 and 4413 are assured of a consistent head of material at the strike-off plate because of the Mega-Feed dual-auger system. Remote augers mounted on the extensions' leading edges extend with the screed's wings.
Biggest Commercial Pavers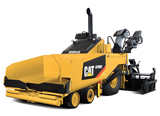 Caterpillar's new wheeled AP600D and track-mounted AP655D are eight-foot machines that weigh about 40,000 pounds each. Independent conveyor and auger controls can be adjusted to maintain the desired head of material at the screed. Cat's Advisor Monitoring System is an interactive interface providing the operator with project planning calculators, start-up checklists, engine operating parameters and other key information. The Advisor simplifies troubleshooting by listing and explaining fault codes. Product Link — Cat's wireless information system — reports operating hours and location as standard equipment.
Number of models: 3
New models: AP600D and AP655D
Product-line features: Both new pavers can be fitted to Cat's AS2252C or AS3251C screeds, which feature CAN bus electronic systems that interface with the Advisor display on the tractor to simplify diagnostics. The CAN bus reduces the number of wires and connections to improve electrical-system reliability.
Screed Maker Builds First Paver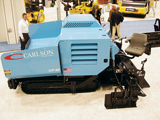 The industry's only aftermarket screed manufacturer, Carlson, is getting into the asphalt-paver business with the Conexpo 2008 introduction of the CP-90, its first complete paver. Carlson is billing this machine as "completely rebuildable," with 3/8-inch Hardox conveyor-floor plates and a 12-inch-diameter auger made with replaceable segments. The 18,800-pound CP-90 is powered by an 84-horsepower Caterpillar C3.4 diesel. Still in prototype stage, the new paver is expected to go into production late in 2008. Suggested retail price should be around $150,000.
Number of models: 1
New models: CP-90
Product-line features: The new EZ Mat Screed, electrically heated of course, was developed exclusively for the CP-90, and will only be available on the Carlson machine. Standard paving width is 8 feet, but the unit can pave widths from 4 to 15 feet.
No Flow Gates Required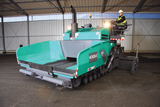 Vögele's new Vision 5100-2 and 5103-2 eight-foot pavers have no material-flow gates because independent conveyor and auger drives automatically or manually adjust material flow to maintain the head of material in front of the screed. Augers and conveyors are reversible. Vögele, the paver with a German name and Chambersburg, Penn., design and manufacture, offers an optional hydraulic front apron that prevents forward spillage. As the hopper closes, the front apron rises. It's a proven design from Vögele's European line.
Number of models: 3
New models: Super 700, Vision 5100-2 and Vision 5103-2
Product-line features: Wiring harness is simplified by Controller Area Network (CAN) bus design using single wires for most circuits. Vögele's Niveltronic Plus automated grade and slope control system is supplied directly by Vögele so the machine and grade controls are matched. Wiring and connections are integrated into the tractor and screed.
Extensions Power Glide
The Silver 16 Screed in the 1750-C features single-stage extension, stretching the basic screed width from 8 to 15½ feet on what Mauldin calls its new "Power-Glide" guides. The machined and polished chrome rods ride in replaceable bushings that allow the screed and extensions to be rebuilt to original tolerances. Ultrasonically controlled material feed maintains optimal head of material in front of the strike off. The unit comes from the factory wired for screed automation. The 1750-C is powered by an 80-horsepower John Deere diesel.
Number of models: 5
New models: 1750-C
Product-line features: Mauldin recently increased its production capacity by moving to a new 20,000-square-foot manufacturing facility. Mauldin also acquired Pavement Services Inc., a South Dakota manufacturer of specialty asphalt-construction equipment.
Yanmar Power Boost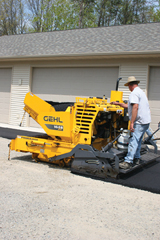 Gehl refit its Power Box asphalt pavers in 2007 with higher-horsepower Yanmar direct-injection engines. The engine in the 1448 Plus paver, at 36 horsepower, boosts power 44 percent compared to its predecessor, and the 1648 Plus paver at 48 horsepower is 19 percent more powerful. A separate cooler is dedicated to the drive system in the 1648 Plus for increased cooling capacity.
Number of models: 2
New models: 1448 Plus and 1648 Plus
Product-line features: Manual screw jacks adjust the crown and mat profile, and the screed is heated with propane burners. The 1448 Plus uses engine exhaust to heat the screed, although a propane-heated screed is optional.
Conveyors Feed Path Paver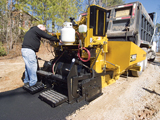 Neal re-entered the asphalt-paver business in February when it introduced the 7,200-pound Model 5500 paver. It stands out from the other path pavers in this size and capability range because the 5500 has slat-chain conveyors to carry material from the hopper to the screed, while the others are gravity fed. Conveyors will run automatically, sensing the head of material in front of the screed, or they can be adjusted manually.
Number of models: 1
New models: Neal 5500
Product-line features: Neal's 38-horsepower 5500 paves widths from 5 feet 3 inches to 8 feet 3 inches, pushing dump trucks with 1,500 square inches of track on the ground.
More Capacity, Less Transport Width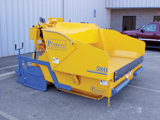 Puckett added the 10,000-pound model 580 to its 500-Series asphalt pavers, using an 8-foot basic screed to deliver up to 13 feet of paving width while reducing the transport width to 8 feet 6 inches. The Puckett 560 offers the same maximum paving width, but transports at 9 feet 9 inches wide. The new 580 will pave as narrow as 2 feet wide.
Number of models: 3
New models: Puckett 580
Product-line features: Sprocket drive and automatic tensioning of the track are standard features on all Puckett Pavers. With a product line comprised of just three pavers weighing 10,000 pounds or less, Puckett's stated mission is to manufacture "quality, simple-to-operate, and dependable small asphalt pavers."
A New Challenge to Road Pavers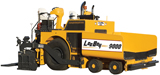 VT LeeBoy broke the under-19,000-pound commercial-paver mold several years ago when it introduced the 25,000-pound 8816 paver. With introduction at Conexpo-Con/Agg 2008 of the 33,000-pound 9000 wheeled asphalt paver, the formidable commercial-paver builder goes head-to head with big-paver brands such as Barber-Greene, Blaw-Knox, Caterpillar, Cedarapids, Roadtec and Vögele. The 9000 and the 8816 are CAN bus-controlled pavers, with reduced wiring needs that facilitate digital gauges and sophisticated electronic diagnostics. The CAN bus also allows what LeeBoy calls Plus 1 steering control to provide a responsive, highly maneuverable, and easy-to-operate paver for high-volume commercial and street paving.
Number of models: 9
New models: 9000
Product-line features: LeeBoy moved to Cummins power for the 8816, and the new 9000 is the first LeeBoy powered by a Caterpillar diesel. All LeeBoy pavers — including the less-than-18,000-pound 8500, 8510, and 8515 — offer LeeBoy's electrically heated Legend screeds and dual-joystick steering using Sundstrand Plus 1 technology.
Tier 3 Engines Boost Power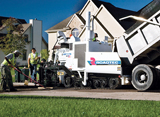 Late in 2007, Roadtec introduced two new eight-foot pavers compliant with Tier 3 emissions standards — the RP-170 rubber-tired machine and RP-175 on rubber tracks — to replace the RP-150 and RP-155. Caterpillar C6.6 engines increased horsepower 12 percent, and Roadtec added 40 percent more fuel capacity, putting 95 gallons on board the RP-175 and 90 gallons on the RP-170. New, hydraulically driven cooling fans reduce paver noise.
Number of models: 2
New models: RP-170 and RP-175
Product-line features: New slide-out seat design and operator control layouts on Roadtec's 10-foot models are on the new 8-foot machines.
Sorting Out the Ingersoll Rand Brands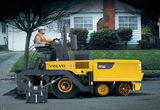 Volvo now offers the wheeled Blaw-Knox PF3172, PF2181, PF161 and Titan 3870. Volvo will also co-brand the tracked Blaw-Knox PF4410 in the commercial-paving class. The Blaw-Knox machines are all mid-sized pavers that were part of the acquired Ingersoll Rand Road Machinery group. They're marked by an exclusive offset-bogie front suspension that distributes front-end weight more evenly for better traction. Optional Blaw-Kontrol II offers the choice of a mechanical grade sensor, mobile reference system, Ultra IV sonic averaging system, or UltraEye V ultrasonic grade sensors.
Number of models: 3
Product-line features: The 20,350-pound PF161 carries a 16-inch-diameter auger, unmatched by any machine up to 10,000 pounds heavier. Hydrostatic direct traction drive eliminates about 70 percent of mechanical drive-train components.
Mini Paver Stretches to 6 Feet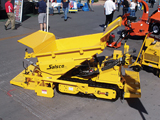 Salsco's Model 05013 Mini-Track Paver is a 3,060-pound tracked machine with capacity to pave from 3 feet to 6 feet wide for bike and cart paths, utility trench, patching, sidewalks, shoulders and the like. Total width of 54 inches, and a turning radius of 6 feet, put the small paver almost anywhere. Track gauge can be adjusted hydraulically.
Number of models: 1
Product-line features: The screed on the 05013 Mini-Track will pave crowns and inverts. The hydrostatically driven machine can pave 50 feet per minute. It is powered by a 10-horsepower Yanmar or Hatz diesel engine through a Sunstrand hydraulic pump and Char-Lynn motor.
Click here for more information
Big-Paver Features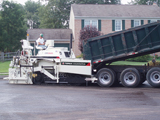 Terex ¦ Cedarapids eight-foot models CR352 and CR362 employ the maker's patented three-point suspension, which applies two hydraulic cylinders to isolate vertical movement of the drives from the rest of the paver. Wheels or tracks roll over irregular base without significantly changing screed height. The 300-Series pavers also use the patented Frame Raise System that raises the rear of the paver hydraulically for greater clearance under the augers, screed and frame. The system can adjust auger height to fine-tune the head of material, it helps position the paver around curbs and other obstructions, and it adds clearance for transitions on and off trailers.
Number of models: 2
Product-line features: The 300-Series Terex pavers use a lot of the same material-handling wear parts as the 400-Series highway pavers — things such as roller chain and slats that determine how long the machine will work between rebuilds.
Read "Commercial Asphalt Pavers Outgrow Their Name" for more on trends in commercial asphalt paver design, manufacture, and use.