September 28, 2010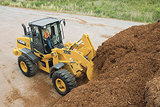 The new E Series wheel loaders, including the 721E and 721E/XT models at the top end of the 100- to 200-hp range, feature the adjustable power, fully electronic Case Tier III engine. This 6.7-liter engine allows operators to match power and fuel economy to their applications by choosing between three power curves (max, standard and economy) and four work modes (max, standard, economy and auto). Case has also redesigned the bucket for increased material retention, extending the bolt-on cutting edge for larger loads and creating a finer edge for easier pile penetration.
Number of models: 7
New models: 721E, 721E/XT
Product-line features: Case wheel loaders use the exclusive cube-shaped, mid-mount cooling module, which supplies clean ambient air to all coolers for increased cooling efficiency, reduced fluid breakdown and extended component life. With no stacked coolers, the mid-mount module also prevents debris from plugging between coolers. A hydraulically controlled fan within the cooling module can be reversed to purge debris from the module within seconds.
Adjustable Power, Larger Loads
Hyundai
7 Series Includes Smaller Models
Hyundai's new generation of wheel loaders, the HL 7 series, starts with three smaller model sizes in the 100- to 200-hp market. At 125, 140 and 173 horsepower, respectively, the HL730-7, HL740-7 and HL757-7 compete in the 2.0- to 3.5-cubic-yard market. The smaller two models are also available in TM tool-carrier configurations.
Number of models: 5
Product-line features: Two kickdown switches, located on top of the loader control lever and the gear-shifting lever, allow the operator to change instantly to first-stage lower gear to drive at full power into the pile. A centralized digital display provides machine status and working conditions at a glance.
John Deere
Solid State Provides Electrical Reliability
Deere redesigned the electrical system in the J-Series wheel loaders with a solid-state electrical distribution system, which replaces nearly all fuses and relays. Interconnecting with a circuit board, solid-state switches and a vehicle electrical center, the system eliminates the need for multiple wiring harnesses and connectors. The monitor in the cab provides detailed diagnostic messaging for troubleshooting without connecting to a laptop or other device.
Number of models: 4
New models: 444J, 544J, 624J, 644J
Product-line features: The J-Series Quad-Cool system arranges coolers side by side within a box rather than stacked, allowing easy access to both sides of each cooler for cleaning and repair. A cool-on-demand hydraulic fan provides appropriate speed based on system temperatures and offers the option of reversing direction to blow debris back out. The cooling package is isolated from the engine in a separate compartment, which minimizes preheating of the incoming fresh ambient air.
Caterpillar
Hydraulic Flow Efficiencies
Introduced in November of 2005, the 197-hp 950H wheel loader features a new hydraulic load-sensing implement system that provides flow to the attachments on demand and only in the amount needed for the function. The intent is to reduce heat and wasted energy, thus maximizing fuel efficiency. A new proprietary implement valve proportionally adjusts flow amounts on both the lift and tilt function to avoid unintended stall. At the same time, Caterpillar updated the 160-hp IT38G II model, expanding the range of bucket sizes available and increasing full-turn static tipping load by 14 percent to 19,106 pounds.
Number of models: 7
New model: 950H
Product-line features: Caterpillar's 924G and 930G wheel loaders can be equipped with a hydraulic joystick control that integrates third-function control into the handle, which is useful for customers using multi-purpose buckets or buckets with top clamps. The 930G also has an optional dual-steer mode feature. The steering mode provides conventional steering of approximately 3.5 turns from lock to lock, while the "quick-steer" mode requires only 50 degrees to turn lock to lock.
Liebherr
Power 'Plus' Drives Loaders
The four current Liebherr wheel loaders in the 100- to 200-hp range are all newly introduced, collectively offering increased Tier III engine horsepower, as well as increased tipping load, speed and cab space. On the L524, L528 and L542 models, the new "2plus1" drive-line concept features two drive motors. The L550 is part of Liebherr's "2plus2" family of larger loaders, incorporating two hydraulic drive motors used singly or in tandem as conditions merit.
Number of models: 4
New models: L524 2plus1, L528 2plus1, L542 2plus1, L550 2plus2
Product-line features: Each of the wheel loaders offered by Liebherr in the 100- to 200-hp range are hydrostatically driven which, according to the company, results in improved fuel economy, better component layout, and decreased wear to the tires and brakes. The overall result is reduced operating costs, increased productivity and reduced maintenance costs.
Komatsu
Komtrax Keeps Track of Loader
Introduced in 2006, the 191-net-hp WA380-6 not only tops off this product range for Komatsu, but also is the most recent model upgrade. A low-noise, high-torque Komatsu Tier 3 engine combines with the Closed-Center Load Sensing (CLSS) systemto reduce fuel consumption. The WA380-6 is also equippedwith the latest Komtrax technology, which sends machine operating information to a secure website utilizing wireless tech-nology.
Number of models: 4
New model: WA380-6
Product-line features: The established WA200-5, WA250-5 and WA320-5 wheel loaders offer a one-pump, two-motor hydrostatic transmission for better hill climbing and precise control. Dynamic braking reduces operator fatigue and increases the life of the wet-disc brakes. A variable-shift control system allows the operator to match machine and hydraulic speeds to the application.
New Holland
Limited-Slip Axles Offer A No-Spin Zone
Introduced last August, the W170B model tops New Holland's extensive product offering in the 100- to 200-hp wheel loader range. At 195 gross horsepower, this unit is more powerful than its predecessor, yet according to the manufacturer, delivers better fuel efficiency thanks to the standard availability of four power modes. With this 3-cubic-yard loader, both standard and tool-carrier configurations are available.
Number of models: 6
New models: W170B
Product-line features: New Holland wheel loaders feature heavy-duty outboard planetary reduction final drives that develop torque at the wheel instead of along the axle, thus reducing axle shaft stress. Maintenance-free outboard wet disc brakes on all four wheels stand up to continuous stop-and-go operation. Standard limited-slip axles automatically sense tire spin and transfer power to the wheel with the best traction.
Intensus
Single Joystick Operates Machine
With one model offered in this size range in North America, the China-based Intensus has updated the machine controls to incorporate a single joystick as part of an overall ergonomic upgrade. The 114-hp WL30G model carries a 2.2-cubic-yard bucket and, like the plus-200-hp WL50G model also offered in North America, has obtained CE approval in addition to OSHA and ISO requirements, according to the company.
Number of models: 1
New model: WL30G
Product-line features: Intensus Engineering is a subsidiary of the largest manufacturer of heavy construction equipment in China, turning out a new wheel loader every 20 minutes. The company's loaders feature components recognized worldwide, such as Cummins or Perkins engines and Dana or ZF transmissions.
Terex
Product Line Upgrades Ongoing
Between the two TXL 200 and two TXL 250 models, the established Terex product offering in the 100- to 200-hp wheel loader market covers a standard bucket capacity range of 2.35 to 3.25 cubic yards. With four speeds forward and three speeds reverse, a rugged fully auto powershift transmission optimizes cycle times for the four loaders. A new series of larger Terex loaders was rolled out in the first quarter of 2006. The 200 and 250 models are following suit.
Number of models: 4
Product-line features: With breakout forces that reach up to 29,100 pounds for the 170-hp TXL 250-1 model, the small Terex wheel loaders are designed to sustain digging and loading under difficult conditions. For the operator, the ROPS/FOPS cab maximizes bucket-corner and maneuver-zone visibility, be it front or back.
Kawasaki
Toolcarrier Grows into New Model
With the 70TMV-2, Kawasaki has introduced a new model addition to the sub-200-hp wheel loader market. At 174 horsepower, this is the second and largest of the TaskMaster models, the integrated toolcarriers manufactured by Kawasaki. Also, the standard-configuration 70-size model has joined the company's 198-hp 80-size loader in an upgrade to the ZV-2 generation, incorporating such features as adjustable declutch, dual-boom kickout control, an idle-management system and a dual-mode engine switch.
Number of models: 6
New models: 70TMV-2, 70ZV-2, 80ZV-2
Product-line features: Kawasaki's new Machine Operations/Diagnostics Module, or MODM, presents operations and diagnostic information in an LED display on the cab's dash. The engine control module, while also providing operating data and feedback, allows the engine performance to be modified to fit the particular application.
Doosan
Product Family Undergoes Change
As a follow-up to the Mega Series, Doosan has introduced the new DL Series of wheel loaders, comprised of the 137-hp DL200 and 153-hp DL250. A Tier III common-rail electronic engine provides optimal horsepower and torque, communicating with the fully automatic ZF transmission for smooth operation and traction.
Number of models: 2
New models: DL200, DL250
Product-line features: The ZF axles used on the new DL Series wheel loaders work on lower gear speeds, resulting from lower internal rpm, and as such, generate less heat and thus extend component life. Compared to the Mega Series loaders of the predecessor Daewoo line, the DL Series loaders reward operators with a 15-percent-larger, air suspension seat with lumbar support.
JCB
Small Loaders Receive Upgrades
Following the 2005 introduction of the new 456 model in the plus-200-hp class, JCB has now extended the more sophisticated operation, larger field of vision and greater performanceto the smaller 426 and 436 wheel loaders, at 142 and 165 horsepower, respectively. Payload capacities have been increased by 13 and 12 percent on the updated models, both of which are available in HT high-lift or ZX Z-bar loader configurations. Also serving this market is the 116-hp 416 HT.
Number of models: 8
New models: 426 HT, 426 ZX, 436 HT, 436 ZX, 436 Wastemaster
Product-line features: The new cab on the updated 426 and 436 wheel loaders provides an extra 50 percent of interior space. The models can be specified with either single- or multi-lever controls, depending on operator preference. All daily checks and fill points are accessible from ground level.
Volvo
New Transmission Smoothes Shifting
Volvo's three models in the 100- to 200-hp wheel loader market were recently updated to the F Series, incorporating the new D6E Tier III V-ACT engine with more horsepower for better pile penetration. Also new for the L60F, L70F and L90F loaders is the HTE transmission, built in-house at Volvo. The transmission uses a pulse-width modulation valve for smoother shifting between gears. In gears 1–4, fully automatic power shift is standard on each of the three new models.
Number of models: 3
New models: L60F, L70F, L90F
Product-line features: Volvo's F Series loaders incorporate the new "Care" cab, featuring an additional 2 inches in length and 4 inches in width, a 22-percent larger windshield and viscous mountings. For easier accessibility, the door's opening angle is 95 degrees, and the rear part of the door has a 22-degree bevel edge.
Dressta North America
Upgraded Models, Simpler Operation
Dressta recently rolled out two updated wheel loaders as part of its three-model offering in the 100- to 200-hp range. Upgrades from corresponding E Series models, the new 120-hp 515G and 142-hp 520G feature new Cummins engines, an electronic engine speed control pedal, an improved three-in-one cooling module, and enhanced styling that includes a new paint-color scheme.
Number of models: 3
New models: 515G, 520G
Product-line features: With Dressta's single-lever equipment control joystick, oil pressure activates the main valve spools, making bucket and boom movements smooth and easy for operators. A single button on the joystick controls the downshift function of the electric-controlled transmission, itself updated with a single lever mounted on the left side of the steering column as a replacement for the two levers used on earlier Dressta wheel loaders.
Changlin
Models Arrive Via Canada
Changlin has been a player in the Chinese market since 1978, and the Changzhou Komatsu organization is that nation's largest manufacturer of large-capacity loaders. Changlin wheel loaders were introduced to North America in 2005 by Changlin Canada, now Terraquip. The Canadian company today imports five models, the smallest two of which fit into the 100- to 200-hp market.
Number of models: 2
Product-line features: At 117 and 169 horsepower, respectively, the ZL30H and ZL40H models utilize Cummins power and automatic leveling to compete in the 2- to 3-cubic-yard rated capacity market. A Changlin powershift transmission offers three forward and three reverse gears. Changlin's five-model North American product offering tops off with the 5.5-cubic-yard, 290-hp ZL75H.
Coyote
Compact Line Extends Upward
Founded in 1984 by Steve Kabay, Coyote Loader Sales extends its selection of multi-sourced compact loading machines up to the 130-hp C29 model. Others serving the 100-hp-plus market arethe C17-4, C20-4 and C28 at 100, 115 and 101 horsepower, respectively. The C17-4T and C29-4T are telescoping articulated loader versions.
Number of models: 6
Product-line features: Equipped with quick-change buckets and the high-speed capability to accommodate fast road travel requirements, a fleet of 26 Coyote wheel loaders was put to work this year alongside New York Department of Transportation salt trucks during interstate highway winter maintenance.